Overview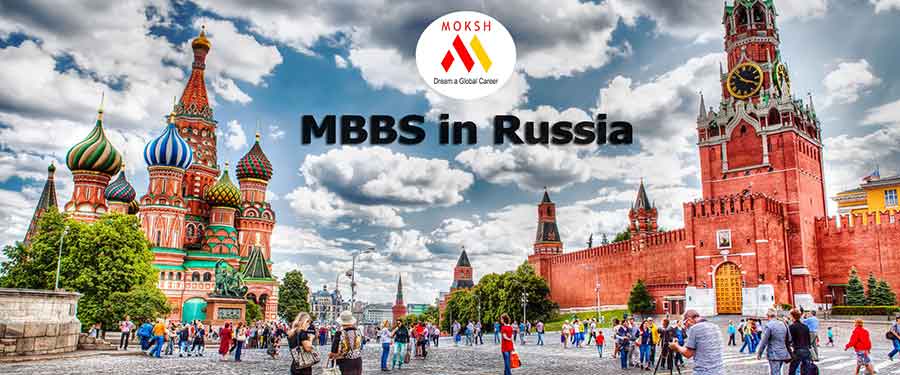 Every year, more than 15 lakh medical students appear in the NEET exam conducted by NTA. MBBS in Russia is in greater demand among all the international medical universities. Studying MBBS in Russia has been the foremost choice among international students because of its high-quality education at affordable prices. Thirty medical colleges in Russia are listed among the world's 100 best medical universities.
Only 35,000 out of 15 lakh students are able to secure their seats in prestigious government institutes in India. The remaining 14 lakh+ students opt for MBBS in Indian private medical colleges or international universities. Take a few minutes to go through the brief overview of MBBS in Russia!
In the later sections, we'll cover MBBS in Russia fees, MBBS in Russia Course Duration, Required Document & Admission Process, a List of MCI-approved colleges in Russia, MBBS admission in Russia, the Best MBBS colleges in Russia for Indian students, etc.
MBBS in Russia Highlights
Here are the key highlights and detailed information about the course:
| | |
| --- | --- |
| Course Name | Bachelor of Medicine & Bachelor of Surgery (MBBS) |
| Eligibility Criteria | Minimum 50% score in 12th standard with the subjects (Physics, Chemistry, and Biology) |
| Course Duration | 6 years |
| Qualifying NEET | Yes (You need to qualify for NEET) |
| Qualifying IELTS and TOEFL | No (It is not required to qualify for IELTS & TOEFL) |
| Teaching Language | English |
| Recognition of Medical Universities | MCI (Medical Council of India) and WHO (World Health Organization) |
| Intakes for MBBS in Russia | September & Feburary |
| Average MBBS course fees | 3-4 Lacs Every Year |
Difference between studying MBBS in Russia vs MBBS in India
Indian students prefer MBBS in Russia over MBBS in India. That's because Russian medical universities offer high-quality education at affordable prices. Take a look at the comparison between both.
Particulars

MBBS Russia

MBBS in India

Course Duration

6 Years (English medium)

6 Years+1 Year Language (Bilingual language)

5.5 Years

Course structure

6 Years combines both theoretical and practical sessions

1 Year of Internship is integrated in 6 Years of course

4.5 years of theoretical classes

1 Year of Internship

Course fees

Affordable and has a high-quality education

Govt Colleges are affordable and offer Good quality education whereas, Pvt Colleges are very expensive and lack infrastructure and faculties.

Entrance test

Not required

Required

Degree completion

Offered as MD (Physician)

Offered as MBBS

Class strength

Approx. 25 to 30 per batch

Approx. 100 to 150 per batch

After MBBS

Student can pursue Global career opportunities like USMLE/PLAB etc or can do NExT in India

Students can pursue MD/ MS/Diploma programs in India.

Donation

Not required

Very high Tution Fee
MBBS in Russia Course Duration
The course curriculum consists of 6 years of classroom cum clinical rotations in affiliated hospitals. Almost all the colleges offer more than 1.5 years of clinical exposure, which is more than the NMC requirement of 1 year of internship during the 6 years of studies.
Course Name

6 years (If English medium)

7 years (If Bilingual medium)

Total semester

12 semesters

Russia follows the ECTS System where the course is designed on a Semester basis. The entire course of 6 years is divided into 12 Semesters. These 12 Semester covers Pre Clinical, Para Clinical, and Clinical subjects.
Eligibility Criteria for MBBS in Russia
| | |
| --- | --- |
| Education | 50% in 10+2 examination with subjects Physics, Chemistry, and Biology (40% for reserved categories) |
| Age | 17+ years of age on or before 31st December of the year of getting admission |
| NEET Exam | Indian applicants must qualify for the NEET exam |
| IELTS/TOFEL | Not required. |
MBBS Intake in Russia for Indian Students
Following are the deadlines for MBBS in Russia:
| Events | Tentative Timeline |
| --- | --- |
| Starting of Admission | April |
| Last date of admission | August |
| Invitation Letter Issuance | July-August |
| Visa Process & Departure | Sept-Oct |
Documents Required to Apply for MBBS in Russia:
Regarding the application for MBBS admission in Russia, the following documents are required:
Passport with a validity of 18 months
Birth Certificate
Aadhar Card Copy
10th and 12th level mark sheet
NEET Score Card
Duly filled and signed Moksh registration form from the chosen university
Cost of study in Russia:
As the total cost of study in Russia for any of the universities consists of Tuition fees, Hostel. Fooding and other personal expenses. Pl refer below table for an average cost of study in any of the Russian universities.
| | |
| --- | --- |
| Average MBBS course fees in Rupees | 3-4 Lacs /Year |
| Average cost of Hostel | 30-50 K /Year |
| Indian Food Cost | 8-10K / Month |
To know more about the cost of study for various universities pl refer to Russia MBBS fees in rupees for Indian students
MBBS Curriculum in Russia
The MBBS curriculum in Russia works on a semester(Semi-annual) basis. The course consists of 12 semesters, 2 semesters each year.
First 3 years - Pre-Clinical subjects are Anatomy, Biochemistry, & Physiology. The Para-Clinical subjects are Pharmacology, Microbiology, Pathology, Forensic Medicine, & Social and Preventive Medicine. Other than medicine subjects Russian Language, Russian History, Law also being taught to international students
Following 3 years - Clinical subjects are Medicine, Dermatology, & Venereology; Surgery, Orthopaedics, & Anaesthesia, Radiodiagnosis, Obstetrics & Gynaecology; Pediatrics, Ophthalmology, & ENT.
Top Medical College in Russia for Indian Students
Here is the list of top 10 medical colleges in Russia for Indian students having the highest quality of education, ranking, and facilities.
| UNIVERSITY | LANGUAGE | ELIGIBILITY | GRADE |
| --- | --- | --- | --- |
| Crimean Federal University | English | 50% CB, NEET Qualified | A |
| Kazan State Medical University | English | 65% CBE, NEET Qualified | A+ |
| Orel State Medical Institute | English | 50% PCB, NEET Qualified | A+ |
| Belgorod State National University | English | 50% PCB, NEET Qualified | A |
| St. Petersburg State Medical University | English | 50% PCB, NEET Qualified | A |
| Rostov State Medical University | English | 50% PCB, NEET Qualified | B |
| People's Friendship University | English | 50% PCB, NEET Qualified | A |
| Kazan (Volga) Federal University | English | 50% PCB, NEET Qualified | B |
| First Moscow State Medical University | English | 50% PCB, NEET Qualified | A+ |
| Kursk State Medical University | English | 50% PCB, NEET Qualified | B |
| Pirogov National Medical University | English | 50% PCB, NEET Qualified | A+ |
| Bashkir State Medical University | English | 50% PCB, NEET Qualified | A+ |
| Kabardino-Balkarian State University | English | 50% PCB, NEET Qualified | A+ |
| Smolensk State Medical University | English | 50% PCB, NEET Qualified | A+ |