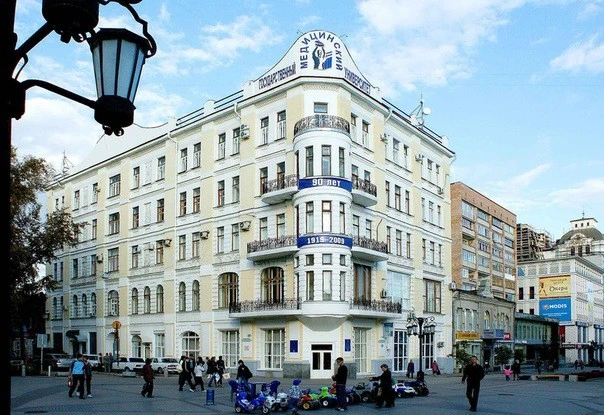 The Samara Medical Institute Reaviz (also known as the Medical Institute Reaviz) is a private higher education medical institution. One of the first private medical schools in the nation to be granted a licence to perform educational operations was Samara Medical Institute Reaviz. In the Russian Federation's Samara city, Samara Medical Institute Reaviz was established in 1993. The Samara Medical Institute Reaviz has divisions in Moscow, Saint Petersburg, and Saratov.
The Samara Medical Institute Reaviz is a comprehensive multi-level system of continuous training of specialists with higher medical, pharmaceutical, and humanitarian education from secondary schools to graduates. The Medical Institute Reaviz currently offers the best options for a high-quality training centre for higher medical education. At this time, there are 162 teachers for every 14 departments.
Program and faculties at Samara Medical Institute
The Samara Medical Institute, REAVIZ houses the following faculties:
General Medicine
Dental/ Stomatology
Pharmacy
Social Medicine
Post Graduation
Therapeutic department
Accreditation and International Recognition of Samara Medical Institute
The Samara Medical Institute has received accreditation from the institutions listed below:
World Health Organization (WHO)
FAIMER
Ministry of Health of the Russian Federation
Samara Medical Institute Ranking 2023
The Medical Institute Samara Ranking is as follows:
Medical Institute Samara Country Ranking: 197
Medical Institute Samara World Ranking: 5990
Life at Samara in Russia
Samara is the capital of Samara Oblast and the ninth-largest city in Russia.
It is now a sizable and significant economical, industrial, and cultural hub in European Region.
With hot summers and chilly winters, it has a continental climate.
About 235 kilometres (146 miles) away from Orel, Kazakhstan is 300 kilometres (190 miles), and Kazan is 410 kilometres (250 miles).
Advantages of studying at Samara Medical Institute
The Samara Medical Institute is a private, for-profit educational institution. An aspiring Indian medical student must carefully consider the benefits and drawbacks before making a final choice. To learn more, read the following points:
Institute Age: The institution was founded in 1993, making it thirty years old.
Campus: It has numerous campuses throughout Russia.
ECTS System: Medical institutes comply with the European Credit Transfer System (ECTS), which allows for flexibility among European universities.
Affordable Tuition Cost: The total tuition cost for MBBS would be around 22–24 Lac Indian rupees.
Education Quality: The institute works with the institute's staff to preserve and advance Russian educational traditions.
Scholarships: In addition, the Russian government offers foreign applicants "state-funded spots' at institutions each year. 18,000 of these slots were given out (2021).
Disadvantages of studying at Samara Medical Institute
Institution Type: Medical Institute Samara is a privately held educational institution.
Hostel Facility: The college offers hostels for both domestic and foreign students, though there may be a shortage of rooms.
Cost of studying MBBS at Samara Medical Institute
Medical Institute Samara Fee is way affordable compared to other intuitions. Similarly, any student with a budget of 22 - 24 Lacs Indian rupees can easily pursue the medical programme at Samara Medical Institute. The details for the Samara Medical Institute Reaviz tuition fees for MBBS are given below:
| Year | 1st | 2nd | 3rd | 4th | 5th | 6th |
| --- | --- | --- | --- | --- | --- | --- |
| Tuition Fee (USD) | 4500 | 4500 | 4500 | 4500 | 4500 | 4500 |
Hostel or accommodation costs at Samara Medical Institute
Samara Medical Institute Reaviz has a well-developed dormitory system, which includes three hostels of five stories each. The total dormitory complex is for 3000 students. The maximum number of students per room is 3, and they are comfortable and well-equipped.
The following amenities are available in every hostel:
Dining area/ Kitchen
Laundry room
Reading room
Medical aid cabinet
Gym
Free Wi-Fi
The vast majority of international students prefer renting nearby rentals or other kinds of private accommodation. Nonetheless, one can easily avail of the hostel rooms allotted on a sharing basis or rent an apartment located nearby. Overall, you could live well on roughly $350 per month, including rent, but to make sure you have enough money for emergencies, it is advised to double that amount.
Indian Food at the Medical Institute of Samara
Samara is home to several international cuisines, including Indian. To find Indian food in Samara, you can use online food delivery platforms, local recommendations, social media groups and forums, and Indian grocery stores. Online food delivery platforms can also be used to search for Indian restaurants in Samara.

The cost of a meal at a mid-range restaurant will cost you approximately 500 RUB ($8) to 2000 RUB ($35). However, many students find it more convenient to prepare food on their own, which is definitely a cost-effective option and hygienic too.
Admission deadlines for Medical Institute Samara
The intake month at Medical Institute Samara generally varies depending on the institution and the programme of study. Refer to the table below for the yearly intake and deadline for admission.
| Intake | Month | Last Date to Apply |
| --- | --- | --- |
| Autumn | September 2023 | 1st June 2023 |
| Spring | February 2024 | 15th November 2023 |
The admission process starts in June and ends in September. It is important to note that it takes a long time for a visa, which is approx. 4-6 week hence, applying early is advisable.
Eligibility Criteria for Admission to the Medical Institute Samara
Admission to MBBS at Medical Institute Samara for Indian students in 2023 will require
A student must have 50% in PCB in Class XII
Must have qualified NEET (category specification applies).
Age above 17

PG Option after MBBS in Samara Medical Institute Reaviz
Medical PG in India or NExT
During MBBS study, a student realizes the importance of being a specialist. They also understand the competitiveness to secure MD/MS Seat in Govt College. If we look at the success ratio to get PG in Govt Medical College which is 11% Broadly we can say that only 1 out of 10 will get PG Seat whereas the chances of getting a Clinical specialty is 1 out of 20 applicants. It is obvious that the PG journey is going to be very difficult or else students should have enough money to get a paid seat in Pvt Medical College which may be in Crores!
Total Applicants NEET PG 2022
Specialty
Govt Med College
Pvt Med College
Seats
Success Ratio
Seats
2.06 Lacs
MD (Non Clinical)
15K
8.6%
10K
MS ( Clinical)
8K
4.6%
5K
Total
23K
11.4%
15K
Do you feel early preparation and the right mentorship will pave your dream of becoming a specialist? NMC already notified the introduction of the NEXT Exam in India from 2023. This exam will replace all Medical PG exams in India. The exam will be conducted in two parts NEXT-1 and NEXT-2.
The Objective of the NEXT-1 is to assess the Student's Knowledge of Pre, Para, and Clinical Subjects on the National Level. Only post-qualifying of NEXT-1 any Medical student will be eligible for an Internship. Post completion of the internship Students needs to go thru NEXT-2 which will assess their Clinical skills, Patient Management, and Keeping of Medical history. Those who will Clear NEXT-2 awarded a license to practice and Rankers of NEXT-1 will get PG seats of their choice. You may refer to Page for detailed information on the NExT Exam
Medical PG in USA (USMLE)
We are well aware of the difficulty of getting a PG in India. With the introduction of NEXT, maximum students in India are getting attracted to USMLE prep from 1st year of MBBS since it simulates the new NMC Competency-based curriculum much more easily. The US Healthcare system is considered one of the best healthcare systems because of numerous reasons like High rewards, excellent infrastructure, Merit-based assessment, and Open opportunities for Super specialties. Most countries trying to replicate the US health care assessment system for their Medical Graduates USMLE exam is divided into 3 Parts. One can appear in USMLE Step 1 after 2nd Year, USMLE Step 2 CK during an internship, and Step-3 during your residency (Medical PG). The USMLE is an online exam and can be taken at the PROMETRIC centers present across India.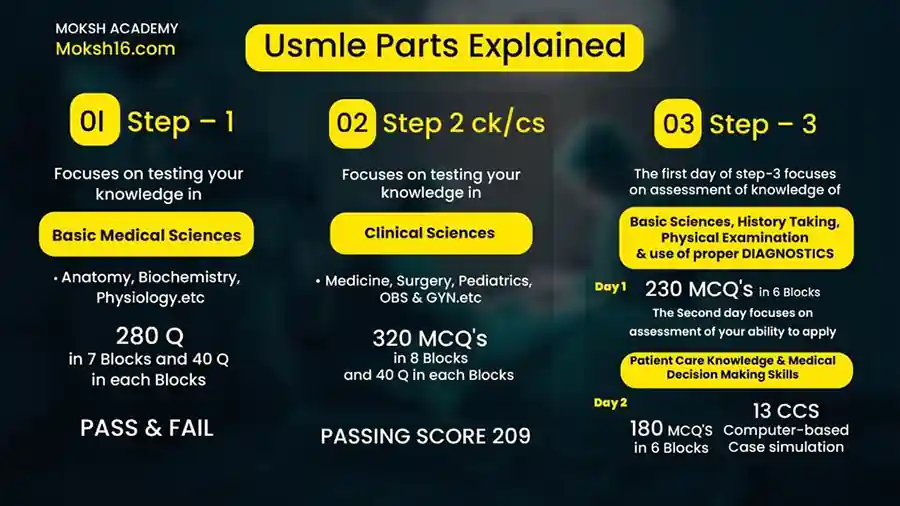 MOKSH Coaching focuses on a patient-centered learning approach which helps students score high on both USMLE & NEXT. MOKSH is the leading name in USMLE Coaching. Currently, 1000+ Students from Indian and Abroad medical colleges are preparing for USMLE steps via the MOKSH Platform.
Medical PG IN UK (PLAB)
Due to the close proximity of Moldova to UK, many of the students plan to do their Medical PG from UK. Till 2024, the Professional & Linguistic Assessments Board Test (PLAB test) is the instrument to assess the skills and knowledge of an International Medical Graduate. It also judges whether they are fit to be trained to practice medicine in the UK.
In short, an IMG's performance in PLAB determines her eligibility to practice in the UK. The PLAB test has two stages. PLAB 1 is an exam that has 180 MCQs that tests your recall. On the other hand, PLAB 2 is a practical OSCE (Objective Structured Clinical Exam) that tests your clinical skills.
The GMC ascertains your linguistic skills by assessing your score in specific tests. It may be the IELTS (Band Score 7.0 or higher) or OET (Grade B in reading, writing, listening & speaking).
After you pass PLAB 1 & 2, you apply for the GP registration. There is one constraint. You have a window of 2 years after clearing PLAB 2 during which you may apply no later.
By 2024, the UK Medical Licensing Assessment will replace the PLAB. Consequently, the GMC UK is going to change certain things in PLAB and create the UKMLA exam.

Medical PG in Germany

PG in Germany after MBBS in India is another great option, though it requires you to learn the German language. Of the 6 levels starting from A1 to C2, you need to clear A1 and A2 that would qualify you to apply for the visa.
Once the Language formalities are done, you get into the phase where you do Observer-ship from a German hospital approved by the German Medical Council. This is followed by Residency.
This may sound simple here but the process is quite complicated. To know more about PG in Germany after your MBBS in India,
Your Chance to get an MBBS Seat in India
The most difficult time for any of the students is to wait after NEET till the counseling process to know whether he/she is getting a college of his/her choice or not? Sometimes this dilemma continues for a couple of months due to multiple rounds of counseling. It has become more difficult due to parallel counseling of All India Quota and various States due to COVID-19. The counseling process is very complex where 550+ Govt. and Private colleges offer 83000+ Seats and fee variation is also huge that ranges from less than 1 Lac to 2.5 Cr for the course.
Dreams shatter when any silly mistake in choice filling or wrong selection of college leads to getting a poorly ranked college. Imagine getting paid seats or no seats at all due to a lack of genuine guidance!