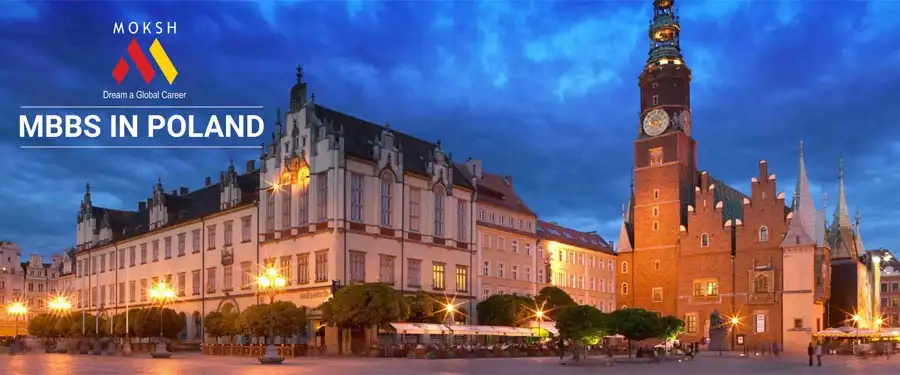 Introduction
Poland is growing as a popular destination for international students due to its high-quality education system, affordable tuition fees, and vibrant student life. The country is home to Jagiellonian University, Krakow, which was established in 1364 and is one of the oldest universities in Europe. A medical degree obtained by a Polish university will ensure that it is recognized worldwide, whether it's in the UK, Europe, or even the United States. Whether you are a student willing to study medicine in Poland or MBBS in Europe, the option to study MBBS in Poland would be a wonderful experience.
Warsaw, Poland's capital and largest city, is a modern, exciting hub with many universities offering a wide range of courses. Located in Central Europe, Poland borders the Czech Republic, Slovakia, Belarus, Germany, Lithuania, and Russia. Some of the major cities of universities in Poland include Krakow, Poznan, Lodz, and Wroclaw.
Quick Facts
| | |
| --- | --- |
| Country | Poland |
| Capital: | Warsaw |
| No of Medical Colleges | 22 (Listed universities) |
| Total Population: | 3.77 Crores (est. 2021) |
| Languages: | Polish (Official), Silesian, English, Kashubian, German, etc. |
| Currency: | Polish Zloty (PLN) (1 PLN equals ~ 18.85 Indian Rupee) |
MBBS in Poland for Indian students
Poland is a country with a prosperous history, a vibrant culture, and welcoming people. The country has over 400 higher education medical institutions, including universities, colleges, and technical schools. Poland joined the European Union in 2004 and the Schengen Area in 2007. And being part of the European Union (EU) means that the students now can work anywhere in EU countries after studying MBBS in Poland (It is called MD at the Bachelor level).
In 2013, the Ministry of Education of Poland announced its list of approved MBBS colleges in Poland, and since then medical education has gained in popularity. The country offers world-class education at modest tuition fees and living costs within your means. No doubt, Poland is one of the favorite European destinations for foreign students, which proudly hosts more than 57,000 international students from around the globe every year.
The duration of MBBS in Poland is 6 years. The program is divided into two parts: a 3-year pre-clinical phase and a 3-year clinical phase. The degree follows strict Polish and European standards of teaching. The European Credit Transfer System (ECTS) makes it much easier to move from one medical institution to another.
Student Life in Poland
Polish Universities are known for their academic excellence, research capabilities, and student support. The majority of universities in Poland run on a strong research focus. In terms of the number of students enrolled in higher education, Poland stands fourth in the European Union placed after the United Kingdom (UK), France, and Germany, respectively. Moreover, it has one of the fastest-growing economies in Europe and also in terms of development. Nevertheless, the cities of Poland hold a dynamic and multicultural essence. The campus is modern and spacious, providing students with excellent academic and countless social facilities. And hence, students get to experience a stimulating learning environment.
Climate in Poland
The climatic conditions in Poland are slightly cooler, similar to India's mountainous regions. The weather remains absolutely pleasant from April to October.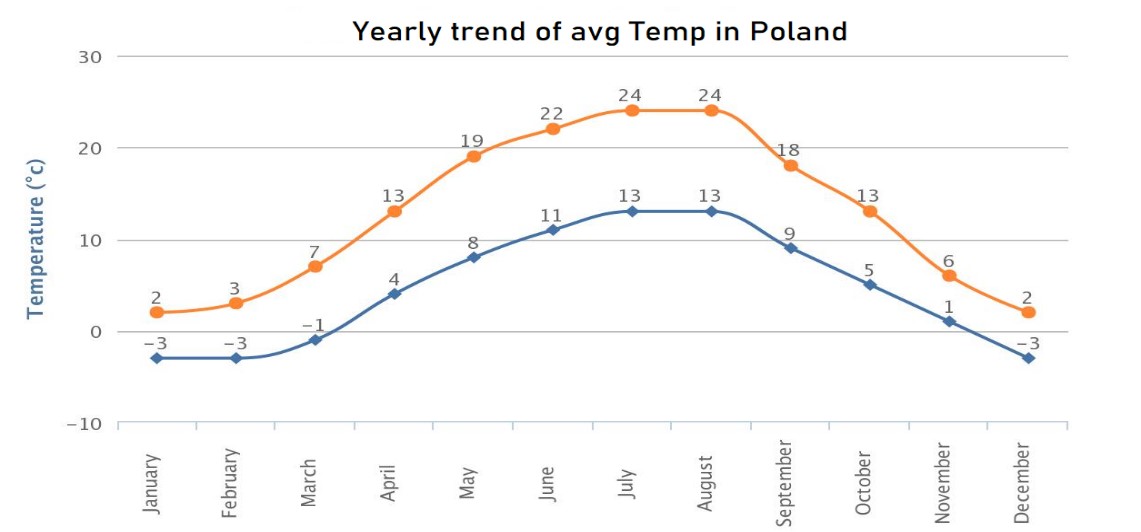 Why Study Medicine/MBBS In Poland?
Poland is a modern, dynamic, fast-developing country that is a member of the European Union. It ranks twenty-first as the high-income economy in the world. Here are some of the perks of studying Medicine in Poland, read on to know more:
English Taught Program: Students can opt for the 6-Year Medicine Program, delivered completely in English.

High-ranked Universities: Poland is home to many well-known higher education institutions, with nearly twenty ranked in the top 1,000 worldwide.

Global recognition: Students can do PG from any country across the Globe like the United Kingdom (UK), United States (USA), Canada, Australia, Gulf countries, etc. including India.

Great international student community: A safe and stable country with a rich culture and traditions, indeed a great place to experience student life.

Rich History of Medical Education: Polish medical universities have a long history of providing excellent medical education, with some universities tracing their roots back over 200 years.

Opportunity to settle in Europe: Poland is a European Union member, and it grants the opportunity to settle in any of the 26 countries of the European Union (EU).

Eligibility to appear in NEXT/FMGE exam: Poland Medical Education is in line with new NMC guidelines. Students can appear in the NEXT/FMGE exam after completing their MBBS in Poland.

ECTS System: Polish Universities follow the ECTS credit system (European Credit Transfer and Accumulation System), which allows students even take transfer from one to another University without any academic loss.