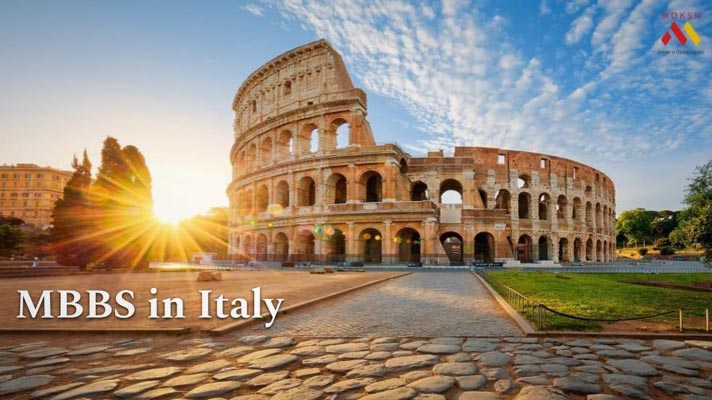 Study MBBS in Italy
The popularity of studying MBBS in Italy for Indian Students has been on the rise for the past 15 years. This surge began in 2009 when Italian public universities introduced medical programs taught in English. Currently, approximately 13 public medical institutions, including the universities of Bari, Bologna, Campania Luigi Vanvitelli, Messina, Milan, Milan-Bicocca, Naples Federico II, Padua, Pavia, Parma, Rome La Sapienza, Rome Tor Vergata, and Turin, offer English-taught MBBS degrees. While a few universities admit non-EU students in English-taught programs, these medical schools are globally recognized for their academic rigor and affordability. Moreover, they provide exceptional opportunities for residency, research, and clinical work in Europe and beyond, making MBBS in Italy a highly sought-after option for Indian students.
Quick facts:
| | |
| --- | --- |
| Total Medical Universities | 44 |
| Universities that offer English Taught Programs | 15 |
| Duration of Course | 6 Years(360 Credits) |
| Degree Awarded | Master's Degree in Medicine and Surgery |
| Seats offered for non-EU Students (English Taught) | 135 |
| Chance of Success for Admission | Very Less |
Why Study Medicine in Italy
Oldest Universities in the World, and are as old as 1000 Years.
World Ranked University with all Global recognition.
Top-quality education at an affordable price.
Opportunity to settle in Europe as a practicing doctor
Availability of Medicine & Surgery course in the English language.
Since MBBS in Italy meets the new NMC norms, Indian students can practice in India after studying medicine in Italy.
Disadvantages of studying MBBS in Italy
At first sight, there is no such disadvantage to studying in Italy, the first setback may be caused when appearing in the IMAT Examination, as there is no IMAT Test Centre in India. You will be required to fly to another suitable country and apply for a VISA.
Secondly, there are a limited number of seats available for the IMAT exam, and hardly anyone makes it successfully.
Important: Those who are looking for Italy as their dream destination need to keep a backup option apart from the first preference of their University in preferably another country. When IMAT results are presented, other countries' admission might be closed. Certainly, it may lead to the loss of an academic year of the students.
Medical Universities in Italy
Major consideration is for Indian Students to find the best MBBS University in Italy for them. There are 15 MBBS Universities in Italy, offer MBBS course in English language. The List of MBBS Colleges in Italy can be find in the table below.
| Medical School Name | City | Program Started | Univ Type |
| --- | --- | --- | --- |
| University of Bologna | Bologna | 2017 | Public |
| Univ of Rome 'Tor Vergata' | Rome | 1982 | Public |
| Univ of Rome 'La Sapienza' | Rome | 2005 | Public |
| University of Pavia | Pavia | 2009 | Public |
| University of Milan | Milan | 2010 | Public |
| Vita-Salute San Raffaele Univ | Milan | 2010 | Public |
| University of Bari Aldo Moro | Bari | 2012 | Public |
| Univ of Campania Luigi Vanvitelli | Naples | 2012 | Public |
| Catholic Univ of the Sacred Heart | Rome | 2013 | Private |
| Humanitas University | Milan | 2014 | Public |
| Saint Camillus International Univ | Rome | 2018 | Public |
| University of Padua | Padua | 2019 | Public |
| Campus Bio-Medico Univ of Rome | Rome | 2019 | Private |
| University of Turin | Torino | 2019 | Public |
| University of Parma | Parma | 2021 | Public |
MBBS Seats in Italy for International Students
Now the query arises, "How many Italian Medical Colleges offer medical seats to international students in English taught program?" And the answer is- There are just 7 medical universities. However, the English taught MBBS program is available in 15 Medical universities, and the rest offers seats to only EU students. Nearly, 135 Seats are available where Non-EU students can apply for admission to the MBBS Program. Take a look at the Italy MBBS Universities in table below to see the reserved seats for Non-EU Students-
| Medical School | Seats | Non-EU Seats |
| --- | --- | --- |
| University of Pavia | 140 | 40 |
| Humanitas University | 70 | 25 |
| Univ of Rome 'La Sapienza' | 50 | 10 |
| Univ of Rome 'Tor Vergata' | 35 | 10 |
| Univ of Bari Aldo Moro | 50 | 9 |
| University of Bologna | 90 | 20 |
| University of Padua | 75 | 20 |
Cost of studying MBBS in Italy
While calculating the cost of MBBS in Italy for Indian students, You must consider following expenses for the budget planning.
University Tuition Fee
Accommodation Cost
Food Expenses
Travel cost to India
Personal Expenses
Yearly cost of MBBS in Italy for Indian students is approx. 12-13 Lacs inclusive of all expenses.
1.Fee Structure of MBBS in Italy
MBBS in Italy for Indian students stands out as an economical choice in Europe, with reasonable tuition fees compared to other MBBS Abroad options. Many time Qus arise, is there any chance for MBBS in Italy on scholarship for Indian students?
Italy's MBBS fees structure for Indian student's ranges between 2-4 Lacs INR for a year which is very competitive, attracting many aspiring doctor from India. Italy offers a cost-effective and high-quality option for Indian students looking MBBS course in Italy. There is no specific scholarship for MBBS course in Italy.
Pl refer the below table for Italy MBBS fees in INR
Medical School Name
Tuition Fee in
Euro
INR Lac
University of Padua
4656
4.19
Humanitas University
1456
1.31
Univ of Rome La Sapienza
1156
1.04
Univ of Rome 'Tor Vergata'
5250
4.73
Univ of Bari Aldo Moro
1580
1.42
Univ of Pavia
4805
4.32
Univ of Bologna
3407
3.07
2. Accommodation cost in Italy
Getting on campus accommodations for international students may not be possible always. You can look for private Apartments near to the University, such shared apartment may cost you approx. 30-35 thousand INR on monthly basis. Costing depends upon no of sharing and its distance from the city centre.
3. Indian Food in Italy
You can find many Indian restaurants in Italy, But they are quite expensive and can't be consider as an option for your daily meal need. Only option is self-cooking. All apartments are a kitchen with all facilities like Induction cooktops, Microwave oven Fridge etc. You can buy the groceries which usually cost 12-15K INR in a month.
4. Travel Cost
Rome and Milan in Italy have direct flights from Indian cities Delhi and Mumbai. The time and cost of the flight depend upon your chosen airline. Direct Flight can cost you approx. 30-35K for one way and take around 8-9 hours.
Best Medical Universities in Italy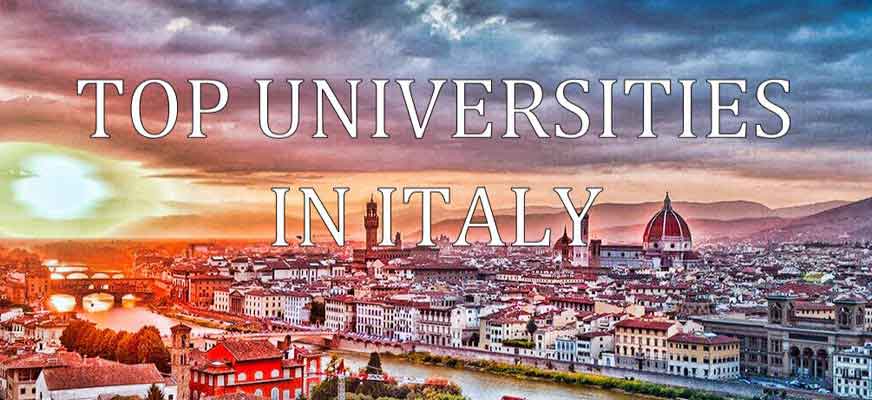 Medical Universities in Italy are among the oldest universities in the world. The world ranking of most Italian Medical Universities is under the Top 1000 Universities in the world. Here are some of the best Top Ranked Medical Universities in Italy-
University of Bologna - This is the oldest university in Europe, founded in 1088, and it is consistently ranked among the top medical schools in the world. In the QS World University Rankings 2022, it was ranked 165th in the world and 6th in Italy.
University of Milano - This University is located in Milan and is known for its excellence in medical research. In the QS World University Rankings 2022, it was ranked 149th in the world and 5th in Italy.
University of Rome 'La Sapienza'- This is the largest university in Rome and is one of the most aged Universities in Europe. In the QS World University Rankings 2022, it was ranked 177th in the world and 7th in Italy.
University of Padua - The University is located in Padua and is one of the oldest in Italy, founded in 1222. In the QS World University Rankings 2022, it was ranked 242nd in the world and 10th in Italy.
University of Torino - This University is located in Turin and is known for its strong focus on medical research. In the QS World University Rankings 2022, it was ranked 357th in the world and 15th in Italy.
These are just a few examples of the top medical schools in Italy, and many more institutions provide excellent medical education and research opportunities.
Climate in Italy
The average daily temperature in Italy is quite moderate in comparison to other European countries. You can refer the climate graph beneath-

Eligibility for MBBS Admission in Italy
MBBS in Italy for Indian student's eligibility typically requires below condition to be fulfilled
12th Grade with 50% and above
Age should be more than 17 Years
NEET Qualified (NMC Requirement)
Proficiency in English like IELTS 6 or above band
Meeting these MBBS in Italy requirements is essential for admission to medical universities in the country.
Admission Timelines for MBBS in Italy
| Stages | Timelines |
| --- | --- |
| Pre-enrollment for Indian Students | Apr – Aug |
| Online enrollment for IMAT Admission test | July |
| Admission Test (IMAT) 2023 Exam | Sept |
| Preliminary anonymous ranking | End of Sept |
| Enrollment Process post receiving an Acceptance Letter | Mid-Oct |
| Commencement of Classes | End of Oct |
Admission process for MBBS in Italy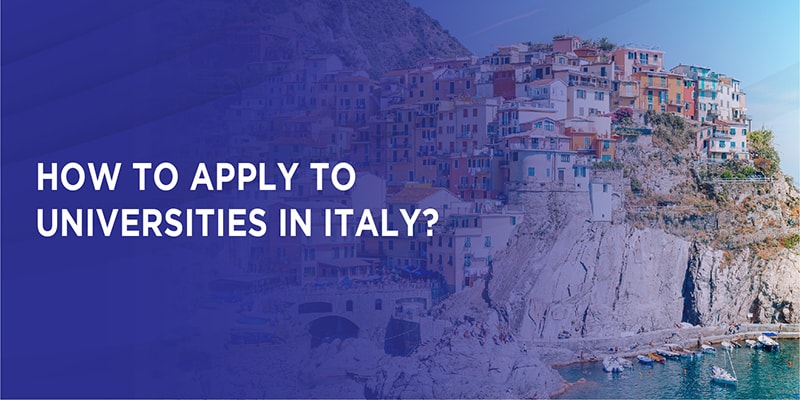 Each year the Italian Ministry of Education releases updates for the admission process with precise dates. Those are usually announced around May-June. Before getting enrolled in your desired Medical school in Italy, you need to follow below steps for MBBS Admission in Italy
STEP 1: Pre-enrollment:
Pre-enrolment refers to the documentation process verifying your academic qualifications for studying at an Italian medical school. Note that this is separate from the IMAT exam enrollment procedure. For necessary paperwork related to studying medicine in Italy, reach out to your nearest Italian consulate or embassy. Pre-enrollment remains open until the end of June.
STEP 2: IMAT Exam Registration
Online applications for IMAT begin in the first week of July and are open for the first 3 weeks of July. Ensure that you register for the IMAT Exam 'online'. Also, there is a dedicated website for registering named University.
Declare your first preference for the Medical School Abroad and your IMAT test centre. Furthermore, you will have to pay a teeny-weeny subscription fee of around 130 Euros for the test itself. It is important to note that ,no university will admit in MBBS in Italy without IMAT Score
STEP 3: IMAT Exam
IMAT stands for "International Medical Admissions Test", the only official exam you need to qualify on your way to studying medicine in Italy.
IMAT Exam Format: The IMAT test is held in English and consists of 60 multiple-choice questions (five options each). The answer keys might initially seem possible, but the students need to choose the answer key based on their subject knowledge and logical reasoning skills functional to various subjects. The candidates have a limited time frame of 100 minutes to complete the test.
The questions are segmented into the following sections:
Div
Subject
Ques.
Sec-1
Logical Reasoning
20
General Knowledge
2
Sec-2
Biology
18
Sec-3
Chemistry
12
Sec-4
Physics and Math
8
Please note- The order in which the questions in the test will not be as exact as presented above. Accordingly, the exam will have a different order of questions and answers.
Breakdown of scoring in the IMAT: For evaluation of the test, a candidate's total score is calculated using the following formula:
1.5 points are awarded for every correct answer.
0.4 points will be deducted for every wrong answer.
0 points will be assigned for every blank answer.
However, the maximum score will be 90, and the minimum score for the ranks is 20 points.
Short-stay visas may be issued to students (especially for Non-EU students) who choose to do the IMAT exam in Italy; this is optional.
Kindly note: This is not a student visa, so the Indian student will need to enroll in the University after passing the exam.
The IMAT exam will be conducted only at an authorized center. Globally, in 2022, there were 16 test centers excluding Italy.
IMAT EXAM Centers
You can find the list of international IMAT exam centers in 2022. Please note that the list of IMAT exam centers for 2023 has not been officially released yet, and it is best to check the official IMAT website.
Abu Dhabi (UAE)
Beirut (Lebanon)
Athens (Greece)
Addis Ababa (Ethiopia)
Berlin (Germany)
London (UK)
Amman (Jordan)
Santiago (Chile)
Madrid (Spain)
Ankara (Turkey)
Cairo (Egypt)
Paris (France)
Istanbul (Turkey)
Casablanca (Morocco)
Barcelona (Spain)
Dublin (Ireland)
New Delhi, Gurgaon (India)
STEP 4: IMAT rankings and University enrollment
The preliminary IMAT 2023 results will be declared just days after the test ends, generally in the last week of September.
Preliminary refers that at the end of September, you'll only get the test score you have obtained as an individual. And there will be no such IMAT ranking position mentioned, nor would the confirmation of being admitted to an Italian medical school be stated, as these results are anonymous.
At the beginning of October, your IMAT score will be published in the Universitaly portal, together with a scan of your actual answer sheet. You still won't identify if you are accepted, but you will know your accurate score. At this stage, be certain to put together all the required documents to apply for a student visa
Italy MBBS Course Syllabus

The MBBS course in Italy is known as "Laurea Magistrale in Medicina e Chirurgia". This program is offered by various universities across the country. The course in general lasts for six years and is taught in English and Italian Language.
Here is a general overview of the syllabus for the MBBS course in Italy:
Year
Subject
Teaching-Hrs
1st
Basic Science
80 hrs
Structure of Body
172 hrs
Living Molecules
156 hrs
Scientific Foundations
52 hrs
2nd
Biology Of Disease
124 hrs
Ethics And Society
56 hrs
Functions Of Body
164 hrs
Laboratory Medicine
52 hrs
Microbiology
64 hrs
3rd
Blood Diseases
40 hrs
Clinical Foundations
128 hrs
Clinical Foundations Practicals
120 hrs
Disease Control and Eradication
88 hrs
Endocrine System and Metabolism
40 hrs
Drug Discovery and Actions
48 hrs
Systemic Pathology
52 hrs
4th
Cardiovascular Disease
48 hrs
Clinical Cases
320 hrs
GI and Urinary Tracts
80 hrs
Lung Disease
40 hrs
Neurological and Psychiatric Diseases
88 hrs
Sensory System Diseases
64 hrs
Soft Tissue Diseases
48 hrs
5th
Childhood and Woman Health
96 hrs
Clinical Cases
120 hrs
Clinical Pharmacology, Genetics,Pathology
80 hrs
General Surgery I
88 hrs
General Surgery II
96 hrs
Internship in Medical Area
100 hrs
Internship in Surgical Area
100 hrs
6th
Clinical Cases
160 hrs
Clinical Medicine
112 hrs
Degree Thesis
144 hrs
Internship in General Practice
100 hrs
Practical In Degree Thesis Subject
180 hrs
Public Health
40 hrs
During the clinical practice year, students work in hospitals and clinics, where they gain practical experience in various medical fields, under the supervision of experienced doctors. They also have the opportunity to choose electives in specialized areas of interest.
PG Option after MBBS in Italy
Medical PG in India or NExT
During MBBS study, a student realizes the importance of being a specialist. They also understand the competitiveness to secure MD/MS Seat in Govt College. If we look at the success ratio to get PG in Govt Medical College which is 11% Broadly we can say that only 1 out of 10 will get PG Seat whereas the chances of getting a Clinical specialty is 1 out of 20 applicants. It is obvious that the PG journey is going to be very difficult or else students should have enough money to get a paid seat in Pvt Medical College which may be in Crores!
Total Applicants NEET PG 2022
Specialty
Govt Med College
Pvt Med College
Seats
Success Ratio
Seats
2.06 Lacs
MD (Non Clinical)
15K
8.6%
10K
MS ( Clinical)
8K
4.6%
5K
Total
23K
11.4%
15K
Do you feel early preparation and the right mentorship will pave your dream of becoming a specialist? NMC already notified the introduction of the NEXT Exam in India from 2023. This exam will replace all Medical PG exams in India. The exam will be conducted in two parts NEXT-1 and NEXT-2.
The Objective of the NEXT-1 is to assess the Student's Knowledge of Pre, Para, and Clinical Subjects on the National Level. Only post-qualifying of NEXT-1 any Medical student will be eligible for an Internship. Post completion of internship Students needs to go thru NEXT-2 which will assess their Clinical skills, Patient Management, and Keeping of Medical history. Those who will Clear NEXT-2 awarded a license to practice and Rankers of NEXT-1 will get PG seats of their choice. You may refer to Page for detailed information on the NExT Exam
Medical PG in USA (USMLE)
Most of the Students studying in Italy also plan for doing Medical PG from USA. This is because getting PG Seats in India is very tough.
With the introduction of NEXT, maximum students in India are getting attracted to USMLE prep from 1st year of MBBS since it simulates the new NMC Competency-based curriculum remarkably. US Healthcare system is considered as one of the best healthcare systems in the world because of numerous reasons like high rewards, excellent infrastructure, merit based assessment, open opportunities for Super specialties. Most of the countries try to replicate US health care assessment system for their Medical Graduates. USMLE exam is divided in 3 Parts. One can appear in USMLE Step 1 after 2nd Year, USMLE Step 2 CK during internship and Step-3 during residency (Medical PG). Unfortunately there is no prometric center in Georgia, But, all neighboring countries are having these centers.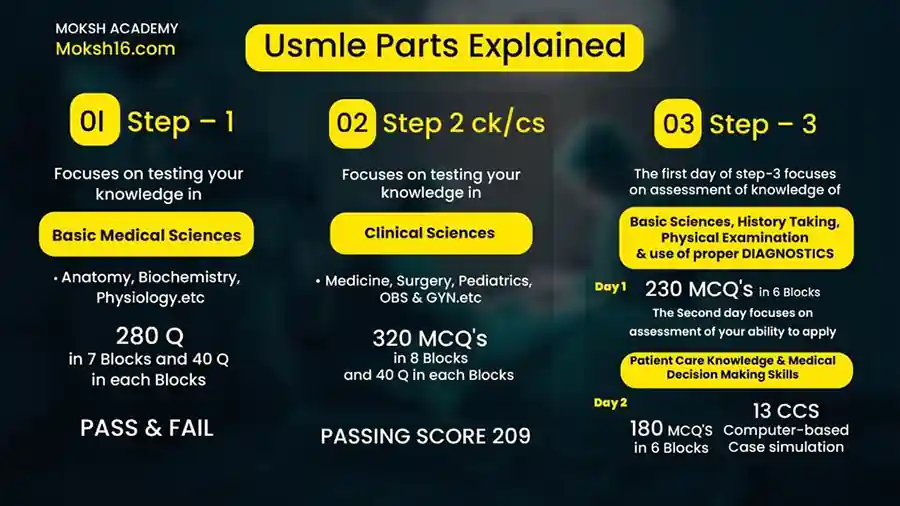 MOKSH Coaching focuses on a patient-centered learning approach that helps students score high on both USMLE & NEXT. MOKSH is the leading name in USMLE Coaching. Currently, 1000+ Students from Indian and Abroad medical colleges are preparing for USMLE steps via the MOKSH Platform.
Medical PG IN UK (PLAB)
Due to the close proximity of Italy to UK, many of the students plan to do their Medical PG from UK. Till 2024, the Professional & Linguistic Assessments Board Test (PLAB test) is the instrument to assess the skills and knowledge of an International Medical Graduate. It also judges whether they are fit to be trained to practice medicine in the UK.
In short, an IMG's performance in PLAB determines her eligibility to practice in the UK. The PLAB test has two stages. PLAB 1 is an exam that has 180 MCQs that tests your recall. On the other hand, PLAB 2 is a practical OSCE (Objective Structured Clinical Exam) that tests your clinical skills.
The GMC ascertains your linguistic skills by assessing your score in specific tests. It may be the IELTS (Band Score 7.0 or higher) or OET (Grade B in reading, writing, listening & speaking).
After you pass PLAB 1 & 2, you apply for the GP registration. There is one constraint. You have a window of 2 years after clearing PLAB 2 during which you may apply no later.
By 2024, the UK Medical Licensing Assessment will replace the PLAB. Consequently, the GMC UK is going to change certain things in PLAB and create the UKMLA exam.
Medical PG in Germany

PG in Germany after MBBS in Italy is another great option, though it requires you to learn the German language. Of the 6 levels starting from A1 to C2, you need to clear A1 and A2 which would qualify you to apply for the visa.
Once the Language formalities are done, you get into the phase where you do Observer-ship from a German hospital approved by the German Medical Council. This is followed by Residency.
This may sound simple here but the process is quite complicated. To know more about PG in Germany,
Your Chance to get an MBBS Seat in India
The most difficult time for any of the students is to wait after NEET till the counseling process to know whether he/she is getting a college of his/her choice or not? Sometimes this dilemma continues for a couple of months due to multiple rounds of counseling. It has become more difficult due to parallel counseling of All India Quota and various States due to COVID-19. The counseling process is very complex where 550+ Govt. and Private colleges offer 83000+ Seats and fee variation is also huge ranging from less than 1 Lac to 2.5 Cr for the course.