The Tver State Medical University was established in the year 1936 which makes the University more than 80 years old. The University is located in the city Tver centre of Tver Oblast, Russia. The University consists of 6 faculty including 79 departments exist in the University that is involved in pedagogy and career guidance. The Tver State Medical University has a multi-facility clinic that has 755 beds, a dental hospital, a central research laboratory, a cell culture laboratory, a rich library, & so on. The University maintains that it seeks to strike a balance between academic, social, and recreational work with the students. The University consists of more than 1000 foreign students from more than 45 different countries.
Faculties of Tver State Medical University
The university provides 129 Medical programs: Bachelor's, specialty, residency, postgraduate studies, and secondary vocational education in which more than 800 advanced training programs are carried out. The following are the faculties in the University:
Faculty of General Medicine
Faculty of Dental Medicine
Faculty of Pediatrics
Pharmaceutical Faculty
Faculty of Advanced Nursing Education
Faculty of Postgraduate Studies
International Recognitions of Tver State Medical University
As far as international affiliations are concerned, the University has international cooperation with foreign universities in the USA, Germany, Canada, Austria, China, Norway, Kazakhstan, Iran, Abkhazia, and other countries. Tver State Medical University is a well-reputed University recognized by various organizations such as:
National Medical Commission (erstwhile Medical Council of India)
Medical Council of Canada
Ministry of Science and Higher Education, Russia
World Directory of Medical Schools (WDOMS)
Education Commission for Foreign Medical Graduates (ECFMG)
Registered with Foundation for Advancement of International Medical Education and Research (FAIMER)
TverSMU Ranking 2023
The TSMU is average ranked University in the country and it is improving year by year. You can check the below mentioned table for Rank:
| | |
| --- | --- |
| World Ranking | 6130 |
| Country ranking | 263 |
| University Ranking in Russia | 136th |
| Europe Ranking | 2049 |
Advantage of Studying in TverSMU
The advantage to study MBBS at Tver State Medical University, Russia includes:
The University is recognized by various organisations ECFMG, WDOMS, FAIMER, NMC, and Medical councils of Canada, Australia, etc.
University provides a Medical exchange program Graduate students can practice medicine anywhere in the world.
For all the International Students Indian mess facility is available.
The University consists of Morden technology machinery which enables students to practice practically.
Studying Medicine at TverSMU students are eligible to apply for the PLAB, and USMLE exams.
Disadvantages of studying in Tver State Medical University
Though this account may seem very attractive but there are certain issues with TSMU that you must be aware of:
The MBBS taught at the Tver State Medical University is Bilingual, which means that the last 3 years of your MBBS will be taught in the Russian language. That means you are not allowed to appear in Indian Licensing Exam NEXT
The cold in the region is famous and facing it after being brought up in the tropical Indian climate is a huge challenge.
Indian students who studied at the Tver State Medical University have not performed well in FMGE or the erstwhile MCI Screening Test in the past 5 years.
The Tver State Medical University lists very low in the Indian Embassy's list of Russian Universities that classify them bases of academic standing.
Despite of being Bilingual, the Tver State Medical University Fee Structure is not less, than one would expect.
Cost of studying MBBS at Tver State Medical University
Tver State Medical University Fees is way less than other MBBS Universities in Russia. The total 6 years MBBS fees ranges around 18-19 lacs INR.
| Cost(Rub) | Year-1 | Year-2 | Year-3 | Year-4 | Year-5 | Year-6 |
| --- | --- | --- | --- | --- | --- | --- |
| Tuition Fee | 2,62,760 | 2,62,760 | 2,62,760 | 2,62,760 | 2,62,760 | 2,62,760 |
NOTE: The fees may change as per the change in currency.
The Tver State Medical University is recognized by WHO, which makes its courses globally accredited. Students studying in TverSMU can enroll themselves with MOKSH Academy Coaching USMLE- United State Medical Entrance. We suggest you take USMLE starting from your MBBS Course as it will be easy for you when you will study the hard subject. You don't have to rush for both at a same time.
Hostel and Accommodation in TverSMU
Tver State Medical University provides hostel and accommodation services to all students, including international students who come to Russia to study MBBS abroad. Ease of accommodation makes study life settle down fast in a new country for Indian students. Tver State Medical University provides fully furnished 4 building rooms with basic facilities like:
Beds
Couches
Fans
Chairs
Wardrobe
Bathrooms and
Study desks.
Cost of Hostel may vary from 25000-40000 Rubles for a year on sharing basis.
In University students can choose between one-room apartments for 3 aspirants and two-room apartments for 5 aspirants.
Security is maintained all day in the hostel with 24x7 CCTV surveillance.
Students will get access to 24x7 Wi-Fi connectivity for studies.
The University has separate floors for Boys and girls.
University provides more facilities to International students with a separate accommodation.
The Hostel resides 1800 students at the university hostel, are spread across four floors.
Indian Food in Tver State Medical University Russia
As the university has a large number of Indian students the Indian food facility is available for those students who can't cook/don't want to cook themselves. They can join a private mess which will cost 120-150 USD in a month depending upon the number of meals in a day. There are a few restaurants also serving Indian food in Russia.
Admission Deadline for Tver State Medical University Russia
This is important to understand that the complete process takes around 3 Months from Application to Arrival at the University. Students applying at the last moment may not find seats available or they may struggle to complete the process in shorter span. If this happens students might reach late to the university which may result loss in their academics.
| Stages | Time Lines |
| --- | --- |
| Application to University | Mar-July |
| Issuance of Admission Letter | 3-4 weeks |
| Invitation Letter by the Ministry of Education, Russia | 4-6 weeks |
| Visa Stamping | 3 weeks |
| Travel to the University | 2/3 Week September |
| Commencement of the Classes | 1st October 2023 |
Eligibility Criteria for Admission in Tver State Medical University
To apply in Tver State Medical University students, need to meet the below eligibility criteria
50% marks in PCB in Class XII or equivalent grade
NEET Qualified in any of the Year from 2021 to 2023
Age must be more than 17 Years
Not suffering from any communicable Diseases.
Syllabus of MBBS in Tver State Medical University
The syllabus for MBBS 6 Year in Tver State Medical University are as follow:
1st Year
Semester-1st
Semester-2nd
Anatomy
Anatomy and Histology
2nd Year
Semester-3rd
Semester-4th
Physiology
Biochemistry
Cell Biology
Microbiology
Anatomy
Physiology
Biochemistry
–
Microbiology
–
Histology
–
General Pathology
–
3rd Year
Semester-5th
Semester-6th
Pathology
Genetics and principles of clinical medicine
Micro-Biology
Pathology
Path physiology
Pharmacology
Pharmacology
Path physiology
4th to 6th Year
7th to 12th Semester
Cardiology
Obstetrics and Gynecology
ENT
Neurology
Psychiatry
Neurology and Psychiatry
Pediatrics
Internal medicine
Primary Care medicine
Psychology
General Surgery
Emergency Medicine
Oncology
–
Frequently Asked Questions
What is the medium of instruction at Tver State Medical University?


The medium of instruction at Tver State Medical University is English for first 3 years and in clinical year it is Russian.
Does Tver State Medical University offer any scholarships or financial assistance to students?


No, there is no scholarship for Indian Students.
Is Tver State Medical University recognized by the World Health Organization (WHO) and Medical Council of India (MCI)?


Yes, Tver State Medical University is recognized by the World Health Organization (WHO) and Medical Council of India (MCI).
What's is the FMGE passing ratio of Tver State Medical University?


FMGE Passing ratio of Tver State Medical University is approx. 15% , which is lower than the average FMGE passing ratio of 18% in Russia, This is primarily due to Bilingual course in Univ
PG Option after MBBS in Tver State Medical University
Medical PG in India or NExT
During MBBS study, a student realizes the importance of being a specialist. They also understand the competitiveness to secure MD/MS Seat in Govt College. If we look at the success ratio to get PG in Govt Medical College which is 11% Broadly we can say that only 1 out of 10 will get PG Seat whereas the chances of getting Clinical specialty is 1 out of 20 applicants. It is obvious that the PG journey is going to be very difficult or else students should have enough money to get the paid seat in Pvt Medical College which may be in Crores!
Total Applicants NEET PG 2022
Specialty
Govt Med College
Pvt Med College
Seats
Success Ratio
Seats
2.06 Lacs
MD (Non Clinical)
15K
8.6%
10K
MS ( Clinical)
8K
4.6%
5K
Total
23K
11.4%
15K
Do you feel early preparation and the right mentorship will pave your dream of becoming a specialist? NMC already notified the introduction of the NEXT Exam in India from 2023. This exam will replace all Medical PG exams in India. The exam will be conducted in two parts NEXT-1 and NEXT-2.
The Objective of the NEXT-1 is to assess the Student's Knowledge of Pre, Para, and Clinical Subjects on the National Level. Only post-qualifying of NEXT-1 any Medical student will be eligible for an Internship. Post completion of internship Students needs to go thru NEXT-2 which will assess their Clinical skills, Patient Management, and Keeping of Medical history. Those who will Clear NEXT-2 awarded a license to practice and Rankers of NEXT-1 will get PG seats of their choice. You may refer to Page for detailed information on the NExT Exam
Medical PG in USA (USMLE)
We are well aware of the difficulty of getting PG in India. With the introduction of NEXT, maximum students in India are getting attracted to USMLE prep from 1st year of MBBS since it simulates the new NMC Competency-based curriculum much easily. US Healthcare system is considered as one of the best health care systems because of numerous reasons like High rewards, excellent infrastructure, Merit-based assessment, Open opportunities for Super specialties. Most of the countries trying to replicate the US health care assessment system for their Medical Graduates USMLE exam are divided into 3 Parts. One can appear in USMLE Step 1 after 2nd Year, USMLE Step 2 CK during internship and Step-3 during your residency (Medical PG). The USMLE is an online exam and can be taken at the PROMETRIC centers present across India.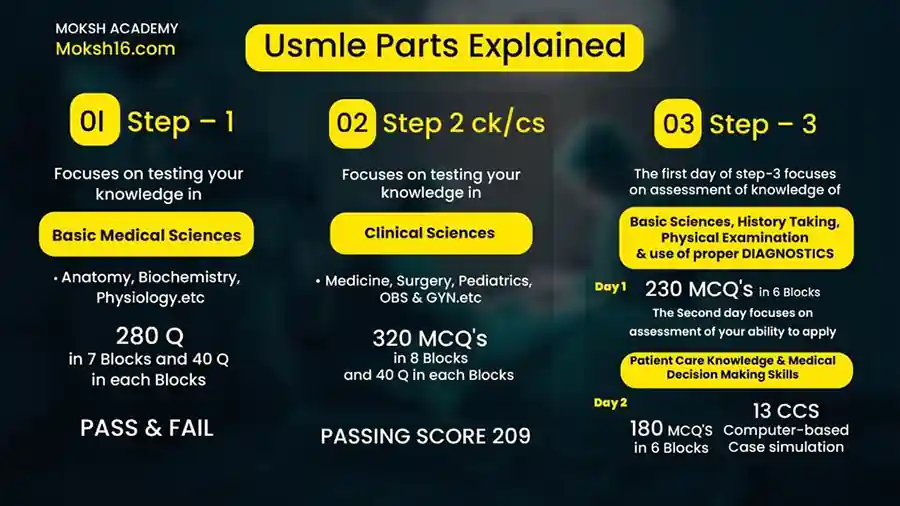 MOKSH Coaching focuses on a patient-centered learning approach which helps students score high on both USMLE & NEXT. MOKSH is the leading name in USMLE Coaching. Currently, 1000+ Students from Indian and Abroad medical colleges are preparing for USMLE steps via the MOKSH Platform.
Medical PG IN UK (PLAB)
Due to the close proximity of Moldova to UK, many of the students plan to do their Medical PG from UK. Till 2024, the Professional & Linguistic Assessments Board Test (PLAB test) is the instrument to assess the skills and knowledge of an International Medical Graduate. It also judges whether they are fit to be trained to practice medicine in the UK.
In short, an IMG's performance in PLAB determines her eligibility to practice in the UK. The PLAB test has two stages. PLAB 1 is an exam that has 180 MCQs that tests your recall. On the other hand, PLAB 2 is a practical OSCE (Objective Structured Clinical Exam) that tests your clinical skills.
The GMC ascertains your linguistic skills by assessing your score in specific tests. It may be the IELTS (Band Score 7.0 or higher) or OET (Grade B in reading, writing, listening & speaking).
After you pass PLAB 1 & 2, you apply for the GP registration. There is one constraint. You have a window of 2 years after clearing PLAB 2 during which you may apply no later.
By 2024, the UK Medical Licensing Assessment will replace the PLAB. Consequently, the GMC UK is going to change certain things in PLAB and create the UKMLA exam.

Medical PG in Germany

PG in Germany after MBBS in India is another great option, though it requires you to learn the German language. Of the 6 levels starting from A1 to C2, you need to clear A1 and A2 that would qualify you to apply for the visa.
Once the Language formalities are done, you get into the phase where you do Observer-ship from a German hospital approved by the German Medical Council. This is followed by Residency.
This may sound simple here but the process is quite complicated. To know more about PG in Germany after your MBBS in India,
Your Chance to get an MBBS Seat in India
The most difficult time for any of the students is to wait after NEET till the counseling process to know whether he/she is getting a college of his/her choice or not? Sometimes this dilemma continues for a couple of months due to multiple rounds of counseling. It has become more difficult due to parallel counseling of All India Quota and various States due to COVID-19. The counseling process is very complex where 550+ Govt. and Private colleges offer 83000+ Seats and fee variation is also huge that ranges from less than 1 Lac to 2.5 Cr for the course.
Dreams shatter when any silly mistake in choice filling or wrong selection of college leads to getting a poorly ranked college. Imagine getting paid seats or no seats at all due to a lack of genuine guidance!