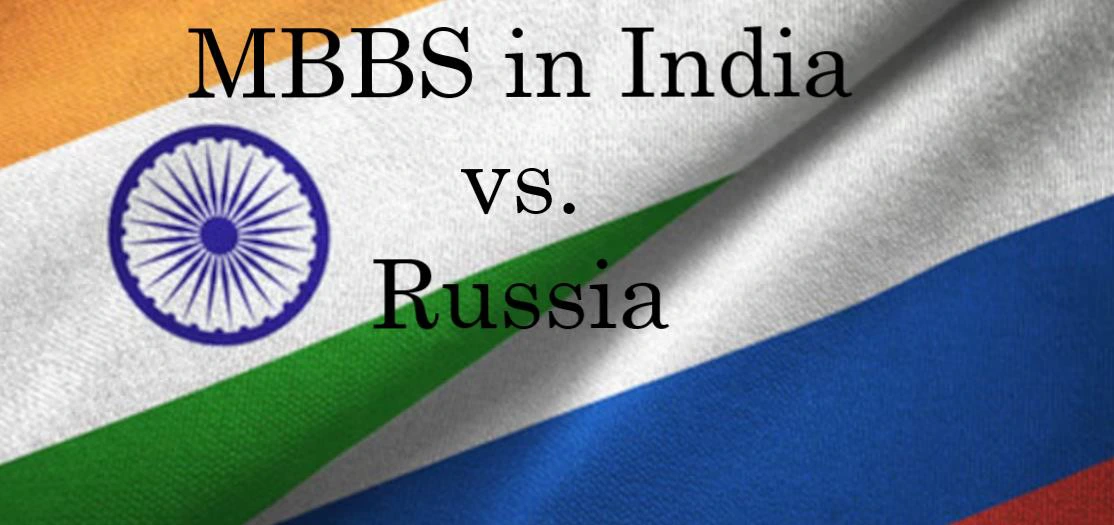 Embarking on a journey towards a medical career is a dream cherished by countless students worldwide. When it comes to pursuing an MBBS degree, many aspiring doctors face the dilemma of choosing between studying in India and seeking opportunities abroad. Russia has emerged as a popular destination for Indian students aspiring to become doctors, offering a unique blend of advantages and challenges. In this blog, we will comprehensively compare MBBS in Russia with MBBS in India, presenting the pros and cons of each option, while guiding you towards making an informed decision for your future.
Quick Facts about MBBS degree in Russia vs. MBBS degree in India
If we compare the medical education systems in Russia and India, we find that they are utterly distinct from one another. Possible distinctions between the Indian and Russian MBBS Programs are highlighted, find the table below-
| Parameter | India | Russia |
| --- | --- | --- |
| College Type | Both Public & Private | Only Public |
| Tuition Fee for the course | Public-1-3 Lacs Pvt 60 Lacs to 1.5 Cr | 15-25 Lacs |
| Duration | 4.5 + 1 Year | 6 Years |
| Infrastructure | Avg to Below Avg | Good |
| Degree Awarded | MBBS | MD Physician |
| PG Options in the UK & USA | Only 60%+ are approved ECFMG, GMC UK | 100% are approved |
| World Rank | Only AIIMS, Delhi | Many in the Top 1000 |
| Teaching Experience | Mostly 5-20 Years | 50-100 Years |
| Study Pattern | Asian-Pre, Para & Clinical | European ECTS |
| Internship | 1 Year | 1 Yr+ included in 6 Yr course |
| Subjects in MBBS | 19 Subjects | Almost 55+ Subject |
| ECFMG (USA) Accreditation | All Approved in Sept 2023 thru wfme | All are approved historically |
Strength of Indian Medical Education

Medical College footprint 2014 vs. 2023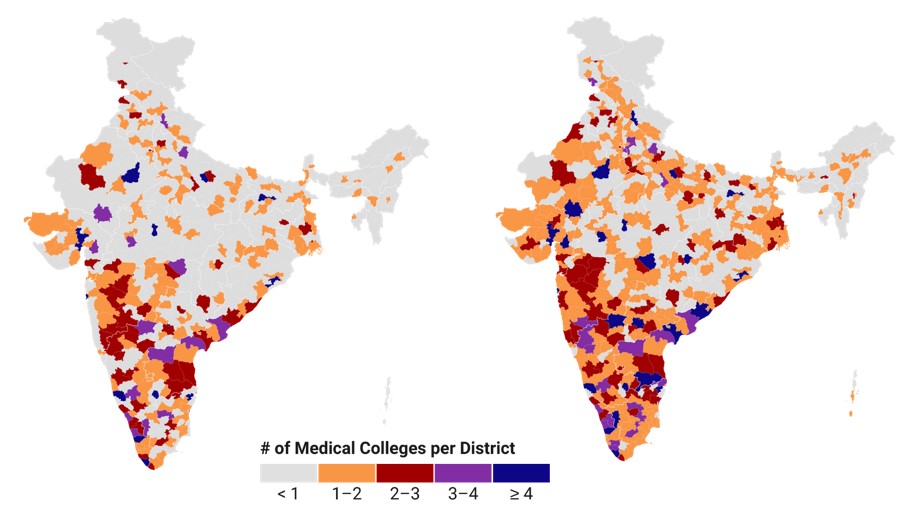 India now has more than 1 Lac Medical Graduates every year through 700+ Colleges owned by Govt and Private institutions. India is world one of the largest healthcare systems
Advantages of the Indian medical education system include:
Affordable Fee in Govt Medical Colleges: Fees in government medical Colleges in India are highly subsidized by the Govt, in contrast to Europe and the USA's medical colleges, which are very expensive and not possible to do for their citizens without assistance from financial institutions.
Patient Diversity: Being a tropical climate, Seasonal diseases are very high in India, Heart diseases, Kidney and lungs related diseases are also very common in Indian natives. Medical Students benefit from a diverse patient pool, offering a broad spectrum of medical cases for students to learn from.
No Language Barrier: Most of the Students are from the local area and they do need not to learn any new language to interact with the patients, however, this is a drawback also as they miss an opportunity to learn a new language within the country as well.
Research Prospects: ICMR in India offers numerous research opportunities in the fields of healthcare and medicine, enhancing the overall learning experience. Lack of awareness, Indian Medical students don't use this as a tool for their Academic profiling which plays a major role if students plan their Medical PG from the USA or the UK
Challenges in India for a Medical Aspirant
A Student aspiring to a Medicine Program in India starts his/her preparation from the 11th Standard, in many cases as early as the 9th Standard as well. This is not just about their passion for Medicine this is more about the difficulty of getting into the Medicine course in India in a Govt. Medical College. A few points are mentioned below.
1. Difficult to get a Govt. Seat in India
India has been facing continuous challenges in Medical education infrastructure for decades including the disconnect between education and health service delivery, the high cost of education, underutilization of existing resources, and the multiplicity of entrance examinations for medical seats, among others. Globally, there has been a constant drive to improve the doctor-population ratio to ensure better access to healthcare services.
| Year | Govt Seat | Overall Chance (Gvt.+Pvt) |
| --- | --- | --- |
| 2017 | 3.14% | 6.16% |
| 2018 | 2.79% | 5.44% |
| 2019 | 2.59% | 4.95% |
| 2020 | 2.67% | 5.03% |
| 2021 | 2.69% | 5.16% |
| 2022 | 2.41% | 4.86% |
| 2023 | 2.58% | 4.97% |
In 2023, more than 21 Lacs students appeared for India's most prestigious Medical Entrance Exam NEET-UG to secure their MBBS Seat in 710 Govt and Private Medical colleges collectively Approx. 185 Medical colleges with 23000 Seats added in the last 5 years both in Govt and Private sectors. Despite these efforts, the chances of getting an MBBS Seat in India dropped from 6.16% to 4.97% in the last 7 years. This is because of the growing number of NEET UG aspirants and the slow-paced evolution of the medical education infrastructure, which can meet the growing demand for MBBS seats.
2. Unaffordable Fees in Private Medical Colleges in India
The fee is a major factor when choosing a college. The Fee for any Medical Seat in India depends upon multiple factors Like government college, Private College or a deemed University
If we look at Indian Private Medical Colleges, they offer three types of seats Govt Seat, Management Seat, and NRI Seat. Paying hefty amounts of 65 Lacs to 1.5 Cr made the dream of becoming a doctor almost next to impossible for a student belonging to a middle-class family. This dream even looks worth less for many people, those who can afford this as Private Medical College has a low inflow of Patients entirely lacking quality infrastructure and shortage of faculties.
| Type of College | Management Seat | NRI Seat |
| --- | --- | --- |
| Deemed University Colleges | 75-90 Lacs | 1.25-1.75 CR |
| Private Medical Colleges | 65-70 Lacs | 1.25 CR |
Moreover, the compulsion of clearing the NEXT Exam to get the License in India made the pathway even more complex for Private Medical college students. Nonetheless, students get the opportunity to study at a Public University in Russia holding more than 100 years of experience at an affordable price, hence, MBBS in Russia is worth choosing over a Private Medical College in India.
3. Lack of Global Exposure
Indian Medical education is built in such a way, that most of the students admitted to Medical Colleges are from the same state, as 85% of MBBS seats are reserved for a particular state by law. Even students admitted through All India counselling also belong to the same state. Students not only lack Global exposure but also lack Indian interstate culture exposure as well. Getting exposed to different cultures, languages and ideas is the best thing in life a student can get, as their way of thinking also broaden their horizons.
4. Shortage of Skilled Medical faculties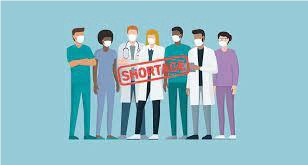 Being a Teaching faculty in India you must have a PG degree as per NMC norms. The chances of getting a PG Seat in any government medical College is only 10% (2.08 Lacs doctors applied for 15 K government seats in Non-Clinical and 8K in Clinical in 2023). Average Salaries in Medical College for teaching job makes it unattractive for any MD/MS Doctor. Many times a faculty member teaches the students multiple subjects, which affects the learning of a medical Student. In the case of the newly established medical colleges, it becomes hard to find the right faculty whose pedagogical abilities are at par with the standards set by NMC. Consequently, as many as 50% of posts of teaching faculty positions in these new medical colleges are vacant which leads to challenges in students' learning process. This lead to ghost faculties in these colleges. Most medical colleges have ghost faculty, all fail to meet 50% attendance requirement, says NMC
5. Lack of Clinical Knowledge in newly opened Indian Medical Colleges
When it comes to educational institutions, it is an established fact that those colleges/universities with a good number of years of experience are always better. They have a strong academic background and well-experienced teachers. India has seen a surge in new Medical colleges in the last 10 years due to the growing demand for Doctors, Govt is trying to fix this problem by relaxing the criteria for opening new Medical colleges. The important fact is, that most of the new medical colleges are Govt colleges. The new building of the Medical College has been built by the Govt. and the District hospital has been attached to these Medical colleges. The biggest problem is, that these colleges struggle with Clinical Teachers as most District hospitals lack Specialist doctors in hospitals attached to the medical college, subsequently lacking clinical knowledge for the students, which is very crucial for any medical student in their academic.
Lack of EMR of Patients: India still hasn't developed any mechanism for keeping Patients' medical records (EMR). This is primarily due to poor IT infra in Medical Hospitals. Many private hospital chains made such a system but it is not available for Medical education purposes. The biggest drawback of this India is forced to follow USA or UK norms for patient treatment which is not best suited for Indian conditions.
Why Russia has emerged as a favourite destination for Indian Students.
Russia has been the preferred destination for Indian Students for more than 30 Years, Thousands of students are going to Russia every year to fulfil their dream to become a doctor. Which was not possible either to immense competition in India or affordability issues for Private Medical Colleges.
1. Affordable Tuition Fee and Living Cost
Most Russian Universities have tuition fees in the range of 2.5 Lacs to 4 Lacs Rubles for a year, Since the program is 6 Years hence total cost of the program is 15 Lacs Rubles to 24 Lacs. The cost of living is also at par with Indian Metro cities. The living cost is approx. 12-15 Thousand in a month. You can consider the same cost in Indian Rupees as 1 RUB~ 1 INR.
2. Opportunity to Study in Public Medical Universities
Unlike India, Russia's Medical Education is completely Govt owned. This is a major advantage quality of education is monitored by Govt directly. It helps a uniform and better education across all the Medical colleges.
3. Global Recognition and Exposure
All the Russian Medical College are approved by all international accreditation bodies WHO, WDOMS, ECFMG etc. Many of the Russian Medical Universities have international academic collaboration for knowledge sharing. Any Russian Med Univ averages students from more than 40-50 nationalities. This gives the opportunity to the students to learn from different ethnicities and cultures across the world.
4. Russian Medical College Teaching Experience
Most of the Russian medical colleges are more than 50 Years old, Average teaching Exp of a Medical College in Russia is 75 Years in comparison to India's 6 Years. This gives them a clear advantage over India.
5. Availability of Indian Food
Though there are 90+ Univ in Russia, Most of the Indian Students are studying in 10-12 Medical universities only. Being a Large no of Indian students, the Private Indian canteen is run by contractors. The monthly cost of food is around 100-120 USD.
6.. Large Community of Indian Students
As per the Indian Embassy in Moscow, As of Aug 2023, 18000+ Indian Students are studying in Russian Univ and they are from different places in India. Most of the Univ has 1000+ Students on their campus. All Indian Festivals like Diwali, Holi, Independence Day, Ganesh Chaturthi etc. are celebrated by the students on the campus. University officials and Staff encourage and participate in these celebrations.
Advantage of studying MBBS in Russia.
Challenge in Russia for Indian Students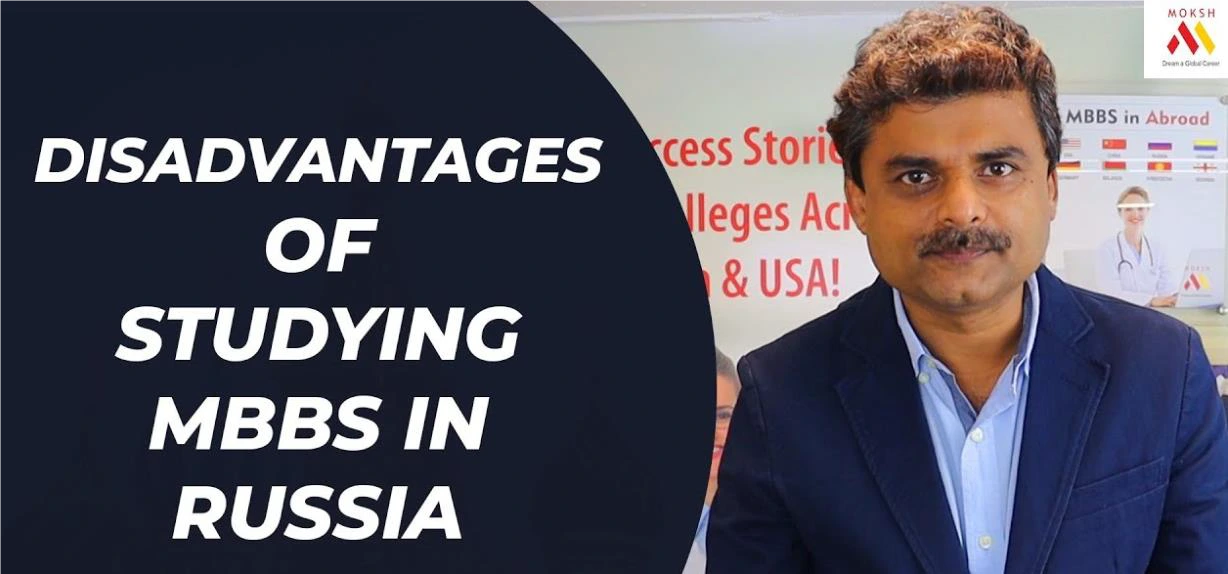 Although there are multiple advantages to studying MBBS Education in Russia, at the same time certain challenges persist. To start, a few such problems, faced by Indian students during their MBBS study in Russia are below
1. Language Barrier for daily life
English is not a common language in Russia, so basic daily conversation can be a major concern. All Medical Colleges teach the Russian language as a subject to get familiar with the surroundings though you study Medicine Program in English
2. Bilingual Program
Many Agents at times misguide the students for the Medium of instruction of the Program and put the students in a Bilingual program. Most Russian Universities run bilingual MBBS programs or entirely in the Russian Language, and very few completely in English hence the University selection must be done very carefully. You always need a trustworthy partner for your journey.
3. USMLE & NExT Preparation
Most of the agents misled the Indian students by claiming, that Russian universities offer NEXT, USMLE, or PLAB coaching to students, which is an utter lie. It is important to note that Universities in Russia are not responsible for providing NExT coaching as it is an Indian Licensing Exam (Few universities in Georgia offer an American Integrated Program as their Course Curriculum like University of Georgia). The University in Russia follows the curriculum designed by their medical regularity authority. You have to make preparations for the Licensing Exam on your own.
4. Low FMGE Passing Ratio
The FMGE passing ratio of Russian Universities is not very promising, which is approx. 18%. Primarily, this ratio occurred due to the unbothered conduct of students towards Licensing Exam FMGE or NEXT. Those who neglect the need to prepare for FMGE or NEXT after returning to India often meet challenges. Accordingly, it is advised to take USMLE or NEXT preparation from 1st Year.
Conclusion
Choosing between MBBS in India and MBBS in Russia depends on individual circumstances. India offers familiarity with language and curriculum but faces stiff competition for limited seats and high fees. In contrast, Russia provides affordable options with English-taught programs, but adapting to a different culture and language can be challenging. Consider your budget, willingness to adapt to a foreign environment, and career goals before making a decision. Ultimately, both options can lead to a successful medical career with dedication and hard work. You can download the MOKSH Career Planner App for your chances of getting a seat in India or can call to MOKSH for expert advice or MBBS in Russia.