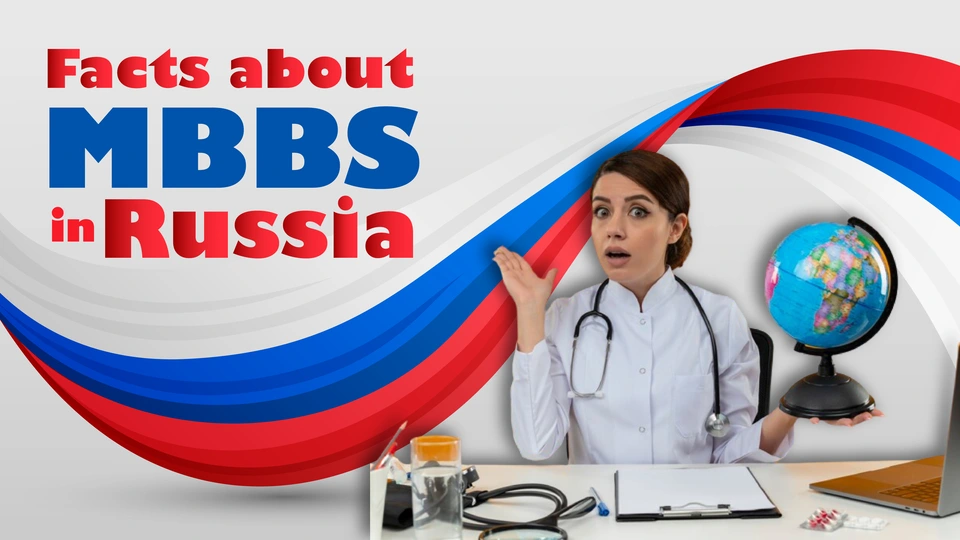 Located in the eastern region of Europe, Russia is truly blessed with scenic beauties. Be it the tall mountains or the eye-catching beach, the Russian federation (Russia) is a must-visit destination! Particularly, when we talk about MBBS in Russia for Indian students it is not only the best country but also one amongst the top destinations for pursuing medical studies, globally.
In fact, the education system of Russia ranks at 26th position, worldwide and is a well-recognized hub for Indian students who wish to study MBBS from abroad. Furthermore, in terms of the wide variety of programs that the medical universities in Russia provide, the stream of medicine, undoubtedly, tops it all!
Still confused? Here are some of the facts about MBBS in Russia to minimize your dilemmatic state of mind.
Why choose Russia for studying MBBS?:
So if you've performed an in-depth research on medical universities abroad, you might know that studying MBBS in Russia for Indian students is doubtlessly the perfect choice! In case you have no idea about why you should pursue you medical education from Russia, here are few reasons to help you in making a wise choice.
No entrance exam at Russian universities:
Yes, you read it right! Many Russian universities will not ask you to appear for any entrance exam (There are exceptions, of course). There's this simple rule in Russia that all international students will be selected on the basis of their high school scores and first-cum-first-serve basis.
No capitation fee or donation:
In India, the private medical colleges charge huge amount of donation in addition to the annual yearly fees. Whereas when we talk about the MBBS admission in Russia, this is not the case, because majority of public medical universities in Russia do not charge any amount for capitation or donation fee. Even the Tuition fee they charge is highly subsidized which makes MBBS in Russia a budget friendly option.
Feasibly economical cost of living:
In addition to the low cost of education, the cost of living in Russia is also very economical. As per studies, it's been found that Indian students are easily able to live in Russia at a low expenditure of 100-300 USD per month. However, the cost varies on the basis of the city in which you choose a University and eventually reside in and your pattern of lifestyle.
Well-furnished hostels:
The Russian universities offer you both In-campus and off-campus hostel facilities with all the basic amenities and fully-furnished rooms. There's a common kitchen too, for students who wish to cook their own food. In fact, there are separate hostels for boys and girls with CCTV surveillance.
Top-notch infrastructure of Russian medical Universities:
The majority of the Russian universities aim at rendering the world-class education facilities and has In-campus hospitals (fully-equipped with modern equipment).In fact, the top medical colleges in Russia for Indian students stand in the WHO and UNESCO ratings.
International exposure for medical aspirants:
As you get to meet students from all across the globe, you get to know about different cultures, backgrounds, countries, ethnicity, etc. and this eventually leads you to an international exposure. Particularly for medical aspirants, Russia provides a great opportunity to get exposed to large volume of patient inflow.
Here is the list of the top 10 medical colleges in Russia for Indian students having the highest quality of education, ranking, and facilities.
You can find the most popular Medical Universities for MBBS in Russia -


Click here to find all the further details of each of the above universities.
Value of MBBS degree from Russia
When you get an MBBS degree from Russia, it is considered equivalent to any other European country because of the rule established by the laws of bologna convention. This further means, that your degree is recognized worldwide and you can practice medicine in any part of the world, provided you qualify the screening test of that particular country. For instance: In India, you now have to appear for NEXT in order to practice as a doctor in India or pursue your medical PG in India.
Speaking of the value of MBBS degree from Russia, it is appreciated in top hospitals of India on the basis of how well you are able to prove your skills and knowledge of medicine. However, if you wish to practice independently, it usually sprouts on a word-of-mouth basis. There are also certain cases where the preferences boil down to your past experiences and your individual image rather than the degree.
So to sum it up, there is neither anything disregarding or glorifying about having an MBBS degree from Russia in the eyes of Indian masses.