Admission To Private Medical Colleges In India.
---
Admission to private medical colleges in India is really not a cheap and easy option. Medical Council of India offers a large list of around 230+ private medical colleges / deemed universities. Till 2015, the agents from across the country used to call the students and parents for this purpose. The agents used to promise guaranteed admission to MBBS in private medical colleges. Either the system was manipulated or agents cheated people. You would wonder where they came to know about your aspirations to become a doctor!
Webinar On MBBS In India
---
Changing Scenario For Admission To Private Medical Colleges - 2015 to 2018
---
Admission To Private Medical Colleges In India 2015:
The private medical colleges used to charge capitation fees ranging from Rs. 30 to Rs. 60 Lacs per medical seat till 2015. The private colleges were run by the trusts and it is believed that most of these colleges in India were managed by the politicians. Hence, the political will to remove the heavy capitation fee for private colleges was lacking. This way, the merit was not important. Money power was a decisive factor for the successful admission to private medical colleges. The students and parents were approached by unprofessional agents and mediators over the phone. They fraudulently posed as the official representatives of these medical colleges. Many of the students were cheated and paid the capitation fees for the medical seat.
However, in 2016, the entire system took a turn under the new Prime Minister of India. The government of India proposed new system through MCI (Medical Council of India). All the admissions for the private medical colleges were on the basis of the NEET Exam merit. This changed the whole system and the MBBS admission scenario in India! So what is your alternative?
Group Counselling (Seminars):
---
MOKSH is going to hold seminars in different parts of India and shall come to your city anytime, DO NOT MISS this golden opportunity to interact with our expert counsellors and get the right advice on your medical career! Click here to register for the seminar!
Also, it is highly advisable to attend one of our Online Counselling sessions on MBBS abroad till PG before attending the seminar as you would have your basics clear since the start! Click here to attend an online counselling session!
Final System Adapted For Admission To Private Medical Colleges In 2022:
---
The government introduced a new system very late in April, 2016. For those who already registered for the original NEET exam conducted in the month of May, 2016 gave state level as well as NEET exam. However, the students were not sure which one would be finally accepted. The case was fought between the government of India and the private medical colleges in a big way right at the supreme court, The fate of around 6.50 Lac students was hanging without any final decision for almost 5 months. Private colleges fought to have the right to take entrance exams.
The government of India stuck to its decision to follow the resolve to wipe out capitation fees system. They announced one more chance for the students. The NEET 2 exam was taken in July, 2016 for the students who wished to take it. Accordingly, if the students filled their preferential forms for the colleges after NEET 1 were not eligible for the NEET 2. Also, those who filed NEET 2 forms were conveyed that NEET 1 scores would not be counted. What did the students do in such a mess? They opted for MBBS abroad as a viable option in a MCI approved university abroad.
How The Capitation Fees For Private Medical Seat Was Removed In 2022.
---
None of the private medical college or deemed universities were allowed to conduct their own entrance test in 2022. The supreme court also accepted the government suggestion. The private colleges lost their complete control and manipulations over admission process. The manipulation was done all these years due to the control of the Entrance Test remained with the private medical colleges in India. However, from 2016, these private colleges will have to accept the students through NEET. All the medical seats in private colleges admission were allotted (Except NRI Quota seats) through a Nationwide Entrance Test (NEET-2). This was originally proposed by the government to the Supreme court of India and finally made as a rule. NEET Eligibility was then reduced to only 145 Marks for open category and 118 for reserved category.
By 2018, the system is fully established with NEET 2018 as the exam to allocate the around 64,000 medical seats throughout India.
Accordingly, in order to continue their existing revenues per medical seats, the private colleges have started jacking up the annual fees. For NEET 2018, there is absolutely no need to approach any agents. If you are on merit, no one can stop your admission to private medical college or a deemed university.
Online Counselling Session (Webinars):
---
Get Complete information on MBBS Abroad, MBBS in India, How to choose the university, country, Pros & Cons of different countries, PG preparation followed by a Q & A session with doubt clearance and every other possible detail regarding MBBS right up to PG! To get a glimpse of the previous webinars, Click on MBBS Abroad till PG, MBBS in USA till PG, MBBS in Germany till PG to watch. These are the recorded versions.
To register for a live Online counselling session and get all your doubts cleared with the CEO of MOKSH, Click here. You can also subscribe to our channel on Youtube in order to get constant updates on new webinars and videos on MBBS Abroad! Click here to subscribe to MOKSH Webinars!
In case of any error, Call on 9699360370.
Effects On Cost Of Private Medical Colleges In India 2016.
---
The students got their first shock when they saw private medical colleges increased their fees from Rs. 7 - 8 Lacs to an average of Rs. 15 Lacs per year. This was done abruptly after NEET 2022 results. The private medical colleges which charged annual fees in the range of Rs. 8 to Rs. 10 Lacs in 2015 are now expected to charge on average Rs. 12-15 Lacs/year from 2016. This will make the total cost to study MBBS in private medical college in India to around Rs. 70 Lacs even for the merit students through NEET-2. This cost is much higher than the cost to study MBBS in USA right up to PG! It is funny that even now, most of the Indian parents make the mistake of putting their child to a private medical college as their first choice
Effects On Eligibility Criteria For Admission To Private Medical Colleges In India 2016.
---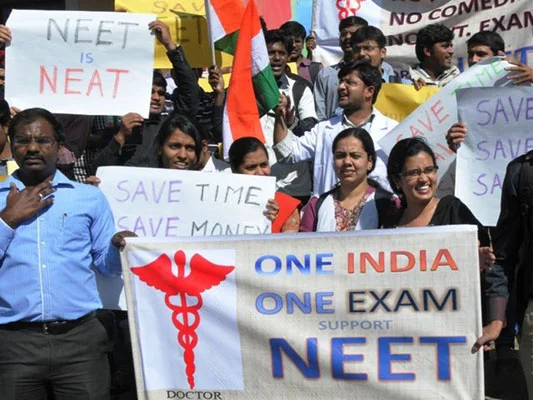 Finally, the students getting above cut off marks of NEET 2022 at 525+ (General Category) and 480+ (Reserved Category) got admission successfully in government medical colleges. Due to the proactive initiative to wipe out the capitation fees from the medical admissions in India, the private medical colleges were not able to find enough candidates. Accordingly, the eligibility criteria for private colleges was finally announced as low as 131 for open category and 107 for reserved category! This decision came as late as end of Sept 2022 when all the government colleges were already functional with their first-year batch! Almost 40% of the seats were vacant in private medical colleges in India in 2022.
Expected System For Admission To Private Medical Colleges In India 2022:
---
The whole system would be cleaned and all the admission to private medical colleges would be through a single NEET exam in 2022. Accordingly, there would be more than 50,000 medical seats available in India. So it can be expected that around 4% of the students who appear for the NEET 2022 exam would get admission in government medical colleges. Another 4% of the students would be able to get the admission to the private medical colleges with average fees of Rs. 65 Lacs
. MBBS in USA as an Alternative
Tips For Applying ADMISSION TO PRIVATE MEDICAL COLLEGES.
---
The admission letters can be issued only after the counseling sessions are completed. Accordingly, the issue remains unconfirmed until August every year, irrespective of when you book the private medical seat. ACCORDINGLY, DO NOT GIVE ANY MONEY TO ANY AGENT IN ADVANCE.
In the past, there have been many cases where the agents have taken the money from the parents by promising the admission to private medical colleges and ultimately vanished. Every year, the advertisements are published in leading newspapers from Feb to July. Please ignore them! In 2016, these bogus advertisements have reduced. There is no way that an agent can manipulate NEET exam results. So the agent system is absolutely over.
The Education consultant would put you in a direct contact with the management of the private medical college or MBBS deemed university for admission to impress you. However, he can be in hand in glove with the medical college. So contacts and relationships would not be of any use. NEET results would matter.
No agents or education consultants in India is authorized by the college or a deemed university to take fees/donation / collect capitation fees on their behalf. Accordingly, there is absolutely no need to pay any advance to any agent for your Admission to private medical colleges.
There is absolutely no sense in paying high fees for taking admission to private medical colleges especially when the college is situated in rural or town area due to the low patient flow. Hence, visiting the college before approaching is a better solution, in case you are looking for smaller places.
Tele - Counselling:
---
MOKSH has an extremely knowledgeable and experienced team of MBBS counsellors who have an expertise in a specific topic like MBBS in Russia, China, USA, Ukraine, Germany, etc right up to PG. You can be in touch with one of the counsellors constantly via phone calls, SMS, Whats app, Emails, etc and they shall be there to solve your doubts and help you carve the right path towards your MBBS journey!
You can call on,
9699360370 for MBBS Abroad like Russia, China, Ukraine, Georgia, Poland, Kyrgyzstan, etc ( if you have a budget in the range of Rs. 15lacs and above)
Make Your Medical Career Roadmap Up To Pg, Not Only Mbbs!
---
The roadmap to Medical PG is even worse than the MBBS. The donation amounts are almost 2 to 4 times that of MBBS stage in India. Additionally, One must understand that only 10% of the students becoming a doctor are able to do their MD / MS programs. Naturally, the students studying in the government medical colleges or admitted through merit in private medical colleges in India are much better placed to get the government seats at MD / MS level. Accordingly, with the falling value of MBBS in India and necessity to become an MD / MS, it would be completely unviable for you to pay very high at MBBS stage. So think from the entire road map view and not only at MBBS stage.
Did you know that in case you choose medicine program in America, you earn around Rs. 70 Lacs while pursuing PG in USA after MBBS there? Imagine, you spend less than private colleges in India to complete MBBS and then promoted yourself to PG in USA. The net cost till PG is ZERO! So do not put the burden on your parents. Avoid donation. Go for USA!
Try to deal with the top study abroad consultants and not 'agents'. The consultant would be able to advise you well on the entire MBBS road map.
Planning Your Admission To Mbbs In 2022.
---
You can adapt following steps to ensure your guaranteed MBBS seat in 2022.
Step 1. Assess your own self if you are capable of coming in top 4% of the entire country. (Top 2% for open category and balance for the reserved category). You may choose our Online NEET Crash course along with NEET test series.
Step 2. In case you are not feeling confident, start discussing the budget for the education with the parents. If it is more than Rs. 60 Lacs and if you are feeling confident to get into the next 5% of the student aspirant, you may get ready for the private medical college. However, we must warn you that PG seat would become very difficult for you. Accordingly, reserve your seat for MBBS in USA right from the beginning. We also have a special scheme launched in 2019 in which you can opt for NEET Crash course + Pre registration to secure MBBS abroad seat.
Even if you are confident here, it is always better to create a backup plan such as MBBS Abroad. Just reserve your admission to the right university after understanding the whole academic challenges.
Step 3. In case you are not confident for the first 9% of the merit in NEET and you do not have the budget of exceeding to Rs. 60 Lacs, immediately reserve your seat for MBBS in Abroad to many other countries. You can start attending our medical admission counseling webinar to understand the opportunities starting from Rs. 12 Lacs to Rs. 1.50 Cr for MBBS abroad options.
For further guidance, you may get in touch with MOKSH. MOKSH Overseas Education Consultants is a reputed study abroad consultant in India. It has expertise on MBBS after placing more than 350 students in India and abroad. We also do Online Seminars (webinar) frequently to guide the students towards a right career path.
Register for the Online Seminar
MBBS Abroad / MBBS In Overseas Countries (Costs Less Than Indian Private Medical Colleges)
---
The best thing is to take an admission in Overseas MBBS program right from the beginning. One must create a backup plan irrespective of your state level entrance exam for MBBS or NEET marks. In a case of the lower budget to study MBBS in Indian private medical colleges, you must create your Plan B. you have an option to reserve the medical seat to become a doctor in the same year. The Indian Students looking for MBBS may choose not to go abroad in case they get the admission through NEET! We do not charge any advance money to facilitate you for the MBBS Admission in advance. So book your overseas medical MBBS seat in advance.
If you miss the chance by not applying to MBBS Abroad program within the deadline, you are making a big mistake. Go through the free MBBS counseling webinar and know all the secrets about MBBS abroad from various countries such as China or MBBS in Europe such as Russia, Kyrgyzstan, Belarus, Georgia, Poland, Azerbaijan and finally MBBS in the USA! It costs around Rs. 70-80 Lacs to become a doctor in India. It takes just Rs. 12 Lacs to become a doctor by pursuing MBBS in Kyrgyzstan.
Personal Counselling:
---
MOKSH has its branch offices in 12 cities of India now so there is no need to travel all the way to the Mumbai Head office for a personal counselling! You can still do so if you wish though. To get to a MOKSH office in your own city for a free personal counselling session on MBBS Abroad right up to PG in USA/ Germany, You call on 9699360370 and our counsellor shall arrange a Personal counselling session in your city or the closest location to you.
When To Apply For MBBS Abroad Programs.
---
You would surely be tempted to wait till the entrance test results are announced. However, with the low number of seats available, there is no guarantee of admission. So ensure your medical seat with guarantee first. Then continue to process your Indian application. It does not cost anything (except for the application fees) to start the application for MBBS abroad programs. Enquire Now
COUNTRY WISE LIST OF TOP MBBS UNIVERSITIES WITHIN YOUR BUDGET!
---
Budget Includes:
---
Tuition fees for the entire MBBS course
Hostel accommodation for the entire course
Food and Living cost through the course
Miscellaneous Costs including
We represent more than 50 Medical universities from various countries. However, these are TOP 10 Universities from suggested on various parameters. Though studying medicine in America is an expensive proposition, it is still beneficial to the Indian students and costs lesser than Indian private medical colleges
Scholarship Test:
---
MOKSH holds an Online Scholarship Test every year where in the students get the NEXT Online Coaching on a huge discount or even 100% scholarship which otherwise costs more than Rs.1, 25,000. It is a 360 marks MCQ test focused on the 12th Board exams syllabus.
The students who register with MOKSH for MBBS Abroad get a higher priority in the scholarship test. You can call on 9699360370 to get further information on the scholarship test of 2019!
List Of Private Medical Colleges For MBBS In India
BEST OF LUCK!