Ivano-Frankivsk National Medical University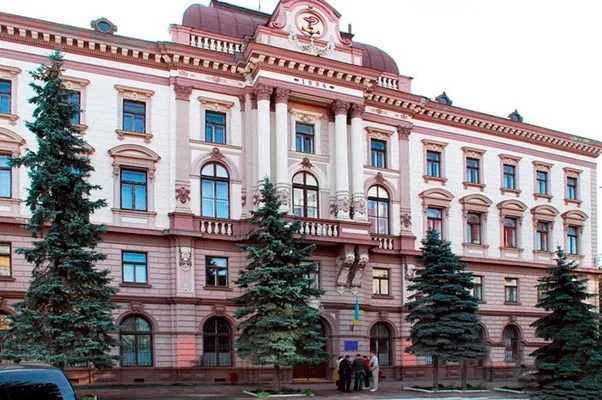 ---

Name: Ivano-Frankivsk National Medical University
Tuition Fees: Rs.3,00,000/Year.
Duration : 6 Years.
Application Deadline : September 2023
MCI Status : Approved (List of MCI Approved Universities)
---
Till 2014, study MBBS in Ukraine was as popular as MBBS in Russia among Indian students due to the fact that the temperature is moderate in this region. Ivano is a superb and peaceful city on the west side of Ukraine wherein this top medical college approved by MCI is available. Till date more than 3000 Indian students have passed MBBS program from Ukraine. Till 2014, Ukraine was considered to be a better option for the students with respect to studying MBBS. However, one must remember that the problem is only on the East side of the country and rest of Ukraine is still the same.
One of the oldest universities of Ukraine founded in 1945 and having more than 70 years of experience to teach MBBS in Ukraine has always been in forefront to produce capable healthcare professionals. The surrounding and the campus of Ivano-Frankivsk National Medical University is an extremely peaceful and void of any distractions. Ivano in Ukraine is a very beautiful city to study and lot of Indians are already there. The patients flow is limited in comparison to the Russian hospitals. On completion of MBBS in Ukraine within 6 years including 1 year of internship, you would be allotted a degree of "MD" which is equivalent to MBBS in India. The registration with MCI would be done only for MBBS after giving MCI screening test.
Cost Of Study For MBBS In Ivano-Frankivsk National Medical University (In USD)
---
| in USD | Year-1 | Year-2 | Year-3 | Year-4 | Year-5 | Year-6 |
| --- | --- | --- | --- | --- | --- | --- |
| Tuition Fee | 4,000 | 4,000 | 4,000 | 4,000 | 4,000 | 4,000 |
The costs are calculated at 1 INR = 79 USD and it generally varies within +/- 10% range.
The total cost to study MBBS in Ukraine at 'B+' Graded University – Ivano-Frankivsk National Medical University would be Rs. 23,62 Lacs for 6 years. Kindly add the cost of MOKSH service charges towards Counseling, Guidance, Admission, Travel services (Air Ticket + Visa + Hostel Drop) as per the Registration form.
Admission Deadline:
---
In order to guarantee your place for MBBS in Ukraine programs, you shall really have to time your application perfectly. The ideal time to apply is always before September 2023 every year in Ukraine. The problem is not with the admission letter but mainly the Invitation letter & Visa process which takes around 2-3 months to be issued from Ministry of Education & Consulate of Ukraine. Visa is issued only on the basis of this Invitation letter. Also, one must remember that there have been few cases of visa rejection by Ukraine consulate for Indian students apart from very high cost of Visa for Indian students. (3 times the cost of Russian Visa).
Eligibility:
---
Indian students looking to study MBBS abroad having lower academic such as 55% in PCB and still wishing to go for high quality and lower cost MBBS in Ukraine programs choose this university. Even students with 50% may apply with just application money as their risk factor and secure the admission here through MOKSH.
It is relatively easier to get admission to Ivano-Frankivsk National Medical University, the number of students going to Ukraine has drastically gone down and the economy of the country is on the verge of collapse.
Indians At Ivano-Frankivsk National Medical University
---
MOKSH, an expert education overseas consultant in Mumbai has been placing Indian students to study MBBS in Ukraine in general & at Ivano-Frankivsk as its exclusive representative in India for the last 3 years. All these students understood the difficulty level of getting into Indian government medical college and applied through MOKSH for MBBS in Ukraine. The number of Indians at this university is less than 20 students.
Always prefer to apply directly instead of sub-agents since it would give the students a chance to get honest guideline to select the right university suitable for MBBS in Ukraine. Register for the Online Seminar
PG Option after MBBS in Ivano-Frankivsk National Medical University
Students after completing MD Program in Ukraine may explore multiple options for their Medical PG like India after clearing NEXT, USA after Clearing USMLE, UK after clearing PLAB Exam, or Medical PG in Germany. Those who are looking for Medical PG from Ukraine need to do one year of Internship in Ukraine after their 6 years of the MD Program. Before that, they have to clear Ukraine Medical PG Licensing Exam. Very few international students opt for it in the program in Ukraine, and no acceptance in their native country.
Medical PG in India or NExT
During MBBS study, a student realizes the importance of being a specialist. They also understand the competitiveness to secure MD/MS Seat in Govt College. If we look at the success ratio to get PG in Govt Medical College which is 11% Broadly we can say that only 1 out of 10 will get PG Seat whereas the chances of getting Clinical specialty is 1 out of 20 applicants. It is obvious that the PG journey is going to be very difficult or else students should have enough money to get the paid seat in Pvt Medical College which may be in Crores!
Total Applicants NEET PG 2021
Specialty
Govt Med College
Pvt Med College
Seats
Success Ratio
Seats
1.75 Lacs
MD (Non Clinical)
15K
8.6%
10K
MS ( Clinical)
8K
4.6%
5K
Total
23K
11.4%
15K
Do you feel early preparation and the right mentorship will pave your dream of becoming a specialist? NMC already notified the introduction of the NEXT Exam in India from 2023. This exam will replace all Medical PG exams in India. The exam will be conducted in two parts NEXT-1 and NEXT-2.
The Objective of the NEXT-1 is to assess the Student's Knowledge of Pre, Para, and Clinical Subjects on the National Level. Only post-qualifying of NEXT-1 any Medical student will be eligible for an Internship. Post completion of internship Students needs to go thru NEXT-2 which will assess their Clinical skills, Patient Management, and Keeping of Medical history. Those who will Clear NEXT-2 awarded a license to practice and Rankers of NEXT-1 will get PG seats of their choice. You may refer to Page for detailed information on the NExT Exam
Medical PG in USA (USMLE)
We are well aware of the difficulty of getting PG in India. With the introduction of NEXT, maximum students in India are getting attracted to USMLE prep from 1st year of MBBS since it simulates the new NMC Competency-based curriculum much easily. US Healthcare system is considered as one of the best health care systems because of numerous reasons like High rewards, excellent infrastructure, Merit-based assessment, Open opportunities for Super specialties. Most of the countries trying to replicate the US health care assessment system for their Medical Graduates USMLE exam are divided into 3 Parts. One can appear in USMLE Step 1 after 2nd Year, USMLE Step 2 CK during internship and Step-3 during your residency (Medical PG). The USMLE is an online exam and can be taken at the PROMETRIC centers present across India.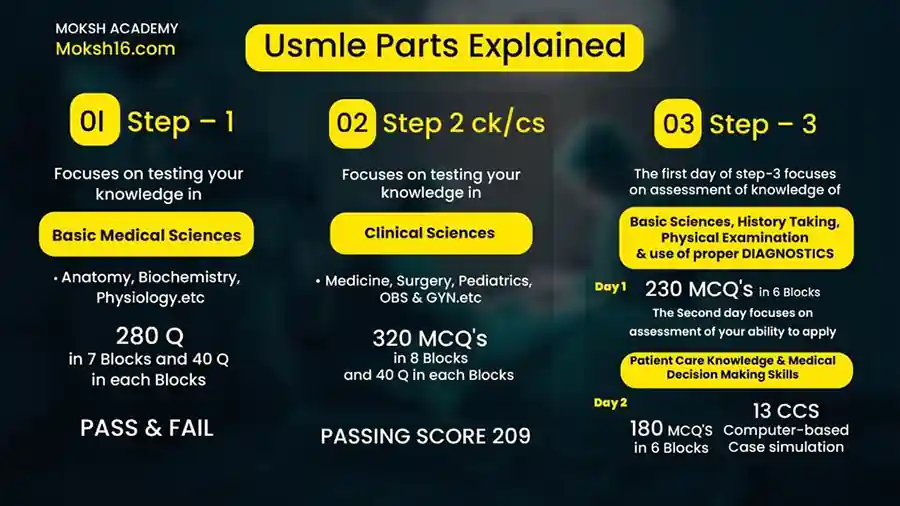 MOKSH Coaching focuses on a patient-centered learning approach which helps students score high on both USMLE & NEXT. MOKSH is the leading name in USMLE Coaching. Currently, 1000+ Students from Indian and Abroad medical colleges are preparing for USMLE steps via the MOKSH Platform.
Medical PG IN UK (PLAB)
Due to the close proximity of Georgia to UK, many of the students plan to do their Medical PG from UK. Till 2024, the Professional & Linguistic Assessments Board Test (PLAB test) is the instrument to assess the skills and knowledge of an International Medical Graduate. It also judges whether they are fit to be trained to practice medicine in the UK.
In short, an IMG's performance in PLAB determines her eligibility to practice in the UK. The PLAB test has two stages. PLAB 1 is an exam that has 180 MCQs that tests your recall. On the other hand, PLAB 2 is a practical OSCE (Objective Structured Clinical Exam) that tests your clinical skills.
The GMC ascertains your linguistic skills by assessing your score in specific tests. It may be the IELTS (Band Score 7.0 or higher) or OET (Grade B in reading, writing, listening & speaking).
After you pass PLAB 1 & 2, you apply for the GP registration. There is one constraint. You have a window of 2 years after clearing PLAB 2 during which you may apply no later.
By 2024, the UK Medical Licensing Assessment will replace the PLAB. Consequently, the GMC UK is going to change certain things in PLAB and create the UKMLA exam.
Medical PG in Germany

PG in Germany after MBBS in India is another great option, though it requires you to learn the German language. Of the 6 levels starting from A1 to C2, you need to clear A1 and A2 that would qualify you to apply for the visa.
Once the Language formalities are done, you get into the phase where you do Observer-ship from a German hospital approved by the German Medical Council. This is followed by Residency.
This may sound simple here but the process is quite complicated. To know more about PG in Germany after your MBBS in India,
Your Chance to get an MBBS Seat in India
The most difficult time for any of the students is to wait after NEET till the counseling process to know whether he/she is getting a college of his/her choice or not? Sometimes this dilemma continues for a couple of months due to multiple rounds of counseling. It has become more difficult due to parallel counseling of All India Quota and various States due to COVID-19. The counseling process is very complex where 550+ Govt. and Private colleges offer 83000+ Seats and fee variation is also huge that ranges from less than 1 Lac to 2.5 Cr for the course.
Dreams shatter when any silly mistake in choice filling or wrong selection of college leads to getting a poorly ranked college. Imagine getting paid seats or no seats at all due to a lack of genuine guidance!