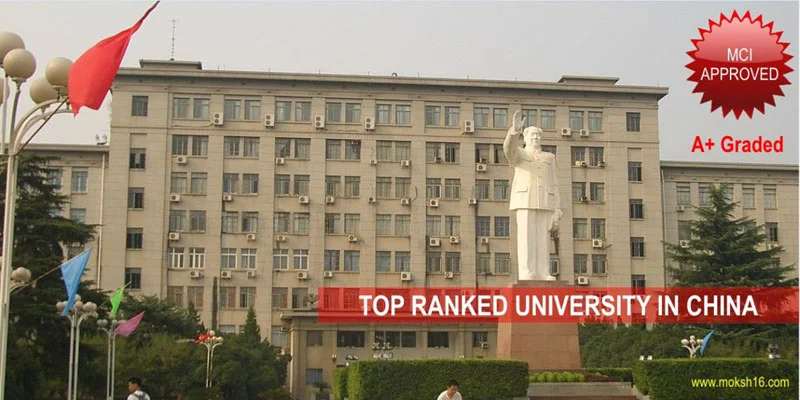 MBBS Admission Open 2023
It is a dream for every student to take admission to MBBS in China at HUST, Huazhong University of Science and Technology. Imagine a university with more than 1,100 Acres large campus which is covered with Tree on its 72% of the land and teaching MBBS in China (Taught in English)! That's what this 75 years old top medical university offers you, a grand environment wherein more than 60,000 Chinese students and 3500 International students study various streams including for MBBS program in top medical college. This large campus of the top medical college, HUST is one of the top MCI recognized universities in China. is situated in the centre of Wuhan city in South Central China. The admission to MBBS in China at HUST is possible through MOKSH in a very smooth and reliable manner.
---
| | |
| --- | --- |
| Name | Huazhong University Health Science and Technology (Formerly HUST). |
| Tuition Fees | Rs. 24 Lacs. |
| Duration | 6 Years. |
| Application Deadline | September 2023 |
| MCI Status | Approved (List of MCI Approved Universities) |
NEED GUIDANCE TO SELECT THE COUNTRY?
Group Counselling (Seminars):
---
MOKSH is going to hold seminars in different parts of India and shall come to your city anytime, DO NOT MISS this golden opportunity to interact with our expert counsellors and get the right advice on your medical career! Click here to register for the seminar!
Also, it is highly advisable to attend one of our Online Counselling sessions on MBBS abroad till PG before attending the seminar as you would have your basics clear since the start! Click here to attend an online counselling session!
Admission to MBBS in China in 2023 at HUST
---
There are more than 80 Indian students (with around 50 boys and 30 girls from various corners of India) studying MBBS in China at Huazhong University of Science and Technology which is selected by few Indian students at higher cost. The university is approved in MCI (Medical Council of India). Therefore, Indian students can study in this top medical university of China with same syllabus as that of India. The MCI screening test results from this university is more than 90% passing due to high grade. The students have to pursue a 6 year MBBS program including 1 year of live hospital internship. The University is A+ grade and is approved by most of the councils around the world such as USMLE, PLAB (UK) and many other middle east countries. Accordingly, MOKSH recommends you to take Admission to MBBS in China at Top Grade University,HUST.
There is only one intake in HUST in August every year and Admission to MBBS in China at HUST is not an easy task. The application deadline is generally 30th of June. The minimum academic records of the students in Physics, Chemistry, Biology (PCB) at 10+2 level in Science stream are 85%. There are only 15 seats for Indian students.
In order to ensure your Admission to MBBS in China at Top Grade University, HUST and ensure a medical seat to study MBBS at this top medical college in China, it is advisable to block the seat in this University. You just need to be paying the Application fees on getting the transcripts of 10+2 and not wait for the Indian admission system to be completed. There are good chances that the seats would be over by 20th June itself. Just See the largest and amazing campus for studying MBBS in China in this top ranked college.
We do Online Seminars (webinar) frequently to guide the students towards a right career path.
Register for the Online Seminar
ONLINE COUNSELLING SESSION (WEBINARS):
---
Get Complete information on MBBS Abroad, MBBS in India, How to choose the university, country, Pros & Cons of different countries, PG preparation followed by a Q & A session with doubt clearance and every other possible detail regarding MBBS right up to PG! To get a glimpse of the previous webinars, Click on MBBS Abroad till PG, MBBS in USA till PG, MBBS in Germany till PG to watch. These are the recorded versions.
To register for a live Online counselling session and get all your doubts cleared with the CEO of MOKSH, Click here. You can also subscribe to our channel on Youtube in order to get constant updates on new webinars and videos on MBBS Abroad! Click here to subscribe to MOKSH Webinars!
In case of any error, Call on 9699360370
Cost Of Study At HUST : 6 YEAR MBBS PROGRAM
---
MBBS in China fees structure at Huazhong University of Science & Technology (HUST).
| Cost (CNY)* | Year-1 | Year-2 | Year-3 | Year-4 | Year-5 | Year-6 |
| --- | --- | --- | --- | --- | --- | --- |
| Tuition Fee | 40000 | 40000 | 40000 | 40000 | 40000 | 40000 |
Tele - Counselling:
---
MOKSH has an extremely knowledgeable and experienced team of MBBS counsellors who have an expertise in a specific topic like MBBS in Russia, China, USA, Ukraine, Germany, etc right up to PG. You can be in touch with one of the counsellors constantly via phone calls, SMS, Whats app, Emails, etc and they shall be there to solve your doubts and help you carve the right path towards your MBBS journey!
You can call on,
Application Deadline For Admission For MBBS At HUST:
---
There is only one intake in HUST in August every year for which the application deadline is generally 10th of July. Generally, the students who expect more than 80% in their 10+2 level block their medical seats at HUST right from the beginning and do not wait for the last minute. However, in case you are awaiting for private medical colleges in India, you might be too late for Admission to MBBS in China at HUST. There are almost 90% of the seats are filled up in 30th June every year. In order to ensure your admission at HUST, you just need to pay the Application Fees and submit the 10+2 Transcripts / Mark sheets as soon as the results are announced. From this time ,the entire application system is now available on-line.
Reserve A Seat In Mbbs Abroad Admission 2023
---
In 2016, many of the students were waiting for NEET 2 exam. These students are making a big mistake since the application deadline for most of the MCI approved MBBS abroad universities would pass. In turn, they would waste one more year by repeating the year. MOKSH offers you an innovative solution by reserving your seat and taking the admission letter in your hand as your PLAN B. In case you get the admission through NEET 2, you need not go to your chosen university for MBBS abroad. However, in case you do not make it, at least your back up plan is ready! It would be a smart decision for those students who already booked their medical seats. You must take note of important points:
The fees of private medical colleges have been jacked up by almost 50% reaching around Rs. 75 Lacs for full course.
The admission to the private medical colleges would be only for top 2-3% of the NEET 2 takers.
If you have prepared only for the state boards, it would be very difficult for you to prepare for NEET even in 2023!
You do not need to pay even a single Paisa for reserving the seat except university application fees.
So just reserve the seat in a MCI approved MBBS abroad university as per your budget and relax!
Kindly note that many unprofessional agents collect money from you for the first year tuition fees from you. As you can see, MOKSH clearly gives yo an indication of the actual fees and its service charges.
HUST
Jiangsu University
Jilin Medical University
Fees
4 L/year
Fees
3.4 L/year
Fees
3 L/year
Duration
6 Years
Duration
5 years
Duration
5 years
Apply By
Sept 2023
Apply By
Sept 2023
Apply By
Sept 2023
Read More
Read More
Read More
PERSONAL COUNSELLING:
---
MOKSH has its branch offices in 12 cities of India now so there is no need to travel all the way to the Mumbai Head office for a personal counselling! You can still do so if you wish though. To get to a MOKSH office in your own city for a free personal counselling session on MBBS Abroad right up to PG in USA/ Germany, You call on 9699360370 and our counsellor shall arrange a Personal counselling session in your city or the closest location to you.
Mbbs In China Eligibility In A+ Grade University - HUST:
---
Students should get more than 80% in PCB at 10+2 level. The students from South India generally get 90% and apply in this university. Basically, there are only 15 seats are available for Indian students in this top medical college of China. Again these seats are divided among North / South / West India. MOKSH, as a reputed MBBS abroad education consultants in Mumbai for medical. Generally, block 5 to 10 seats every year in this university. It can accommodate students eligible for Admission to MBBS in China at HUST. The Indian students must reach there before 25th August.
How to get Admission to MBBS in China at HUST 2023
---
Most of the time, the students are confused on how to apply for in this top medical university of China since the agents normally charge too much for the admission to this top medical college. In order to facilitate the students and make the entire process simpler and hassle free, we have launched an On-Line Application system where in the entire application system is directly connected with the admission portal of Huazhong University of Science and Technology (HUST) which has already allocated the medical seats to MOKSH to study Admission to MBBS at HUST for Indian students. It is our endeavor to create an honest counselling and admission system so that the students can apply directly to the selected medical universities or top medical colleges in China without any problem.
There is absolutely NO NEED TO PAY any advance money in our system. Students can simply submit their documents on-line and even pay the university application fees (non-refundable) on the spot. You can now be sure of your admission letter once MOKSH has kept the admission open in that university if you are eligible for the same. There are 3 important points before Indian students should apply for the MBBS in China programs.
Students should meet the eligibility criteria.
Students should apply before the deadline.
The seats should be available with MOKSH. You can see it on top of the page if the admission is open or closed. Students cannot apply once the seats are full. The box would turn RED.
PG Option after MBBS in Huazhong Univ of Sci. Tech - HUST
Students after completing MD Program in China may explore multiple options for their Medical PG like India after clearing NEXT, USA after Clearing USMLE, UK after clearing PLAB Exam, or Medical PG in Germany. Those who are looking for Medical PG from China need to do one year of Internship in China after their 6 years of the MD Program. Before that, they have to clear China Medical PG Licensing Exam. Very few international students opt for it in the program in China, and no acceptance in their native country.
Medical PG in India or NExT
During MBBS study, a student realizes the importance of being a specialist. They also understand the competitiveness to secure MD/MS Seat in Govt College. If we look at the success ratio to get PG in Govt Medical College which is 11% Broadly we can say that only 1 out of 10 will get PG Seat whereas the chances of getting Clinical specialty is 1 out of 20 applicants. It is obvious that the PG journey is going to be very difficult or else students should have enough money to get the paid seat in Pvt Medical College which may be in Crores!
Total Applicants NEET PG 2021
Specialty
Govt Med College
Pvt Med College
Seats
Success Ratio
Seats
1.75 Lacs
MD (Non Clinical)
15K
8.6%
10K
MS ( Clinical)
8K
4.6%
5K
Total
23K
11.4%
15K
Do you feel early preparation and the right mentorship will pave your dream of becoming a specialist? NMC already notified the introduction of the NEXT Exam in India from 2023. This exam will replace all Medical PG exams in India. The exam will be conducted in two parts NEXT-1 and NEXT-2.
The Objective of the NEXT-1 is to assess the Student's Knowledge of Pre, Para, and Clinical Subjects on the National Level. Only post-qualifying of NEXT-1 any Medical student will be eligible for an Internship. Post completion of internship Students needs to go thru NEXT-2 which will assess their Clinical skills, Patient Management, and Keeping of Medical history. Those who will Clear NEXT-2 awarded a license to practice and Rankers of NEXT-1 will get PG seats of their choice. You may refer to Page for detailed information on the NExT Exam
Medical PG in USA (USMLE)
We are well aware of the difficulty of getting PG in India. With the introduction of NEXT, maximum students in India are getting attracted to USMLE prep from 1st year of MBBS since it simulates the new NMC Competency-based curriculum much easily. US Healthcare system is considered as one of the best health care systems because of numerous reasons like High rewards, excellent infrastructure, Merit-based assessment, Open opportunities for Super specialties. Most of the countries trying to replicate the US health care assessment system for their Medical Graduates USMLE exam are divided into 3 Parts. One can appear in USMLE Step 1 after 2nd Year, USMLE Step 2 CK during internship and Step-3 during your residency (Medical PG). The USMLE is an online exam and can be taken at the PROMETRIC centers present across India.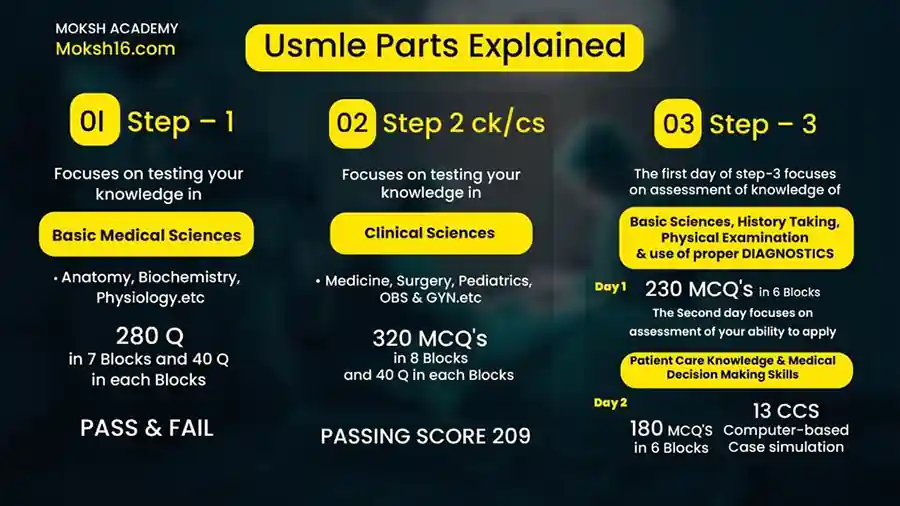 MOKSH Coaching focuses on a patient-centered learning approach which helps students score high on both USMLE & NEXT. MOKSH is the leading name in USMLE Coaching. Currently, 1000+ Students from Indian and Abroad medical colleges are preparing for USMLE steps via the MOKSH Platform.
Medical PG IN UK (PLAB)
Due to the close proximity of Georgia to UK, many of the students plan to do their Medical PG from UK. Till 2024, the Professional & Linguistic Assessments Board Test (PLAB test) is the instrument to assess the skills and knowledge of an International Medical Graduate. It also judges whether they are fit to be trained to practice medicine in the UK.
In short, an IMG's performance in PLAB determines her eligibility to practice in the UK. The PLAB test has two stages. PLAB 1 is an exam that has 180 MCQs that tests your recall. On the other hand, PLAB 2 is a practical OSCE (Objective Structured Clinical Exam) that tests your clinical skills.
The GMC ascertains your linguistic skills by assessing your score in specific tests. It may be the IELTS (Band Score 7.0 or higher) or OET (Grade B in reading, writing, listening & speaking).
After you pass PLAB 1 & 2, you apply for the GP registration. There is one constraint. You have a window of 2 years after clearing PLAB 2 during which you may apply no later.
By 2024, the UK Medical Licensing Assessment will replace the PLAB. Consequently, the GMC UK is going to change certain things in PLAB and create the UKMLA exam.
Medical PG in Germany

PG in Germany after MBBS in India is another great option, though it requires you to learn the German language. Of the 6 levels starting from A1 to C2, you need to clear A1 and A2 that would qualify you to apply for the visa.
Once the Language formalities are done, you get into the phase where you do Observer-ship from a German hospital approved by the German Medical Council. This is followed by Residency.
This may sound simple here but the process is quite complicated. To know more about PG in Germany after your MBBS in India,
Your Chance to get an MBBS Seat in India
The most difficult time for any of the students is to wait after NEET till the counseling process to know whether he/she is getting a college of his/her choice or not? Sometimes this dilemma continues for a couple of months due to multiple rounds of counseling. It has become more difficult due to parallel counseling of All India Quota and various States due to COVID-19. The counseling process is very complex where 550+ Govt. and Private colleges offer 83000+ Seats and fee variation is also huge that ranges from less than 1 Lac to 2.5 Cr for the course.
Dreams shatter when any silly mistake in choice filling or wrong selection of college leads to getting a poorly ranked college. Imagine getting paid seats or no seats at all due to a lack of genuine guidance!