The lowest cost medical programs for Indian students is available at MBBS in Kyrgyzstan. At the total cost of below Rs. 12.00 Lacs including the fees structure and hostel accommodation. The Kyrgyzstan MBBS program can be completed within 6 years. Basically, totally 5 MCI recognized medical colleges in Kyrgyzstan are available. Another upcoming medical institution namely IMI Academy is expected to get the MCI approval very soon. In earlier days, the Kyrgyzstan was a part of former USSR. Further, it split from modern Russia in 1991.
The Kyrgyzstan is sandwiched between of China and Kazakhstan. The Indian students feel comfortable in Kyrgyzstan. Because the weather is almost similar to colder Indian cities in North India. Also, the cost of living is slightly lesser than India. For Indian students who wish to study MBBS abroad must definitely consider choosing a top university from the Kyrgyzstan medical university list. There is a very small list of MCI recognized medical colleges in Kyrgyzstan. In comparison with MBBS in Ukraine or MBBS in Russia, MBBS in Kyrgyzstan is more economical for students who want to pursue their MBBS in abroad. The MBBS fee in Kyrgyzstan is very affordable to Indian students and is considered to be one of the few countries who offer MBBS with less fees in the world.
The main religion of the people of Kyrgyzstan is Islam. There are around 83% of the population follows the Muslim religion. However, people follow the Russian culture. It culturally accepts Indian students from all the religion go to study MBBS in Kyrgyzstan. Studying at any top MBBS college in Kyrgyzstan would assure students a good medical career ahead. Just like the Russian MBBS degree in India is valuable, the MBBS degree from Kyrgyzstan is also highly valued in India. However, it is important to study at the oldest and top-ranked Kyrgyzstan medical college - Kyrgyzstan State Medical Academy. This university is based in the capital city of Bishkek. The CEO of MOKSH, Mr. Dhananjay Shah had visited the city and various medical universities in Kyrgyzstan.
Choose Your UniversitiesDownload MOKSH APP
Country Wise List Of Top MBBS Universities Within Your Budget!
---
---
BUDGET INCLUDES:
Tuition fees for the entire MBBS course
Hostel accommodation for the entire course
Food and Living cost through the 5 or 6 years medicine course in Kyrgyzstan
Miscellaneous Costs including Resident permit extension, Medical Insurance, Text Books etc.
We represent more than 51 Medical universities from various countries. However, these are TOP 10 Universities from suggested on various parameters. Let us understand the program carefully.
Need Guidance To Select The Country
Admission Deadline For MBBS In Kyrgyzstan / KYRGYZ.
---
In order to study medicine in Kyrgyzstan, generally, the Indian students just need to reserve the medical seat by July end. The time taken from application to departure for MBBS College in Kyrgyzstan is 8-10 weeks. But, the student can apply later if the seats are available. The Indian students are required to enter Kyrgyzstan for MBBS by 20th August. Probably, the students who reserve their seats early are able to make it successfully to study medicine in Kyrgyzstan
Eligibility To Get Admission In Kyrgyzstan Medical Universities.
---
There are large number Indian students having lower academic such as between 50% to 60% in PCB. But they still wishing to go for high quality and lower cost, they go to study MBBS in Kyrgyzstan medical college. Even the students with 50% in PCB may apply to study medicine in Kyrgyzstan at the colleges such as Osh State Medical University by just investing for university application money.
If Indian students are not able to clear the entrance test taken at KSMU, they will be transferred to other Kyrgyzstan medical universities such as Asian medical college. Generally, the Indian students above 55% in PCB in India pass this exam easily. In addition, there is no donation to study at medical colleges of Kyrgyzstan. In fact, the students need to appear for an entrance test only at Kyrgyzstan State Medical University. However, there is no scholarship are available for MBBS in Kyrgyzstan. The admission process is quite similar to the process for MBBS admission in Russia.
We also do Online Seminars (webinar) frequently to guide the students towards a right career path.
Group Counselling (Seminars):
---
MOKSH is going to hold seminars in different parts of India and shall come to your city anytime, DO NOT MISS this golden opportunity to interact with our expert counsellors and get the right advice on your medical career! Click here to register for the seminar!
Also, it is highly advisable to attend one of our Online Counselling sessions on MBBS abroad till PG before attending the seminar as you would have your basics clear since the start! Click here to attend an online counselling session!
Online Counselling Session (Webinars):
---
Get Complete information on MBBS Abroad, MBBS in India, How to choose the university, country, Pros & Cons of different countries, PG preparation followed by a Q & A session with doubt clearance and every other possible detail regarding MBBS right up to PG! To get a glimpse of the previous webinars, Click on MBBS Abroad till PG, MBBS in USA till PG, MBBS in Germany till PG to watch. These are the recorded versions.
To register for a live Online counselling session and get all your doubts cleared with the CEO of MOKSH, Click here. You can also subscribe to our channel on Youtube in order to get constant updates on new webinars and videos on MBBS Abroad! Click here to subscribe to MOKSH Webinars!
In case of any error, Call on 9699360370.
Tele - Counselling:
---
MOKSH has an extremely knowledgeable and experienced team of MBBS counsellors who have an expertise in a specific topic like MBBS in Russia, China, USA, Ukraine, Germany, etc right up to PG. You can be in touch with one of the counsellors constantly via phone calls, SMS, Whats app, Emails, etc and they shall be there to solve your doubts and help you carve the right path towards your MBBS journey!
You can call on,
9699360370 for MBBS Abroad like Russia, China, Ukraine, Georgia, Poland, Kyrgyzstan, etc ( if you have a budget in the range of Rs. 15lacs and above)
9699360370 for MBBS in USA right up to PG ( If you have a budget of Rs. 60-70 lac)
9699360370 for PG in Germany
Personal Counselling:
---
MOKSH has its branch offices in 12 cities of India now so there is no need to travel all the way to the Mumbai Head office for a personal counselling! You can still do so if you wish though. To get to a MOKSH office in your own city for a free personal counselling session on MBBS Abroad right up to PG in USA/ Germany, You call on 9699360370 and our counsellor shall arrange a Personal counselling session in your city or the closest location to you.
Scholarship Test:
---
MOKSH holds an Online Scholarship Test every year where in the students get the NEXT Online Coaching on a huge discount or even 100% scholarship which otherwise costs more than Rs.1, 25,000. It is a 360 marks MCQ test focused on the 12th Board exams syllabus.
The students who register with MOKSH for MBBS Abroad get a higher priority in the scholarship test. You can call on 9699360370 to get further information on the scholarship test of 2022!
Universities For Mbbs In Kyrgyzstan.
---
The students can choose any of the low-cost MCI recognized medical colleges in Kyrgyzstan. Also, the Students can study MBBS in English medium. Also, There are around 5,000 Indian students study MBBS in Kyrgyzstan at these medical colleges.
International School of Medicine (ISM), Bishkek.
IMI Academy, Bishkek
Mbbs Kyrgyzstan Recommended Universities.
---
Generally, the students should get in touch with overseas education consultants and try to understand your options. However, slowly, the students take most of the information from the popular website such as MOKSH and apply to study MBBS abroad at top-ranked universities. For MBBS Kyrgyzstan, you may choose various universities from below.
Kyrgyz State Medical Academy
Osh State Medical Academy
Asian Medical Institute
Fees
2.55L/year
Fees
1.35L/year
Fees
2.07L/year
Duration
5 Years
Duration
5 years
Duration
5 years
Apply By
15th Jul
Apply By
31th Jul
Apply By
31th Jul
Read More
Read More
Read More
The most recommended one among them is Kyrgyzstan State Medical University (KSMU). The other low cost MBBS Kyrgyzstan option is Asian Medical Institute which has the high number of Indian students in Kyrgyzstan. The medical studies at Asian Medical College and the International medical university of Kyrgyzstan are slowly getting popular because of Indian Food. However, MCI Test coaching is still an issue and you need to take the online coaching for FMGE provided by us. You can definitely call up MOKSH to get your medical seat!
Best MBBS Kyrgyzstan Low Cost College.
---
Generally, All the medical colleges offer programs with 6 years course duration in Kyrgyzstan. However, Only ISM, Kyrgyzstan (Remember, it is a private college, so not suggested by MOKSH) offers 5 years course duration.Osh State medical university Kyrgyzstan and Jalalabad medical university Kyrgyzstan along with an International school of medicine Bishkek, Kyrgyzstan are some of the top medical universities in Kyrgyzstan. MBBS in Russia fees for Indian students 2022 is higher than Kyrgyzstan State Medical Academy fee structure. Kyrgyzstan State Medical Academy is one of the top rated university of Kyrgyzstan. It is suggested to choose government medical colleges to study medicine in Kyrgyzstan. MBBS in ISM Kyrgyzstan is a private college and is probably cheaper that to study MBBS in Russia Moscow.
Admission To MBBS In Kyrgyzstan Fees Structure, Eligibility Criteria, and Application Deadline.
---
Reserve A Seat In MBBS Abroad Admission 2022.
---
In 2016, there were many of the students are waiting for NEET 2 exam. But, these students are making a big mistake since the application deadline for most of the MCI approved MBBS abroad universities would pass. Hence, they wasted a year by repeating. Therefore, MOKSH offers you an innovative solution by reserving your seat before NEET 2018.
The students can take the admission letter in their hand as your PLAN B. In case you get the admission through NEET 2018, you need not go to your chosen university for MBBS abroad. However, in case you do not make it, at least your backup plan is ready! It would be a smart decision for those students who already booked their medical seats. This is especially required for the actual success of NEET is only 3%. It means, 97% of the students appearing for NEET would not be getting admission. It is evident that more than 11.4 Lacs students would appear in NEET 2018 just for 25,000 medical seats in Indian government medical colleges.
---
The fees of private medical colleges are increased in 2018 by almost 50% and reaching around Rs. 70 Lacs for the full course.
The admission would be through NEET and no agents can play with the admission process to private medical colleges in India. So do not entertain any agents in 2018.
The student does not need to pay even a single Rupee for reserving the seat at top-ranked Kyrgyz state medical academy. However, he should pay only university application fees. Do not pay any advance to the education agents.
So just reserve the seat in an MCI approved MBBS abroad university as per your budget and relax!
MBBS in Kyrgyzstan is considered a better option than Russian MBBS or MBBS in Ukraine 2022 for students who have a limited budget or want an economical option to study MBBS abroad.
Low Cost To Study MBBS In Kyrgyzstan Fee Structure.
---
The most noteworthy factors attracting the Indian students get attracted due to such as:
MBBS in Kyrgyzstan has a Lowest cost/fee structure in the world - Around Rs. 1.60 Lacs / year.
Hostel costs are very low as compare to another country. The Cost is around Rs. 30,000 per year.
The Costs of Living is around Rs 6,500 per month (Fixed US$ 103) including Food (2 Meals), laundry as well as Room cleaning.
Indian food is also the reason for the students to choose MBBS in Kyrgyzstan.
Indian Students At Kyrgyzstan.
---
There are a large number of the programs that are completed within Rs. 10-15 Lacs of fees structure package. There are around 4,500 Indian students studying in MCI approved medical colleges in Kyrgyzstan. One of the cheapest medical university in Asia lies in Kyrgyzstan but all the universities are not advisable for Indian students due to the low quality of education. In the city of Bishkek, there are around 1000 Indian students for medicine program in 3 MBBS universities. Just around 30 minutes away, in a city called Kant, there are around 700 students at Asian Medical Institute.
Admission Process / Procedure For MBBS In Kyrgyzstan.
---
Firstly, The Indian students can easily get the admission by applying through a direct MBBS online system. After that, the Indian students have got the admission offer letter within 4-8 weeks. If you apply within the specified application deadline, there is absolutely no problem to complete the admission process. In that case, the departure would be by 15th September to study MBBS in Kyrgyzstan for private colleges and 20th August for government college. This is true especially for the best MBBS college in Kyrgyzstan – Kyrgyz State Medical Academy.
For other universities such as Osh State Medical University and Asian Medical Institute, one can apply till late July. The On-line and direct admission system ensures the complete transparency for the Indian students. Hence, they can track the admission progress through our latest technology "SATS". There is an absolutely hassle-free admission to the best low-cost medical university in Kyrgyzstan is now available for Indian students.
Medical PG Option after MBBS/MD in Kyrgyzstan
Medical PG in India after MBBS in Kyrgyzstan
Whether in kyrgyzstan or any country, you start realizing the importance of being a specialist after the 2nd year of MBBS. That's actually too late. Let's start understanding things here.
First, you need to visualize how tough it is to secure a Medical PG Seat in a Govt. College in India.
The success ratio to get PG in Govt. Medical College India is 11%. That is to say, only 1 out of 10 will succeed. The chance of getting a Clinical specialty is bleaker. It is 1 out of 20 applicants. Either, you must have Crores to pay to Pvt. Med. Colleges or give up the medical PG dream altogether.
Total Applicants NEET PG 2022
Specialty
Govt Medical College
Pvt Medical College
Seats
Success Ratio
Seats
1.75 Lacs
MD (non-clinical)
15K
8.6%
10K
MS (Clinical)
8K
4.6%
5K
Total
23K
11.4%
15K
Those who have a kyrgyzstan university MBBS also have to go through NEXT as per NMC Notification. NMC will conduct this Exam in two parts NEXT-1 and NEXT-2.
The objective of the NEXT-1 will be to assess the student's knowledge of Pre, Para and Clinical subjects. Only after qualifying NEXT-1, will any Medical student be eligible for Internship. Post completion of internship, students need to go through NEXT-2 which will assess their Clinical skills, Patient Management and taking Medical history.
Those who will Clear NEXT-2 will get the license to practice and Rankers of NEXT-1 will get PG seats of their choice. You may refer Page for detailed information on NExT Exam
Medical PG IN USA (USMLE) after MBBS in kyrgyzstan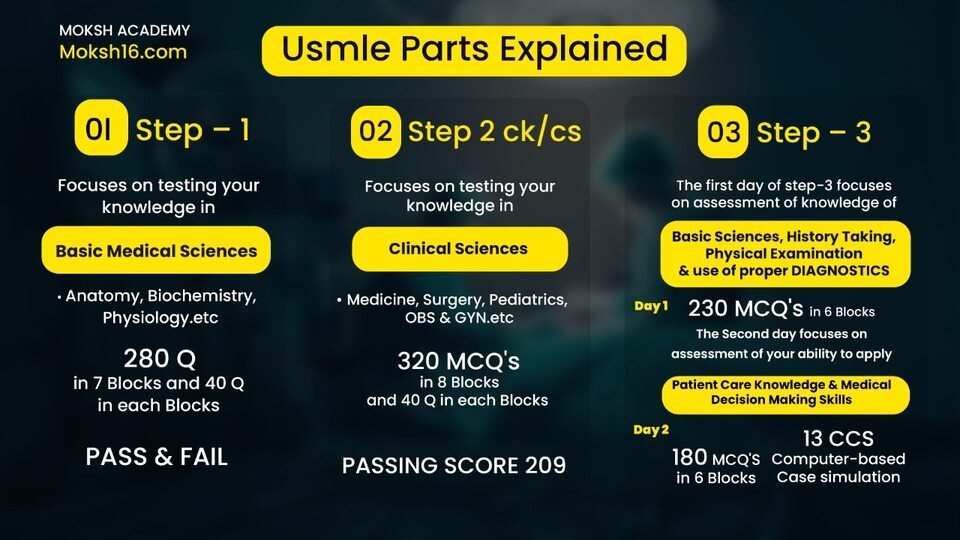 The US Healthcare system is considered as one of the best health care systems in the world. There are many reasons for this: high rewards, excellent infrastructure, merit based assessment, & open opportunities for Super specialties. For getting into a US medical PG program, you have to clear USMLE mandatorily.
This USMLE exam is divided in 3 Parts. One can appear in USMLE Step 1 after 2nd Year, USMLE Step 2 CK during internship and Step-3 during residency (Medical PG).
MOKSH USMLE is indispensable for you so that you have a good chance to clear USMLE.
MOKSH Coaching focuses on patient centered learning approach which helps students score high on both USMLE & NEXT. MOKSH is a leading name in USMLE Coaching. Currently, 1000+ Students from Indian and Abroad medical colleges are preparing for USMLE steps via MOKSH Platform.
Medical PG IN UK (PLAB) after MBBS in kyrgyzstan
After MBBS from kyrgyzstan, many of the students plan to do their Medical PG from UK.
Till 2024, the Professional & Linguistic Assessments Board Test (PLAB test) is the instrument to assess the skills and knowledge of an International Medical Graduate. It also judges whether they are fit to be trained to practice medicine in the UK.
In short, an IMG's performance in PLAB determines her eligibility to practice in the UK. The PLAB test has two stages. PLAB 1 is an exam that has 180 MCQs that tests your recall. On the other hand, PLAB 2 is a practical OSCE (Objective Structured Clinical Exam) that tests your clinical skills.
The GMC ascertains your linguistic skills by assessing your score in specific tests. It may be the IELTS (Band Score 7.0 or higher) or OET (Grade B in reading, writing, listening & speaking).
After you pass PLAB 1 & 2, you apply for the GP registration. There is one constraint. You have a window of 2 years after clearing PLAB 2 during which you may apply no later.
By 2024, the UK Medical Licensing Assessment will replace the PLAB. Consequently, the GMC UK is going to change certain things in PLAB and create the UKMLA exam.
Medical PG in GERMANY after MBBS in kyrgyzstan
PG in Germany after MBBS in kyrgyzstan is another great option, though it requires you to learn the German language. Of the 6 levels starting from A1 to C2, you need to clear A1 and A2 that would qualify you to apply for visa.
Once the Language formalities are done, you get into the phase where you do Observer-ship from a German hospital approved by the German Medical Council. This is followed by Residency.
This may sound simple here but the process is quite complicated. To know more about PG in Germany
Your Chance to get an MBBS Seat in India
The most difficult time for any of the students is to wait after NEET till the counseling process to know whether he/she is getting a college of his/her choice or not? Sometimes this dilemma continues for a couple of months due to multiple rounds of counseling. It has become more difficult due to parallel counseling of All India Quota and various States due to COVID-19. The counseling process is very complex where 550+ Govt. and Private colleges offer 83000+ Seats and fee variation is also huge that ranges from less than 1 Lac to 2.5 Cr for the course.
Dreams shatter when any silly mistake in choice filling or wrong selection of college leads to getting a poorly ranked college. Imagine getting paid seats or no seats at all due to a lack of genuine guidance!