SOUTH KAZAKHSTAN MEDICAL ACADEMY
---
| | |
| --- | --- |
| Month of intake at South Kazakhstan Medical University | September 2023 |
| Year of Establishment | 1979 |
| Duration of MBBS course | 5 years |
| Language of instructions | English |
| Recognitions | Approved by MCI & WHO |
NEED GUIDANCE TO SELECT THE COUNTRY?
ABOUT SOUTH KAZAKHSTAN MEDICAL UNIVERSITY
---
The South Kazakhstan Medical Academy Shymkent (or SKMA) came into force in the year 1979. It further holds accreditation and recognition from the Ministry of Education and Science of the Republic of Kazakhstan. The infrastructure of the University is built so as to correspond to the modern times. The infrastructure further makes it certain that its students are able to obtain the utmost practical exposure. The library is the another chunk of the University, taking into possession tens of thousands of books related to numerous subjects which proves to be of great help to the students, especially while one is pursuing a medical course. The university is always inclined towards achieving a modern foundation to enhance its resources for scientific research labs. As far as ranking is concerned, the South Kazakhstan Medical Academy holds the 29th position within its national territory and is ranked 7899th on the international platform.
The location of this public higher education institutionuniversity can be traced down to the city of 'Shymkent'. And within the university can be found more than 11,000 peers (both international and national) studying in the field of their interests. Majority of the international folks studying at this academy hail from India followed by countries like South Korea, Japan, China, etc.
The organization of the university is structured to serve the students with maximum assistance and ensure their excellence in the academic activities, building them as top-notch medical professionals. Moreover, such efforts are carried out on the back of several youth policies and supportive initiatives from the government, guaranteeing a consistent improvement.
Not only it emphasis on strengthening its educational background, the university calls it their priority to bring an exceptional development in the persona of the students by means of extra-curricular activities and initiatives. Being one of the best universities in Kazakhstan, South Kazakhstan Medical Academy Shymkent is filled with immense opportunities that students can avail to become an internationally renowned medical professional. The students are required to choose from the 5 types of medical faculties at SKMA, namely,
Faculty of General Medicine
Faculty of Dental studies
Faculty of Pharmaceutical studies
Faculty of Continuous professional development
Faculty of Preparation of Specialize with Technical Professional Education
MBBS AT SOUTH KAZAKHSTAN MEDICAL ACADEMY
---
Why the SKMU is worth to pursue MBBS is due to the high quality of educational standards it holds forth to its students at all the levels. The faculty at SKMU always put efforts to educate themselves about their corresponding areas to ensure best knowledge and skills being imparted to the students. And to accomplish such purposes, clinical activities are often conducted to train the teaching staff as well.
The MBBS course is offered to the international students with language of instruction in English as well, making it convenient for such students to comprehend the course. The students are also vested with a bundle of opportunities to participate in seminars conferences held on a global scale at South Kazakhstan Medical Academy Shymkent.
Considering it as an aim to impart foremost quality of education to its students, SKMA has maintained exceptional relationships with some of the finest medical schools (Both in Kazakhstan & Other countries) for the purpose of carrying out student exchange program. Many experts of various medical fields too visit the university to deliver lectures and interact with the students to create a better learning environment for the students.
There are quite a lot of reasons why SKMA is an ideal university to pursue MBBS. The first and foremost reason is that you needn't appear for any medical entrance exam or a language test if you wish to study at the South Kazakhstan Medical Academy. Another compelling reason would be the vast variety of international students coming from different cultural backgrounds. The university brings together students from different nationalities and in one or the other way, enlightens the students to different traditions, ethics and values.
The South Kazakhstan Medical Academy Shymkent also holds recognition from MCI (Medical Council of India). So, after completing your degree program in SKMA, you can come back and practice in India once you have cleared the MCI Screening test. One more bit of studying at SKMA is the availability of Indian food not only within the premises of the University, but anywhere in the country at large! Hence, this ensures that there is no room left for nostalgia while studying at South Kazakhstan Medical Academy Shymkent.
LIVING IN SHYMKENT, KAZAKHSTAN
---
Shymkent is one of the many cities in the Republic of Kazakhstan. It is counted as one of the three cities that hold the status equivalent to that of a region. Being the third most populous country in the nation, the city is home to around 1,002,290 (more than a million) as reported on June 1st, 2018. Fun fact is that the millionth resident of Shymkent was born on 17 May, 2018.
The Shymkent also acts as a means of connecting Siberia and Central Asia. The city is often viewed as a vibrant city, thanks to its bustling bazaars and a lively downtown. You will experience more of a Central Asian on the streets of Shymkent which is not at all easy to find in any other region of the country.
The city can also be termed as a notable cultural center. There are famous places that embrace the glory of this city. One can witness the spirituality of this Koshkar Ata River, the water of which is believed to possess healing properties. And of you are a nature lover, then Shymkent has got the Independence Park for you which is the most popular park across the region, representing 137 statues of nationalists of the country. You may also come across the liveliest bazaars of Shymkent where you can buy cheap Chinese products, fruits and vegetables.
The residents of Kazakhstan are very friendly and represent a welcoming attitude toward the foreigners. You will often get to see local children playing in the field at usually 18:00-19:00 and if you see one, feel free to jump into it!
While you are staying in Kazakhstan and precisely Shymkent, try the local bites along with the Indian cuisines as well. There's only one word to describe the delicacies in Kazakhstan, they are amazing! And if you care for the price, the dishes cost a very reasonable amount and the mojitos are a must to try in Kazakhstan.
Shymkent is noted as a trading hub of Kazakhstan which deals primarily in oil and beers. Today, Shymkent is home to Kazakhstan's two best beers- Shymkentskoe Pivo and the Bavarian-style microbrew Sigma.
WHY SKMA IS IDEAL FOR MBBS?
---
Low-Cost Living- South Kazakhstan Medical Academy Shymkent provides its students with excellent hostels furnished with facilities like attached kitchen & bathroom, furniture, Wi-Fi facilities, electricity & water facilities, etc. Besides, the South Kazakhstan state medical university fee structure also proves to be very reasonable However, it is your lifestyle that determines your cost of living as there are a lot of things one can do while staying in Kazakhstan!
Global Recognition- The medical degree granted by the South Kazakhstan Medical Academy Shymkent at the end of the program holds global recognition, enabling you to practice medicine in any part of the world. It has got accreditations from some of the prominent medical bodies like MCI WHO which will ultimately make you eligible to appear for exams like USMLE and PLAB.
Safety and Security- Kazakhstan is considered to be safer than many European as well as Asian countries. In a nutshell, there is no need for the parents to get panicked while sending their child abroad, given you are going to study MBBS in Kazakhstan. Moreover, you will find many Indian folks at coffee shops, shopping malls, theaters, etc.
COST OF STUDYING AT SOUTH KAZAKHSTAN MEDICAL STATE ACADEMY SHYMKENT (5 YEARS MBBS PROGRAM)
---
Cost of studying medicine in Kazakhstan at South Kazakhstan Medical State Academy Shymkent
| Cost (USD)* | Year-1 | Year-2 | Year-3 | Year-4 | Year-5 | Year-6 |
| --- | --- | --- | --- | --- | --- | --- |
| Tuition Fee | 4000 | 4000 | 4000 | 4000 | 4000 | 4000 |
HOW TO APPLY
---
The commencement of your admission in South Kazakhstan Medical State Academy Shymkent would take place with gathering the essential documents for the program. The general documents required in the South Kazakhstan Medical State Academy Shymkent procedure are listed below.
Application form
Passport sized photographs
11th & 12th standard mark sheet and certificates issued by the respective board of education
IELTS/TOUFL Certificates
Your passport's scanned copies along with the photograph page
Do remember that all these above mentioned documents must be notarized as well as attested from the pertinent authorities
There have been incidents faced by many students where one minor error has resulted in the failure of application. So to avoid any fuss, feel free to get in touch with any of Moksh's counselors to gain access to the information regarding the required documents. Once you have collected all the required documents, you can hand them over to the team of Moksh so that we can submit the application to the South Kazakhstan Medical State Academy Shymkent on your behalf. You can submit your documents in numerous ways. You can either submit them online or hand them over at any of our 35 branches all across the country.
Since you are applying through Moksh, you can rest assured that nothing will hinder your admission process. After the application form has been submitted to South Kazakhstan Medical State Academy by Moksh, you will receive your invitation letter within few weeks and eventually, your admission letter will arrive. This is just the beginning of Moksh's services for you. Throughout your entire education, we will assist you in numerous ways. So it's no surprise that the Moksh family is expanding – the trust factor.
APPLICATION DEADLINE 2023
---
In order to guarantee your place for MBBS in Kazakhstan programs, you shall really have to time your application perfectly. It is definitely a great choice if you wish to study MBBS in Europe. The ideal time to apply is always before 31st of March every year in Kazakhstan. The problem is not with the admission letter but mainly the invitation letter & visa process which takes around 2-3 months to be issued from Ministry of Education & consulate of Kazakhstan. Visa is issued only on the basis of this invitation letter. Also, one must remember that there have been few cases if visa rejection by Kazakhstan consulate for Indian students apart from the very high cost of Visa for Indian students (Thrice the cost of Russian visa).
ELIGIBILITY FOR ADMISSION TO MBBS IN KAZAKHSTAN
---
Indian students looking to study MBBS abroad having lower academics such as 55% in PCB and still wishing to go for higher quality and lower cost MBBS in Kazakhstan programs choose this University. Even the students with 50% may apply with just application as their risk factor and secure the admission here through Moksh. Chances are that you will be securing a seat in South Kazakhstan Medical State Academy Shymkent since you are applying through Moksh.
Reserve A Seat For MBBS In Abroad Admission 2023
---
Many of the students wait for NEET exam and results. These students are making a big mistake since the application deadline for most of the MCI approved MBBS abroad universities would pass. In turn, they would waste one more year by repeating the year. MOKSH offers you an innovative solution by reserving your seat and taking the admission letter in your hand as your PLAN B.
In case you get the admission through NEET 2023, you need not go to your chosen university for MBBS abroad. However, in case you do not make it, at least your backup plan is ready! It would be a smart decision for those students who already booked their medical seats. You must take note of important points:
The fees of private medical colleges have been jacked up by almost 50% reaching around Rs. 75 Lakhs for the full course.
The admission to the private medical colleges would be only for top 2-3% of the NEET takers.
If you have prepared only for the state boards, it would be very difficult for you to prepare for NEET even in 2023!
You do not need to pay even a single Paisa for reserving the seat except university application fees.
So just reserve the seat in an MCI approved MBBS abroad university as per your budget and relax!
Kindly notethat many unprofessional agents collect money from you for the first year tuition fees from you. As you can see, MOKSH clearly gives you an indication of the actual fees and its service charges.
STUDENT VISA APPLICATION TO STUDY MBBS IN KAZAKHSTAN
---
Moksh has a team specialized on visa application preparation. Generally, the student in Kazakhstan visa is attained through an interview at the embassy. The embassy is based in New Delhi. The student has to travel and stay in Delhi for a period of 2 days till the process completes. Speaking of the success rate of Moksh, you can consider it 100% when it comes to Kazakhstan student visa. There are a bunch of documents required for Kazakhstan student visa application that are listed below-
Invitation letter issued by the Ministry of education
Original passport
10th level mark sheet
10+2 mark sheet
Birth certificate (in English language)
Medical certificates including the HIV certificate
Student's bank statement (a minimum balance of Rs.4 lakhs must be maintained)
Parents bank balance (record of minimum 6 months)
Transfer certificate from school/college
10 Identical photographs (50mm X 50mm)
Affidavit certificate (Format available with Moksh)]
Gap certificate (only for those who had passed 12th level in earlier years)
For more information on the Visa application and process, you may call on our support team at 9699360370
PG Option after MBBS in South Kazakhstan Medical Academy
Medical PG in India or NExT
During MBBS study, a student realizes the importance of being a specialist. They also understand the competitiveness to secure MD/MS Seat in Govt College. If we look at the success ratio to get PG in Govt Medical College which is 11% Broadly we can say that only 1 out of 10 will get PG Seat whereas the chances of getting Clinical specialty is 1 out of 20 applicants. It is obvious that the PG journey is going to be very difficult or else students should have enough money to get the paid seat in Pvt Medical College which may be in Crores!
Total Applicants NEET PG 2021
Specialty
Govt Med College
Pvt Med College
Seats
Success Ratio
Seats
1.75 Lacs
MD (Non Clinical)
15K
8.6%
10K
MS ( Clinical)
8K
4.6%
5K
Total
23K
11.4%
15K
Do you feel early preparation and the right mentorship will pave your dream of becoming a specialist? NMC already notified the introduction of the NEXT Exam in India from 2023. This exam will replace all Medical PG exams in India. The exam will be conducted in two parts NEXT-1 and NEXT-2.
The Objective of the NEXT-1 is to assess the Student's Knowledge of Pre, Para, and Clinical Subjects on the National Level. Only post-qualifying of NEXT-1 any Medical student will be eligible for an Internship. Post completion of internship Students needs to go thru NEXT-2 which will assess their Clinical skills, Patient Management, and Keeping of Medical history. Those who will Clear NEXT-2 awarded a license to practice and Rankers of NEXT-1 will get PG seats of their choice. You may refer to Page for detailed information on the NExT Exam
Medical PG in USA (USMLE)
We are well aware of the difficulty of getting PG in India. With the introduction of NEXT, maximum students in India are getting attracted to USMLE prep from 1st year of MBBS since it simulates the new NMC Competency-based curriculum much easily. US Healthcare system is considered as one of the best health care systems because of numerous reasons like High rewards, excellent infrastructure, Merit-based assessment, Open opportunities for Super specialties. Most of the countries trying to replicate the US health care assessment system for their Medical Graduates USMLE exam are divided into 3 Parts. One can appear in USMLE Step 1 after 2nd Year, USMLE Step 2 CK during internship and Step-3 during your residency (Medical PG). The USMLE is an online exam and can be taken at the PROMETRIC centers present across India.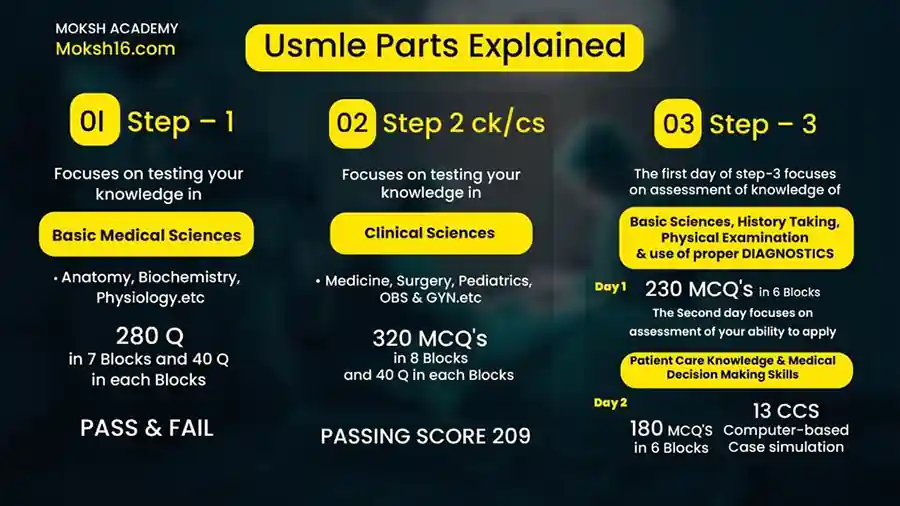 MOKSH Coaching focuses on a patient-centered learning approach which helps students score high on both USMLE & NEXT. MOKSH is the leading name in USMLE Coaching. Currently, 1000+ Students from Indian and Abroad medical colleges are preparing for USMLE steps via the MOKSH Platform.
Medical PG IN UK (PLAB)
Due to the close proximity of Moldova to UK, many of the students plan to do their Medical PG from UK. Till 2024, the Professional & Linguistic Assessments Board Test (PLAB test) is the instrument to assess the skills and knowledge of an International Medical Graduate. It also judges whether they are fit to be trained to practice medicine in the UK.
In short, an IMG's performance in PLAB determines her eligibility to practice in the UK. The PLAB test has two stages. PLAB 1 is an exam that has 180 MCQs that tests your recall. On the other hand, PLAB 2 is a practical OSCE (Objective Structured Clinical Exam) that tests your clinical skills.
The GMC ascertains your linguistic skills by assessing your score in specific tests. It may be the IELTS (Band Score 7.0 or higher) or OET (Grade B in reading, writing, listening & speaking).
After you pass PLAB 1 & 2, you apply for the GP registration. There is one constraint. You have a window of 2 years after clearing PLAB 2 during which you may apply no later.
By 2024, the UK Medical Licensing Assessment will replace the PLAB. Consequently, the GMC UK is going to change certain things in PLAB and create the UKMLA exam.

Medical PG in Germany

PG in Germany after MBBS in India is another great option, though it requires you to learn the German language. Of the 6 levels starting from A1 to C2, you need to clear A1 and A2 that would qualify you to apply for the visa.
Once the Language formalities are done, you get into the phase where you do Observer-ship from a German hospital approved by the German Medical Council. This is followed by Residency.
This may sound simple here but the process is quite complicated. To know more about PG in Germany after your MBBS in India,
Your Chance to get an MBBS Seat in India
The most difficult time for any of the students is to wait after NEET till the counseling process to know whether he/she is getting a college of his/her choice or not? Sometimes this dilemma continues for a couple of months due to multiple rounds of counseling. It has become more difficult due to parallel counseling of All India Quota and various States due to COVID-19. The counseling process is very complex where 550+ Govt. and Private colleges offer 83000+ Seats and fee variation is also huge that ranges from less than 1 Lac to 2.5 Cr for the course.
Dreams shatter when any silly mistake in choice filling or wrong selection of college leads to getting a poorly ranked college. Imagine getting paid seats or no seats at all due to a lack of genuine guidance!