Nantong University,China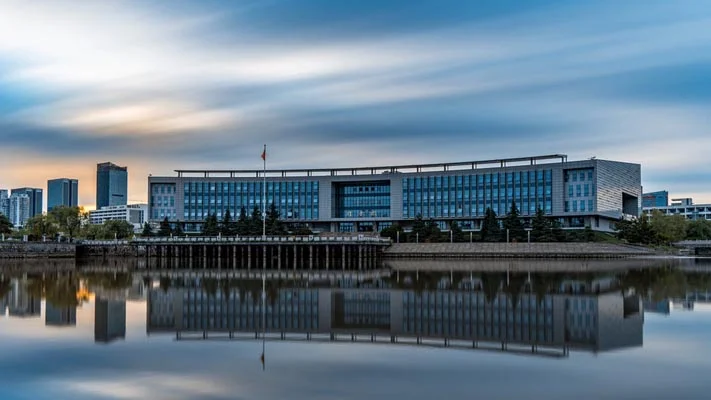 | | |
| --- | --- |
| Year of establishment | 1912 |
| Duration of MBBS Program | 5 years |
| Language of instruction | English |
| Recognitions | Approved by MCI & WHO |
NEED GUIDANCE TO SELECT THE COUNTRY?
About The University
---
The Nantong University (NTU) traces its establishment to the year of 1912. The university is settled at the Nantong city of Jiangsu province in China. The University spans over an area of 4,000 acres, 200 acres of which houses the school buildings. Representing itself as comprehensive university, the Nantong University owes its establishment to the Jiangsu Provincial Government and the State Ministry of Transport.
The Nantong University raises itself by means of its three pillars, namely, the Nantong Medical College, Nantong Engineering College and Nantong Normal College. It is further composed of 4 campuses which are the new campus, Qixiu campus, Qidong campus and Zhongxiu campus. The enrolment record is as high as 34,000 students (both national and international).
The Nantong University offers around 84 educational programs at undergraduate level. These programs are built with regards to nine major disciplines. These are medical science, science, economics, literature, management, engineering, law, history and education.
The University is known for its excellent learning environment and suitable living conditions especially for foreign students. It has been 17 years now that Nantong University has been conducting Chinese training courses for its international students.
Moreover, the participants of this course have reviewed it for its excellent teaching methods and the high-quality facilities they witnessed at NTU. Another aspect where Nantong University gets an opportunity to boast about itself is in terms of ranking. The Nantong University ranking is 204 at the national level while the 1581st position is reserved when it comes to Nantong University ranking on a global scale.
The discipline of medicine at Nantong University is as old as its university. The school of medicine is the largest among all the other disciplines in the University of Nantong, China. Another boon of studying at Nantong University is the 'Jasmine Jiangsu government scholarships' which are now extended to the students of medicine as well.
Medical School At Nantong University
---
The 12 teaching and research institutes for preclinical Medicine and Medical humanities, Clinical medicine sections amounting to 23, 8 laboratories and 12 research centers are what shape the medical school at the Nantong University. The Nantong University medical college provides the students with 12 undergraduate programs within which are enrolled about 4,000 students. Among these 4,000 students are counted about 300 international folks from countries like India, Australia, UK, Switzerland, Pakistan, etc.
The undergraduate programs are grouped into national level and provincial level programs. The Clinical Medicine is recognized as a key discipline at both the national and provincial level. The program of clinical medicine is furnished with outstanding teaching facilities, highly experienced teachers, well-equipped clinical medical centers, etc. There is also a whooping figure of 16 affiliated hospitals for the purpose of accomplishing proper clinical trainings and internship programs. Moreover, there is another figure of 52 hospitals to gain practice in teaching aspects.
The MBBS program at Nantong University Medical College is available as an English-taught program especially designed for the overseas students. The program gained its approval by MOE in the year of 2008. The English-taught program has been in popularity since 2005 and had enrolled international students from countries like India, Pakistan, Afghanistan, Bangladesh, South Korea, Australia, Japan, Jordan, Namibia and Botswana, Brazil, etc.
The Nantong University Medical College is accompanied by a staff team possessing rich experience in the field of medicine along with high capabilities in the medical field. The staff comprises of around 152 professors, 190 associate professors, 6 doctoral professors, around 148 masters professors and numerous lectures employed on part-time basis.
NTU further encourages academic exchange programs given the alliance with universities and research centers of countries like Britain, the USA, Japan, South Korea, Germany, Canada, Portugal, etc. Nantong University has implemented an array of programs such teachers exchange program, student exchange programs, alliance in research programs, etc. to name a few. Furthermore, the Nantong University Medical College has around 15 international professors working on a full-time basis as an approach towards establishing a sense of internationalism.
The MBBS program at Nantong University Medical College is recognized by the WHO and thus, the students hold eligibility to take the various medical licensing Examinations conducted by the medical bodies of different countries like the MCI Screening test by the Medical Council of India, USMLE in USA, etc.
Admission To MBBS In China In 2022-23 At NTU
---
There are more than 120 Indian students (with around 70 boys and 50 girls from various corners of India) enrolled in the Nantong Medical School MBBS program at which is selected by few Indian students at higher cost. The Nantong Medical School is approved by MCI (Medical Council of India). Therefore, Indian students can study in this top medical university of China with same syllabus as that of India. The MCI screening test results from this university is more than 90% passing due to high grade. The students have to pursue a 6 year MBBS program including 1 year of live hospital internship. The University is B grade and is approved by most of the councils around the world such as USMLE, PLAB (UK) and many other middle-east countries. Accordingly, MOKSH recommends you to take Admission to MBBS in China at Top Grade University – NTU.
There is only one intake in NTU in June every year and Admission to MBBS in China at NTU is not an easy task. The application deadline is generally the last week of June. The minimum academic records of the students in Physics – Chemistry – Biology (PCB) at 10+2 level in Science stream are 85%. There are only 20 seats for Indian students.
In order to ensure your Admission to MBBS in China at Top Grade University – Nantong Medical School and ensure a medical seat to study MBBS at this top medical college in China, it is advisable to block the seat in this University. You just need to be paying the Application fees on getting the transcripts of 10+2 and not wait for the Indian admission system to be completed. Just See the largest and amazing campus for studying MBBS in China in this top ranked college.
Get To Know The City Of Nantong
---
The Nantong is a city located in the province of Jiangsu, China. Settled at the northern bank of Yangtze River, Nantong is regarded as river port sharing borders with Yancheng in the north, Taizhou in the western zone and neighboring Suzhou & Shanghai to the south.
The population of the city amounts to around more than 7 million inhabitants as per the 2010 census. 2 million of these inhabitants are settled in the built-up areas which constitute three urban districts.
Owing to the expansion of the coast of East China Sea to the eastern direction followed by the River Yangtze building on silt to its delta, the distance observed between Nantong and the seashore is gradually increasing. Nantong witnesses a humid subtropical climate involving 4 distinct seasons.
The winters in Nantong are quite chilly and damp. Moreover, the chilling winds of the northwest caused by the Siberian high may drag the temperature below the freezing point during night yet it is very uncommon to expect snowfall. On the other side of the coin, the summers are hot and bring forth a humid weather, often accompanied by thunderstorms.
Another aspect that you should focus on while gaining knowledge about a city is the transportation. It is a must for an international student to become aware of the various modes of transportations, distance between Nantong University and air links & railway links, time taken for traveling, etc. So before you step into the city of Nantong, make sure you read the paragraph mentioned below –
The Nantong Xingdong Airport is 9.8 kilometers to the center of Nantong and is 120 kilometers far from the city of Shanghai. The distance between Nantong Medical School and Nantong Xingdong Airport is a mere 15 kilometers and it takes roughly 25 minutes to travel between these two destinations.
Assuming that you care to travel through rail, you have got the Nanjing Qidong Railways & Xinyi Changxing in the northwestern portion of the prefecture of Nantong.
Structure Of The Program
---
The curriculum of the MBBS program is mainly composes of the following-
The courses of Chinese culture and natural science are an essential part of the curriculum in order to facilitate the learning process as well as life in China. This further helps the international students in interacting with the local patients at the time of medical internships or trainings.
The concepts of basic medical science, humanities social science, behavioral science, medical ethics, clinical medicine, preventive medicine, etc. are what known as the core component of the MBBS program.
Last but not the least is the internship programs. The institutions shall hold the responsibility for carefully organizing the arrangement of the internship programs of the students. The period of internship programs in China last for at least a year, out of which 48 weeks shall be compulsorily committed to the program.
Internship:
---
The program of internship is a must for every international student which shall be taken before graduation. The internship has duration of one year and cost an amount of 11,000 RMB on an annual basis.
The international students are at liberty to do their internship either in China itself or any other country, provided an authorization letter is issued from the Nantong University if they seek internship abroad. In case if they wish to do internship in China, they need to clear the HSK level 3 test in order to prove their Chinese language proficiency. After clearing the HSK 3 Exam, they will be allowed to choose from 3 affiliated hospitals or choose any other affiliated hospital if they wish to do so.
Assuming that the students attained the HSK 3 certificates prior the internship, they must take the Chinese language proficiency test conducted by their respective school.
Scholarships:
---
The students at Nantong University Medical College can avail for the Jiangsu Province Government jasmine scholarships. The Jasmine Jiangsu Government Scholarships put down by the provincial government of Jiangsu, assists the international academic scholars who seek to pursue full-time educational course within the universities and colleges of the Jiangsu province.
Cost Of Studying At Nantong Medical School (5 Years MBBS Program)
---
Nantong Medical School fee structure for MBBS in China is given below -
| | | | | | |
| --- | --- | --- | --- | --- | --- |
| Cost (CNY)* | Year-1 | Year-2 | Year-3 | Year-4 | Year-5 |
| Tuition Fee | 30,000 | 30,000 | 30,000 | 30,000 | 30,000 |
How To Apply
---
The commencement of your admission at Nantong University would take place with gathering the essential documents for the program. The general documents required in the Nantong Medical School admission procedure listed below.
Application form
Passport sized photographs
11th & 12th standard mark sheet and certificates issued by the respective board of education
IELTS/TOUFL Certificates
Your passport's scanned copies along with the photograph page
Do remember that all these above mentioned documents must be notarized as well as attested from the pertinent authorities
There have been incidents faced by many students where one minor error has resulted in the failure of application. So to avoid any fuss, feel free to get in touch with any of Moksh's counselors to gain access to the information regarding the required documents. Once you have collected all the required documents, you can hand them over to the team of Moksh where your documents are again verified so as to avoid any trouble afterwards.
After the verification is finally completed, we submit the application to the Nantong Medical School on your behalf. Since you are applying through Moksh, you can rest assured that nothing will hinder your admission process. After the application form has been submitted to the University by Moksh, it takes few weeks to obtain the admission letter from the University. This is just the beginning of Moksh's services for you. Throughout your entire education, we will assist you in numerous ways. So it's no surprise that the Moksh family is expanding – the trust factor.
Application Deadline For Admission For MBBS At Nantong Medical School
---
There is only one intake in Nantong Medical School in the month of June every year. Generally, the students who expect 80% in their 10+2 level block their medical seats at NTU right from the beginning and do not wait for the last minute. However, in case you are waiting for private medical colleges in India, you might be too late for admission to MBBS in China at NTU. There are almost 90% of the seats that are filled up on 30th June every year. In order to ensure tour admission at NTU, you just need to pay the application fees and submit the 10+2 transcripts/mark sheets as soon as the results are announced. From this time, the entire application system is now available on-line.
Reserve A Seat For MBBS In Abroad Admission 2022-23
---
Many of the students wait for NEET exam and results. These students are making a big mistake since the application deadline for most of the MCI approved MBBS abroad universities would pass. In turn, they would waste one more year by repeating the year. MOKSH offers you an innovative solution by reserving your seat and taking the admission letter in your hand as your PLAN B.
In case you get the admission through NEET 2022, you need not go to your chosen university for MBBS abroad. However, in case you do not make it, at least your backup plan is ready! It would be a smart decision for those students who already booked their medical seats. You must take note of important points:
The fees of private medical colleges have been jacked up by almost 50% reaching around Rs. 75 Lakhs for the full course.
The admission to the private medical colleges would be only for top 2-3% of the NEET takers.
If you have prepared only for the state boards, it would be very difficult for you to prepare for NEET even in 2022!
You do not need to pay even a single Paisa for reserving the seat except university application fees.
So just reserve the seat in an MCI approved MBBS abroad university as per your budget and relax!
Kindly note that many unprofessional agents collect money from you for the first year tuition fees from you. As you can see, MOKSH clearly gives you an indication of the actual fees and its service charges.
MBBS In China Eligibility In A Grade University – NTU:
---
Students should get more than 80% in PCB at 10+2 level. The students from South India generally get 90% and apply in this university. Basically, there are only 30 seats are available for Indian students in this top medical college of China. Again these seats are divided among North / South / West India. MOKSH, as a reputed MBBS abroad education consultants in Mumbai for medical education, generally block 10 to 12 seats every year in this university. It can accommodate students eligible for Admission to MBBS in China at NTU.
How To Get Admission To MBBS In China At Nantong University (NTU) 2022-23
---
Most of the time, the students are confused on how to apply for in this top medical university of China since the agents normally charge too much for the admission to this top medical college. In order to facilitate the students and make the entire process simpler and hassle free, we have launched an On-Line Application system where in the entire application system is directly connected with the admission portal of Nantong Medical School which has already allocated the medical seats to MOKSH to study Admission to MBBS at NTUfor Indian students. It is our endeavor to create an honest counselling and admission system so that the students can apply directly to the selected medical universities or top medical colleges in China without any problem.
There is absolutely NO NEED TO PAY any advance money in our system. Students can simply submit their documents on-line and even pay the university application fees (non-refundable) on the spot. You can now be sure of your admission letter once MOKSH has kept the admission open in that university if you are eligible for the same. There are 3 important points before Indian students should apply for the MBBS in China programs.
Students should meet the eligibility criteria.
Students should apply before the deadline.
The seats should be available with MOKSH. You can see it on top of the page if the admission is open or closed. Students cannot apply once the seats are full. The box would turn RED.
Admission Process For MBBS In China 2022-23:
---
The admission process for MBBS in China for Indian students 2022 is made very simple by MOKSH. The direct admission for top Chinese MBBS University is now available on-line. The only thing that you must take care is the timing of your application. If you apply within the application deadline, there is absolutely no problem to complete the admission Always prefer to apply directly for overseas MBBS instead of local small overseas education consultants. Admission to MBBS in China at Top Grade University – NTU, Nantong would be easier if applied for direct admission. It would give the Indian students a chance to get the honest guideline to select the right university suitable for MBBS in China. You just need to finalize the list of Chinese medical universities and Apply here!
The On-line and direct admission system ensures complete transparency for the Indian students applying for MBBS in China. The students are able to track the entire admission system progress through our latest technology "SATS". A completely hassle free admission is now available for Indian students!
Service / Consultancy Charges Of Moksh:
---
We are a top MBBS abroad education consultant in India with Head office in Mumbai. MOKSH has been successfully placing Indian students for Admission to MBBS in China. MOKSH is an official representative of many low fees medical colleges in China. You can take the benefit of our online direct Admission System. MOKSH offers 2 types of services.
Once you apply for MBBS in Georgia programs through MOKSH Overseas Education Consultants, you have several advantages such as:
FMGE or MCI Screening Test Coaching (Online) and FMGE Test Series with study notes.
Reliable and honest counseling.
Trustworthy university selection with long-term success effect.
Guaranteed Admission to MBBS program Georgia.
Perfect Visa application documentations & Zero rejection guarantee of Visa issuance.
100% safe and escorted travel services to drop the students to the Universities.
Accommodation support at the campus as well as Off-Campus.
MCI Eligibility certificate application.
FOREX and Travel Insurance support.
Providing upgrade to PG level MD / MS in Germany after your course of medicine in China.
Past Success Of Moksh For Indian Students To Study MBBS Abroad:
---
Till now, 550+ Indian students for MBBS abroad programs have been placed by MOKSH successfully in different countries. The Indian students can apply directly with MOKSH. They can also apply through its network of Premium Partner available in different cities across India. It would give the Indian students a chance to get the honest guideline to select the right university suitable for MBBS in China.
Indian Students At NTU
---
MOKSH is one of the top Abroad Education Consultants in India which is specialized on MBBS Abroad. MOKSH has been successfully placing Indian students for Admission to MBBS in China at Nantong University. It is a representative in India for the last 5 years. Till now, MOKSH has been successful in placing more than 350 students for MBBS abroad programs. Our 30 students are currently studying MBBS in China at NTU at different levels.
Always prefer to apply directly instead of local smaller overseas education consultants for admission to MBBS in China at A grade University – NTU since it would give the Indian students a chance to get honest guidance to select the right university suitable for MBBS in China.
PG Option after MBBS in Anhui Medical University China
Medical PG in India or NExT
During MBBS study, a student realizes the importance of being a specialist. They also understand the competitiveness to secure MD/MS Seat in Govt College. If we look at the success ratio to get PG in Govt Medical College which is 11% Broadly we can say that only 1 out of 10 will get PG Seat whereas the chances of getting Clinical specialty is 1 out of 20 applicants. It is obvious that the PG journey is going to be very difficult or else students should have enough money to get the paid seat in Pvt Medical College which may be in Crores!
Total Applicants NEET PG 2021
Specialty
Govt Med College
Pvt Med College
Seats
Success Ratio
Seats
1.75 Lacs
MD (Non Clinical)
15K
8.6%
10K
MS ( Clinical)
8K
4.6%
5K
Total
23K
11.4%
15K
Do you feel early preparation and the right mentorship will pave your dream of becoming a specialist? NMC already notified the introduction of the NEXT Exam in India from 2023. This exam will replace all Medical PG exams in India. The exam will be conducted in two parts NEXT-1 and NEXT-2.
The Objective of the NEXT-1 is to assess the Student's Knowledge of Pre, Para, and Clinical Subjects on the National Level. Only post-qualifying of NEXT-1 any Medical student will be eligible for an Internship. Post completion of internship Students needs to go thru NEXT-2 which will assess their Clinical skills, Patient Management, and Keeping of Medical history. Those who will Clear NEXT-2 awarded a license to practice and Rankers of NEXT-1 will get PG seats of their choice. You may refer to Page for detailed information on the NExT Exam
Medical PG in USA (USMLE)
We are well aware of the difficulty of getting PG in India. With the introduction of NEXT, maximum students in India are getting attracted to USMLE prep from 1st year of MBBS since it simulates the new NMC Competency-based curriculum much easily. US Healthcare system is considered as one of the best health care systems because of numerous reasons like High rewards, excellent infrastructure, Merit-based assessment, Open opportunities for Super specialties. Most of the countries trying to replicate the US health care assessment system for their Medical Graduates USMLE exam are divided into 3 Parts. One can appear in USMLE Step 1 after 2nd Year, USMLE Step 2 CK during internship and Step-3 during your residency (Medical PG). The USMLE is an online exam and can be taken at the PROMETRIC centers present across India.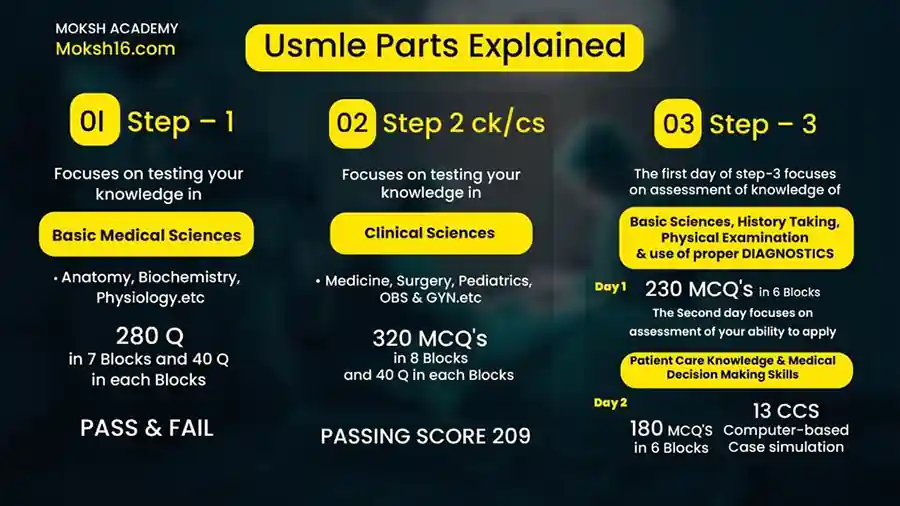 MOKSH Coaching focuses on a patient-centered learning approach which helps students score high on both USMLE & NEXT. MOKSH is the leading name in USMLE Coaching. Currently, 1000+ Students from Indian and Abroad medical colleges are preparing for USMLE steps via the MOKSH Platform.
Medical PG IN UK (PLAB)
Due to the close proximity of Moldova to UK, many of the students plan to do their Medical PG from UK. Till 2024, the Professional & Linguistic Assessments Board Test (PLAB test) is the instrument to assess the skills and knowledge of an International Medical Graduate. It also judges whether they are fit to be trained to practice medicine in the UK.
In short, an IMG's performance in PLAB determines her eligibility to practice in the UK. The PLAB test has two stages. PLAB 1 is an exam that has 180 MCQs that tests your recall. On the other hand, PLAB 2 is a practical OSCE (Objective Structured Clinical Exam) that tests your clinical skills.
The GMC ascertains your linguistic skills by assessing your score in specific tests. It may be the IELTS (Band Score 7.0 or higher) or OET (Grade B in reading, writing, listening & speaking).
After you pass PLAB 1 & 2, you apply for the GP registration. There is one constraint. You have a window of 2 years after clearing PLAB 2 during which you may apply no later.
By 2024, the UK Medical Licensing Assessment will replace the PLAB. Consequently, the GMC UK is going to change certain things in PLAB and create the UKMLA exam.

Medical PG in Germany

PG in Germany after MBBS in India is another great option, though it requires you to learn the German language. Of the 6 levels starting from A1 to C2, you need to clear A1 and A2 that would qualify you to apply for the visa.
Once the Language formalities are done, you get into the phase where you do Observer-ship from a German hospital approved by the German Medical Council. This is followed by Residency.
This may sound simple here but the process is quite complicated. To know more about PG in Germany after your MBBS in India,
Your Chance to get an MBBS Seat in India
The most difficult time for any of the students is to wait after NEET till the counseling process to know whether he/she is getting a college of his/her choice or not? Sometimes this dilemma continues for a couple of months due to multiple rounds of counseling. It has become more difficult due to parallel counseling of All India Quota and various States due to COVID-19. The counseling process is very complex where 550+ Govt. and Private colleges offer 83000+ Seats and fee variation is also huge that ranges from less than 1 Lac to 2.5 Cr for the course.
Dreams shatter when any silly mistake in choice filling or wrong selection of college leads to getting a poorly ranked college. Imagine getting paid seats or no seats at all due to a lack of genuine guidance!