Overview
The Govt of India has restructured the entire Medical Education system in India which was very essential to bring uniformity. So, as a part of this revamping, the NEET UG Exam conducted by NTA (National Testing Agency) replaced the former AIPMT exam in 2017. It took almost 5 years of hearings of multiple petitions by the Supreme Court to eventually scrap off the AIPMT exam. Currently, the aspirants get the seats in medical colleges for MBBS and Dental on the basis of his/her rank in the NEET UG exam.
INDEX
1. Medical Colleges & MBBS Seats Availability
2. MBBS Seats Trends (last 5 Years)
3. Fee Structure of MBBS Colleges
4. NEET- UG COUNSELING 2021
5. All India Counseling 2021
6. State Counseling 2021
7. NEET UG Exam Pattern 2022
8. NEET-UG Exam Dates 2022
9. Your Chance to Get a MBBS Seat
10. Medical PG in India/NEXT
11. Medical PG IN USA (USMLE)
12. Medical PG in GERMANY
Medical Colleges and MBBS Seats Availability
Currently, there are more than 550 Indian medical colleges in India. Among these, 285+ are Government medical colleges, and the remaining 270+ are private Medical Colleges. In these colleges, total seats for Academic Year 2021-2022 are more than 83000, if we further bifurcate, 43 thousands seats are held by the government medical colleges and the remaining 40 thousands seats in private medical colleges. In the last 10 years solely, 243 medical colleges in India have been established which account for nearly 45% of the total Medical Colleges. Karnataka has the highest count of MBBS seats among all Indian states with 9345 MBBS seats followed by Maharashtra (9000), Tamil Nadu (8000), and so on. You can refer the table given below for detailed information:
If we analyze the distribution of MBBS Seats in India, we find that Southern part of India is having maximum no of seats followed by West, North, and East in that order. Due to less availability of seats and more number of Applicants in UP and Bihar, cut off of always goes on higher side in comparison to Kerala and Tamil Nadu. For further clarity, here is the graphic representation of the number of MBBS Seats in each Indian state:
MBBS Seats Trends in last 5 Years
45% Government medical colleges (124 out of 285) and 37% Private Medical College (100 out of 269) were established in the last 10 years. This number is around 40% of the total medical colleges in India. In last 5 Years total 13 Thousand Seats added which is 18% of Total Seats whereas almost 5 Lacs more aspirants took NEET which is more than 40% ! Because of gap in number of aspirants and Seats availability it is a distant dream to become Doctor from a Govt Medical college in India.
YEAR
MBBS Colleges
MBBS Seats
No of NEET
Applicants
(in Lacs)
Chances of MBBS
Seat (Govt.
Med Colleges)
Chances of MBBS
Seat (Govt. + Pvt
Med Colleges)
Govt
Pvt
Total
Govt
Pvt
Total
2017
218
232
450
35870
34290
70160
11.4
3.14%
6.16%
2018
227
237
464
37140
35040
72180
13.3
2.79%
5.44%
2019

245

242
487
39385
35890
75275
15.2
2.59%
4.95%
2020
279
254
533
42735
37640
80375
15.9
2.67%
5.03%
2021
285
269
554
43335
39840
83175
16.1
2.69%
5.16%
As only 40 thousand students get Govt seats in India against 16 Lacs appeared in NEET Exam Success Ratio is only 2.5%. If we add 40 thousand Private Seats with budget of 70 Lacs-1 Cr then still it becomes just 5%, which is not at all affordable for a Middle Class Family. Those who could not secure Govt Seat and not having budget of 70 Lacs they still can become doctor from a Govt/ Public University from Abroad. These programs are English taught, within budget of 20-30 Lacs and approved by NMC and other Medical Bodies across the Global like ECFMG/WHO. And, surprisingly 18000+ students opt for MBBS through this route every year which is almost half of the Students getting admission in Govt Medical Colleges in India. You can refer MBBS Abroad page for complete info.
Indian Medical Colleges Teaching Experience
Being a Teaching faculty in India you must be have a Post Graduate degree as per NMC norms. Chances of a getting a PG Seat in any Govt Medical College is only 10% (1.25 Lacs doctors applied for 12K Govt Seats in 2021). Average Salaries in Medical College for teaching job makes it unattractive for any MD/MS Doctor. When it comes to educational institutions, it is an established fact that those colleges/universities with a good number of years of experience are always better. They have a strong academic background and well-experienced teachers.
In the case of the newly established medical colleges, it becomes hard to find the right faculty whose pedagogical abilities are at par with the standards set by NMC. Consequently, as many as 50% of posts of teaching faculty positions in these new medical colleges are vacant which leads to challenges in students' learning process.
Fee Structure of MBBS Colleges
Fee is a major factor when choosing a college. The Fee for any Medical Seat in India depends upon multiple factor like is it a Govt College, Private College or deemed University at the same time it also depends upon type of Seat like Government seats, Management seats and NRI seats. Even private medical colleges allocate some seats under government quota and the price is relatively lower than that of management seats in these colleges. The fee for MBBS in India for NRI seats is heavily priced.
In the table below, we are indicating MBBS in India fee structure of various types of medical colleges, viz. Autonomous Institute (AIIMS), Central University College, Deemed University College, Government Medical Colleges and Private Medical Colleges.
| TYPE OF COLLEGE | Govt. Seat | Management Seat | NRI Seat |
| --- | --- | --- | --- |
| Autonomous Institutes (AIIMS) | Less than 1 Lac | N/A | N/A |
| Central Univ. Colleges | Less than 1 Lac | N/A | N/A |
| Government Medical Colleges | 2-4 Lacs | N/A | 50-75 Lacs |
| Deemed Colleges | 50-60 Lacs | 75-90 Lacs | 1.25-1.75 CR |
| Private Medical Colleges | 20-40 Lacs | 60-70 Lacs | 1.25 CR |
Indicating Fees are average course fee approved by Fee Regulation commission of respective state for under various Category . It is important to note that there may be other miscellaneous charges also.
You can find the Fees for Govt Seat, Management Seat and NRI Seat for all college in any state by clicking particular state name.
NEET- UG COUNSELING 2021
NEET Exam was conducted NEET UG 2021 counseling started late due to delay in NEET Result because of multiple litigations in Supreme court. Counseling Started from 1st week of Feb'22 and ended with multiple rounds in the Last week of Feb'22. Total 83K MBBS Seats allocated by MCC and responsible bodies of various state for counseling. MBBS Session for academic year 2021 started after delay of 4 months in most of the Medical Colleges in the month of Feb'2022. The uncertainty in the waiting period after NEET UG exam till the completing of NEET Counseling process 2021 was the hardest for any candidate to endure. In most of the cases, he/she is in a state of dilemma – whether he/she would be able to get a seat in a medical college in India 2021 or not.
| Event | Dates |
| --- | --- |
| NEET exam notification | 12-Jul-21 |
| NEET 2021 application form date by NTA | 13-Jul-21 |
| Last date to submit NEET 2021 application form | 10-Aug-21 |
| Last date for application fee payment | 10-Aug-21 |
| Correction window of NTA NEET application form | From 11/08/21 to 14/08/21 |
| NEET UG 2021 Admit Card Release Date | 6-Sep-21 |
| Last Date to Download Admit Card | 12-Sep-21 |
| NEET 2021 Exam Date | 12 -Sept 21 (Sunday) |
| NEET 2021 Result | 01-Nov-21(Monday) |
| Announcement of Counseling Dates | 01-Feb-2022(Tuesday) |
| Counseling Round-1/2/Mop Up/Stray Round | Feb 2022 |
Eligibility to participate in NEET-UG Counseling
NMC has defined 2 criteria which must be met for medical college admissions in India every year and same to be followed in 2022. These 2 criteria are score obtained in 12th Standard or equivalent grade and the NEET (UG) 2021 score.
12th Standard Eligibility criteria
The candidate applying for NEET (UG) 2022 must have passed 10+2 or equivalent grade in science stream and have Biology (or Bio-technology), Physics and Chemistry as main subjects. The candidate must score a minimum of 50% marks in case he/she belongs to unreserved category, 45% marks in case of OBC category and 40% marks in case of SC/ST category. Moreover, the candidate must have completed age of 17 years by 31st of December of the year of enrollment.
NEET-UG 2021 Cut Off
Like previous years, the NEET (UG) Cut off for qualification will be 50 percentile for candidates from General category. Often the candidates confuse percentage with percentile system in this exam.
Please find the table below indicating NEET UG cut off for 2020 and 2021.
| Category | NEET 2021 Cutoff Percentile | NEET-UG 2020 Cutoff Marks | NEET-UG 2021 Cut off Marks |
| --- | --- | --- | --- |
| General | 50th percentile | 147 | 138 |
| SC/ST/OBC | 40th percentile | 113 | 108 |
| General (PwD) | 45th percentile | 129 | 122 |
| SC/ST/OBC (PwD) | 40th percentile | 113 | 108 |
Seat Allocation Rounds in Counseling Process
Round – 1 – This is the main counseling Registration which will be inclusive of payment of registration fee (Non-refundable) and Security Deposit (Refundable).
Round – 2 – This round is meant for candidates who appeared in round-1 and could not get any allotted seat. The candidates do not have to register again in such a case. However, there are fresh registrations in Round – 2 for those candidates who did not appear for Round – 1.
Mop – Up Round – This round is intended only for Deemed/ Central Universities: ESIC, AIIMS & JIPMER.
Stray Vacancy Round –Stray Vacancy Round is intended for Deemed/Central Universities, AIIMS & JIPMER. There is no fresh registration for this round.
Eligibility and Deposits for Counseling
In the table below, we present precise Deposit amounts and Eligibility to participate in various counseling rounds.
Sr. No.
Round
Free Exit
Exit with
Ineligible for further counseling
Amount of registration
forfeiture of fees
Fee (security deposit )
1.
AIQ Round – 1/Deemed
Yes
-
-
-
2.
AIQ – 2/Deemed
-
If not joined
If joined
Government – Rs. 10,000 (half for SC/ST/OBC)
Deemed – Rs. 2,00,000
3.
State Quota Round – 1
Yes
-
-
-
4.
State Quota Round – 2
-
If not joined
If joined
Government – Rs. 10,000 (half for SC/ST/OBC)
Private – Rs. 1,00,000
5.
State Quota Mop-up Round
-
-
If joined
-
6.
Deemed Mop-Up Round
-
-
If joined
-
All India Counseling 2021
The MBBS Seat matrix 2021 available under All India Counseling System in India is given below:
| College Type | No. of seats available for All India Counseling 2021 |
| --- | --- |
| Autonomous Institute (AIIMS) | 1899 |
| Central Universities Colleges | 319 |
| State Govt. College | 6033 |
| Deemed Univ. College | 6652 |
| Private Medical College | 0 |
| Total Seats | 14903 |
Below are illustrated the seats that are offered to candidates applying through All India Counseling
15% All India Quota seats MBBS/ BDS Seats of States (except Jammu & Kashmir)
100% MBBS/ BDS Seats of BHU
100% MBBS Seats of AIIMS across India
100% JIPMER seats
100% AMU
85% of State Quota seats of DU/ I.P University (VMMC/ ABVIMS/ESIC Dental) for Delhi State
100% -Faculty of Dentistry (Jamia Milia Islamia) along with 5% internal Quota of Jamia students
15% IP quota seats of ESIC
Reservation in All India counseling 2021
A very important aspect that you, as an aspirant, need to understand is the policy of Reservation in force when it comes to admission through NEET UG. The Central Government's Reservation Policy governs the norms of reservation for all seats to be filled in the All India counseling process. However, it may be different for various categories of Institutes like Autonomous, Central University Colleges, Deemed University Colleges and All India Quota.
The reservation policy currently in force for AIQ is –
1. SC – 15%
2. ST – 7.5%
3. OBC – 27% (Non-Creamy Layer)
4. PwD (Person with Disabilities) – 5% Horizontal Reservation
5. EWS – 10%
To check if your caste or community is eligible for reservation under All India Quota, refer to the links below
For OBC - Click Here
For SC - Click Here
For ST - Click Here
NEET UG State Counseling 2021
All Indian States conduct NEET UG Counseling for MBBS admission in India for medical colleges present within their respective territories, of course, with exceptions (AIIMS, JIPMER, Deemed Univ. Colleges and few central Univ. Colleges). On the whole, there are more than 490 colleges (Govt. and private combined) that participated in NEET UG State Counseling 2021. Summing it up, NEET UG State Counseling 2021 will decide the allocation of 68692 total MBBS seats under various rounds.
In the table below, we present the numbers MBBS seats that fall under different sorts of medical colleges:
| College Type | MBBS Seats under State Counseling |
| --- | --- |
| Autonomous Institute (AIIMS) | 0 |
| Central Universities Colleges | 1035 |
| State Govt College | 34187 |
| Deemed Univ College | 0 |
| Private Medical College | 33470 |
| Total Seats | 68692 |
Reservation Policy in State Counseling 2021
The seat allocation of any medical college is subject to the All India Rank obtained by the candidate in the NEET UG exam. Another factor influencing the prospects of seat allocation is the caste & category of the candidate applying. The central govt. has defined its reservation criteria for seats allocated via All India Counseling. Likewise, the constitutional law enables the Indian states as well to implement their own reservation criteria for allotment of seats via state quota.
As a result, a candidate belonging to a particular caste or category is likely to fall into different reservation categories during central and state Counseling procedures. To provide equal opportunities in the society, some states may also provide special reservations on the basis of geographical location, the minority status of a community, minority status on the basis of language, armed force personnel dependents, etc. Such cases have been observed in states like Maharashtra, Telangana, Karnataka, Tamil Nadu, and so on. Many states also reserve seats for female candidates in categories mentioned above like Telangana, Bihar, Chhattisgarh, Uttarakhand, Maharashtra, etc. There are also seats reserved for candidates hailing from PwD (Person with Disabilities) Quota.
Therefore, it becomes important for candidates to determine their caste or community as per their state domicile. You can check the applicable reservation policy in any state for State Counseling Seat by clicking the state name.
NEET UG Exam Pattern 2022
In view of the COVID-19 pandemic, NTA introduced some changes to the NEET UG 2021 exam pattern. The changes involve dividing the NEET subjects into 2 sections (see table below). Furthermore, it has provided flexibility to the students to choose a number of questions that he/she can answer. It is expected that same may be continued as NEET UG Exam pattern for 2022 also by NTA .
| | |
| --- | --- |
| Mode of NEET question paper | Pen and Paper-based (candidates are given an OMR sheet to mark the answers with a black/blue ballpoint pen) |
| Duration of the NEET exam | 3 hours |
| Language or Medium of Exam | English, Hindi, Assamese, Bengali, Gujarati, Kannada, Malayalam, Marathi, Odia, Punjabi, Tamil, Telugu and Urdu |
| Question Type | Multiple Choice Questions |
| Total Number of Questions asked in NEET 2021 | The number of total questions in the NEET 2021 exam is 200 but aspirants have to attempt only 180 questions. |
| NEET marking scheme 2021 | 4 marks will be awarded for each right answer, One mark will be deducted for each wrong answer |
Subjects
Sections
No. of questions
To be Attempted by the candidate
Section-wise Marks
Physics
Section A
35
35
140
Section B
15
10
140
Chemistry
Section A
35
35
140
Section B
15
10
140
Botany
Section A
35
35
140
Section B
15
10
140
Zoology
Section A
35
35
140
Section B
15
10
140
Total Marks
200
180
720
NEET-UG Exam Dates 2022
The National Testing Agency (NTA) conducted the NEET (UG) 2021 examination on Sunday, 12th September, 2021 in pen & paper mode. NEET-2021 Exam was delayed due to second wave of COVID-19. CBSE announced 12th Board exams for 2022 in April and May. It is expected NTA may conduct NEET-UG 2022 Exams in the month of July'22. If it happens then NEET result will be declared in the month of Aug. In such scenario NEET UG Counseling 2022 will take place in the month of Sept. The examination will serve as a uniform entrance examination for MBBS admission and other stream like BDS/ BAMS/ BSMS/ BUMS/ BHMS and other undergraduate medical courses.
You can find the tentative date for NEET UG 2022 Exam
EVENT

Expected Date NEET 2022

NEET exam notification

April/ May

NEET 2022 application form date by NTA

April/ May

Last date to submit NEET 2022 application form

2nd Week May

NEET UG 2022 Admit Card
Release Date

1st/2nd Week Jul

NEET 2022 Exam Date

1st/2nd Week Jul

NEET 2022 Result

1st week Aug

Announcement of Counseling Dates

3rd Week Sept
Your Chance to Get a MBBS Seat
The most difficult time for any of the students is to wait after NEET till the counseling process to know whether he/she is getting a college of his/her choice or not? Sometime this dilemma continues for couple of months due to multiple rounds of counseling. It has become more difficult due to parallel counseling of All India Quota and various States due to COVID-19. The counseling process is very complex where 550+ Govt. and Private colleges offer 83000+ Seats and fee variation is also huge that ranges from less than 1 Lac to 2.5 Cr for the course.
Dreams shatter when any silly mistake in choice filling or wrong selection of college leads to getting a poor ranked college. Imagine getting paid seats or no seats at all due to lack of genuine guidance!
MOKSH AI-based MBBS college predictor predicts your chances of getting an MBBS seat in Medical colleges in All India Counseling NEET UG 2021 and State Counseling NEET-UG 2021 under various Seat categories like Govt., Management or NRI Seat. For assessing your chances of getting a seat, the MOKSH Predictor algorithm takes categories/sub category or various Quotas into consideration as per Govt. regulations. It also takes into account historical data published by the Medical Counseling Committee (MCC) or State Dept. responsible for counseling of the respective state.
Need to be Specialist or just MBBS is enough?
Every MBBS student realizes during their Graduation that MBBS Degree is just a basic degree and without a PG degree it's very difficult for them to sustain. There is stiff competition for Medical PG after MBBS degree due to major gap between Passing MBBS Graduates and available PG Seats in Govt Medical Colleges. Currently 436 Medical colleges offer PG courses (MD/MS/Diploma) and the total 38 thousand seats are available in clinical and non-clinical streams (13K in Govt and 25K in private College) While 4,400+ seats in 179 colleges offering super specialty under DM/MCH programs. Fees for Medical PG in Govt College is around 2-5 Lacs where it costs around 1 Cr to 3Cr in Private Medical College or Deemed University depending upon chosen Specialty and College teaching Experience. Looking for Medical PG in USA (USMLE) is now days very popular among medical students due to less competitive arena (chances to get Medical PG in USA is much higher than getting PG Seat in India!). There are many other advantages like only merit based selection, Opportunities to work in world Class healthcare System, Very high income. You come to know your chances to get the Medical PG in US during your MBBS! Do you know Medical PG in USA is not only free but you also earn 30-35 Lacs INR salary during the PG course? For detailed information, you can refer our Medical PG in USA (USMLE) page Know More
Medical PG in India/NEXT
During MBBS study, a student realizes importance of being a specialist. They also understand the competitiveness to secure MD/MS Seat in Govt College. If we look the success ratio to get PG in Govt Medical College which is 11%Broadly we can say that only 1 out of 10 will get PG Seat whereas chances of getting Clinical specialty is 1 out of 20 applicants. It is obvious that PG journey is going to be very difficult or else student should have enough money to get the paid seat in Pvt Medical College which may be in Crores!
Total Applicants NEET PG 2021

Specialty

Govt Med College

Pvt Med College

Seats

Success Ratio

Seats

1.75 Lacs

MD (Non Clinical)

15K

8.6%

10K

MS ( Clinical)

8K

4.6%

5K

Total

23K

11.4%

15K
Do you feel early preparation and right mentorship will pave your dream of become specialist?
NMC already notified the introduction of NEXT Exam in India from 2023. This exam will replace all Medical PG exams in India. Exam will be conducted in two parts NEXT-1 and NEXT-2. The objective of the NEXT-1 is to assess the student's knowledge for Pre, Para and Clinical subjects on National Level. Only post qualifying of NEXT-1 any Medical student will be eligible for Internship. Post completion of internship Students need to go thru NEXT-2 which will assess their Clinical skills, Patient Management and Keeping of Medical history. Those who will Clear NEXT-2 awarded license to practice and Rankers of NEXT-1 will be get PG seats of their Choice. You may refer Page for detailed information on NExT Exam
Medical PG IN USA (USMLE)
We are well aware about difficulty of getting PG in India. With the introduction of NEXT, maximum students in India are getting attracted to USMLE prep from 1st year of MBBS since it simulates the new NMC Competency-based curriculum much easily. US Healthcare system is considered as one of the Best health care system because of numerous reasons like High rewards, excellent infrastructure, Merit based assessment, Open opportunities for Super specialties. Most of the countries trying to replicate US health care assessment system for their Medical Graduates USMLE exam are divided in 3 Parts. One can appear in USMLE Step 1 after 2nd Year, USMLE Step 2 CK during internship and Step-3 during your residency (Medical PG). The USMLE is an online exam and can be taken at the PROMETRIC centers present across India.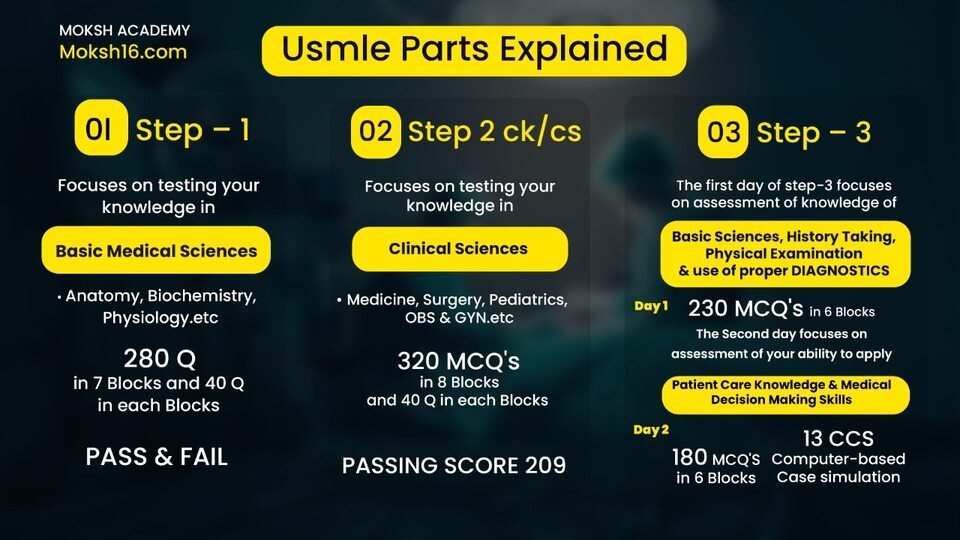 MOKSH Coaching focuses on patient centered learning approach which helps students score high on both USMLE & NEXT.MOKSH is the leading name in USMLE Coaching. Currently, 1000+ Students from Indian and Abroad medical colleges are preparing for USMLE steps via MOKSH Platform.
Medical PG in GERMANY
PG in Germany after MBBS in India is another great option, though it requires you to learn the German language. Of the 6 levels starting from A1 to C2, you need to clear A1 and A2 that would qualify you to apply for visa.
Once the Language formalities are done, you get into the phase where you do Observer-ship from a German hospital approved by the German Medical Council. This is followed by Residency.
This may sound simple here but the process is quite complicated. To know more about PG in Germany after your MBBS in India,