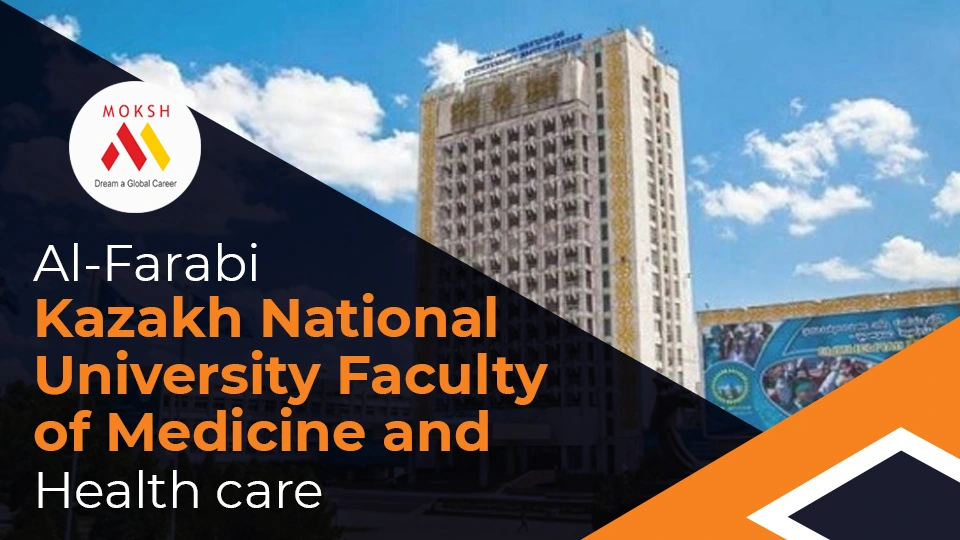 Table of Contents
Key Highlights
Established in 1934, KazNU is the oldest and largest university in Kazakhstan.
KazNU is a public research university with over 20,000 students and 3,000 faculty members.
KazNU is ranked among the top universities in Kazakhstan and Central Asia.
KazNU is also a major center for international education. It hosts over 1,000 international students each year.
The university has a student-to-faculty ratio of 12:1.
The average class size is 25 students.
The university has a sports complex with a swimming pool, a football stadium, and a basketball court.
Introduction to Kazakh National University (KazNU)
Al-Farabi Kazakh National University (KazNU) is a public research university in Almaty, Kazakhstan. It is named after the 10th-century philosopher and scholar al-Farabi. KazNU is the oldest and largest university in Kazakhstan, and is one of the leading universities in Central Asia.
KazNU was founded in 1934 as the Kazakh State University. It was renamed in 1991 after al-Farabi. The university has over 20,000 students and 3,000 faculty members. It offers over 600 undergraduate and graduate programs in a wide range of fields, including the medicine, humanities, social sciences, natural sciences and engineering.
Faculty of KazNU
The University currently consist of more than 20,000 students study at Kazakhstan University accompanied by 2,500 faculty members currently working at KazNU. Among these 2,500 faculty members are 400 doctors hailing from the field of science and more than 800 candidates of science and associate professors.
Below are the faculty:
Faculty of Medicine and Health Care
Faculty of Biology and Biotechnology
High School of Economics and Business
Faculty of Geography and Environmental Sciences
Journalism Department
Faculty of Pre-University Education
Faculty of Mechanical Mathematics
Faculty of History, Archeology, and Ethnology
International Relations Department
Faculty of Physics and Technology
Faculty of Philology and World Languages
Faculty of Law
Faculty of Philosophy and Political Science
Faculty of Chemistry and Chemical Technology
Faculty of Information Technology
Ranking of Kazakh National University
Al-Farabi Kazakh National University is ranked among the top universities in Kazakhstan and Central Asia. In the 2023 QS World University Rankings, KazNU was ranked 150th in the world and 44th in Asia. In the 2023 Times Higher Education Asia University Rankings, KazNU was ranked 51st in Asia. As per the rankings delivered by the QS, this Kazakhstan-based University holds the 220th position on a global scale when it comes to the best universities in the world.
International Recognition of Kazakh National University
Al-Farabi Kazakh National University (KazNU) is a highly-regarded university with a strong international reputation. It is recognized by a number of international organizations, including:
The International Association of Universities
The European Society for Engineering Education
The Association for the Exchange of Students for Technical Experience
The International Observatory on Academic Ranking and Excellence
The Indo-US Collaboration for Engineering Education
Degree Recognition
The university's degrees are recognized by employers and educational institutions around the world. Here are few KazNU's recognition:
In 2019, KazNU was awarded the prestigious "Global Islamic Finance Awards 2019" in the category of "Best Emerging Islamic Finance Education Provider".
In 2021, KazNU was named as one of the Top 500 Universities in the World by the Times Higher Education World University Rankings.
In 2022, KazNU was awarded the "Excellence in Education" Award by the Association of Commonwealth Universities.
Why Study at Al-Farabi Kazakh National University?
KazNu is a highly-ranked university with a strong international reputation.
Kazakh National University offers a wide range of undergraduate and graduate programs in a variety of fields.
KazNU has a strong research tradition.
Kazakh National University is a major center for international education.
The Cost of living in Kazakhstan is affordable to any International student. This means that you can save money on your tuition and living expenses.
THE CITY OF ALMATY!
The city of Almaty, formerly known as Alma-Ata is the largest of all the other cities in Kazakhstan. The city serves as the capital of the state of Kazakh during the period 1929-97 after which the capital was shifted to the city of Astana (Also known as Nur-Sultan). Almaty yet continues to be known as the largest commercial and cultural hub in Kazakhstan. It is further recognized as the most populous city, thanks to its population figure of more than 1.8 million inhabitants. It also stands out as the most cosmopolitan city in Kazakhstan. It is settled in the mountainous region of the south of Kazakhstan at the foothills of the Lli Alatau range with elevations of 700 to 900 meters.
Moving on to its climate, the city experiences a humid continental climate accompanied by hot summers and cold winters. What sets this climate apart is the influence from the mountain-valley circulation. A great deal of evident is the northern part of Almaty that responds directly to the transition zone of mountain slopes to the plains. The average temperature recorded on an annual basis is 10°C. The coldest month is January that hauls the temperature to an icy-cold -4.7°C while the month of July brings forth the temperature to 23.8°C becoming the warmest month round the year.
Cost of Studying At Kazakh National University
Al Farabi Kazakh National University fees for MBBS in Kazakhstan is given below -
| Cost (USD)* | Year 1 | Year 2 | Year 3 | Year 4 | Year 5 |
| --- | --- | --- | --- | --- | --- |
| Tuition Fees | 4600 | 4600 | 4600 | 4600 | 4600 |
Accommodation at KazNU
Al-Farabi Kazakh National University (KazNU) has 14 hostels that can accommodate over 5,000 students. The hostels are located on the university campus and are within walking distance of the main academic buildings. Service provided are all the hostels are equipped with laundry facilities, common rooms, and kitchens
The hostel are divided into 2 categories:
Economical hostels: These hostels are the most basic and offer shared bathrooms and kitchens
Luxury hostels: These hostels offer private bathrooms and kitchens, as well as other amenities such as laundry facilities and study rooms.
The cost of accommodation in the hostels varies depending on the type of hostel and the number of people sharing a room. The cost of accommodation in the economical hostels is around 10,000 KZT per month (INR 1000-2000), while the cost of accommodation in the luxury hostels is around 20,000 KZT per month (INR 3,000-4,000).
Indian Mess available in KazNU
KazNU does not provide an Indian mess specifically. However, there are a number of mess options available in and around the university campus that offer Indian food. These mess options are usually run by Indian students or staff, and they typically quite affordable.
Eligibility for Al-Farabi Kazakh National University
To apply in Al-Farabi Kazakh National University students, need to meet the below eligibility criteria
50% marks in PCB in Class XII or equivalent grade
NEET Qualified in any of the Year from 2021 to 2023
Age must be more than 17 Years
Not suffering from any communicable Diseases.
Required Documents for admission in Al-Farabi Kazakh National University
Notarized, Apostle and Translated document of previous education
2 pictures of the applicant (3*4 cm)
NEET Score Card
ID Proof (Aadhar Card)
Date of Birth Certificate
Copy of Valid Passport
Admission Procedure for Al-Farabi Kazakh National University
Students need to register with MOKSH and fill out the registration form.
Need to submit the 12th Mark sheet, NEET Score Card and Aadhar Card along with the Registration form
Online Admission Tests will be conducted by the University This test will comprise Chemistry Question. MOKSH Team will help with sample Question for the test.
Post successfully passing the Exam, University will issue the Admission Letter
Admission Deadline for Al-Farabi Kazakh National University
This is important to understand that the complete process takes around 3 Months from Application to Arrival at the University. Students applying at the last moment may not find seats available or they may struggle to complete the process in shorter span. If this happens students might reach late to the university which may result loss in their academics.
| Stages | Time Lines |
| --- | --- |
| Application to University | Mar-July |
| Admission Test | 11 Jul-25 Jul 2023 |
| Issuance of Admission Letter | 2-3 weeks |
| Invitation Letter by the Ministry of Education, Kazakhstan | 3-4 weeks |
| Visa Stamping | 2 weeks |
| Travel to the University | September 2023 |
| Commencement of the Classes | 1st October 2023 |
NOTE: Last date to apply for Al-Farabi Kazakh National University, Kazakhstan for September intake is 25/07/2023
Syllabus of MBBS in Al-Farabi Kazakh National University, Kazakhstan
| | |
| --- | --- |
| Semester | Subjects |
| 1 | Anatomy, Physiology, Biochemistry, Medical Biology, General Psychology, Medical Sociology |
| 2 | Pharmacology, Microbiology, Pathology, Forensic Medicine, Medical Informatics, History of Medicine |
| 3 | Internal Medicine, Surgery, Paediatrics, Obstetrics and Gynaecology, Community Medicine |
| 4 | Dermatology and Venereology, Neurology, Ophthalmology, Otolaryngology, Radiology |
| 5 | Psychiatry, Oncology, Traumatology and Orthopaedics, Urology, Endocrinology |
| 6 | Preventive Medicine, Occupational Health, Forensic Medicine, Advanced Surgery, Advanced Internal Medicine |
The MBBS program at WKMOSMU is a 5-year program, with 2 year of Internship which means your MBBS in Kazakhstan will be of 7 years. If you are an Indian student coming back to India, you have to do your 1-year Internship. All the information is being announced by NMC. The program is divided into 5 years, with each year consisting of 2 semesters.
PG Option after MBBS in Al-Farabi Kazakh National University
Medical PG in India or NExT
During MBBS study, a student realizes the importance of being a specialist. They also understand the competitiveness to secure MD/MS Seat in Govt College. If we look at the success ratio to get PG in Govt Medical College which is 11% Broadly we can say that only 1 out of 10 will get PG Seat whereas the chances of getting Clinical specialty is 1 out of 20 applicants. It is obvious that the PG journey is going to be very difficult or else students should have enough money to get the paid seat in Pvt Medical College which may be in Crores!
Total Applicants NEET PG 2022
Specialty
Govt Med College
Pvt Med College
Seats
Success Ratio
Seats
2.06 Lacs
MD (Non Clinical)
15K
8.6%
10K
MS ( Clinical)
8K
4.6%
5K
Total
23K
11.4%
15K
Do you feel early preparation and the right mentorship will pave your dream of becoming a specialist? NMC already notified the introduction of the NEXT Exam in India from 2023. This exam will replace all Medical PG exams in India. The exam will be conducted in two parts NEXT-1 and NEXT-2.
The Objective of the NEXT-1 is to assess the Student's Knowledge of Pre, Para, and Clinical Subjects on the National Level. Only post-qualifying of NEXT-1 any Medical student will be eligible for an Internship. Post completion of internship Students needs to go thru NEXT-2 which will assess their Clinical skills, Patient Management, and Keeping of Medical history. Those who will Clear NEXT-2 awarded a license to practice and Rankers of NEXT-1 will get PG seats of their choice. You may refer to Page for detailed information on the NExT Exam
Medical PG in USA (USMLE)
We are well aware of the difficulty of getting PG in India. With the introduction of NEXT, maximum students in India are getting attracted to USMLE prep from 1st year of MBBS since it simulates the new NMC Competency-based curriculum much easily. US Healthcare system is considered as one of the best health care systems because of numerous reasons like High rewards, excellent infrastructure, Merit-based assessment, Open opportunities for Super specialties. Most of the countries trying to replicate the US health care assessment system for their Medical Graduates USMLE exam are divided into 3 Parts. One can appear in USMLE Step 1 after 2nd Year, USMLE Step 2 CK during internship and Step-3 during your residency (Medical PG). The USMLE is an online exam and can be taken at the PROMETRIC centers present across India.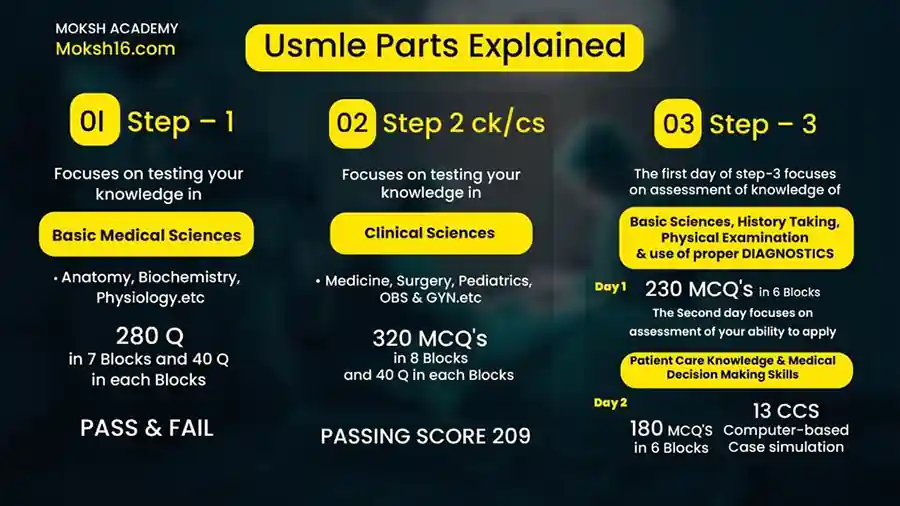 MOKSH Coaching focuses on a patient-centered learning approach which helps students score high on both USMLE & NEXT. MOKSH is the leading name in USMLE Coaching. Currently, 1000+ Students from Indian and Abroad medical colleges are preparing for USMLE steps via the MOKSH Platform.
Medical PG IN UK (PLAB)
Due to the close proximity of Moldova to UK, many of the students plan to do their Medical PG from UK. Till 2024, the Professional & Linguistic Assessments Board Test (PLAB test) is the instrument to assess the skills and knowledge of an International Medical Graduate. It also judges whether they are fit to be trained to practice medicine in the UK.
In short, an IMG's performance in PLAB determines her eligibility to practice in the UK. The PLAB test has two stages. PLAB 1 is an exam that has 180 MCQs that tests your recall. On the other hand, PLAB 2 is a practical OSCE (Objective Structured Clinical Exam) that tests your clinical skills.
The GMC ascertains your linguistic skills by assessing your score in specific tests. It may be the IELTS (Band Score 7.0 or higher) or OET (Grade B in reading, writing, listening & speaking).
After you pass PLAB 1 & 2, you apply for the GP registration. There is one constraint. You have a window of 2 years after clearing PLAB 2 during which you may apply no later.
By 2024, the UK Medical Licensing Assessment will replace the PLAB. Consequently, the GMC UK is going to change certain things in PLAB and create the UKMLA exam.
Medical PG in Germany

PG in Germany after MBBS in India is another great option, though it requires you to learn the German language. Of the 6 levels starting from A1 to C2, you need to clear A1 and A2 that would qualify you to apply for the visa.
Once the Language formalities are done, you get into the phase where you do Observer-ship from a German hospital approved by the German Medical Council. This is followed by Residency.
This may sound simple here but the process is quite complicated. To know more about PG in Germany after your MBBS in India,
Your Chance to get an MBBS Seat in India
The most difficult time for any of the students is to wait after NEET till the counseling process to know whether he/she is getting a college of his/her choice or not? Sometimes this dilemma continues for a couple of months due to multiple rounds of counseling. It has become more difficult due to parallel counseling of All India Quota and various States due to COVID-19. The counseling process is very complex where 550+ Govt. and Private colleges offer 83000+ Seats and fee variation is also huge that ranges from less than 1 Lac to 2.5 Cr for the course.
Dreams shatter when any silly mistake in choice filling or wrong selection of college leads to getting a poorly ranked college. Imagine getting paid seats or no seats at all due to a lack of genuine guidance!