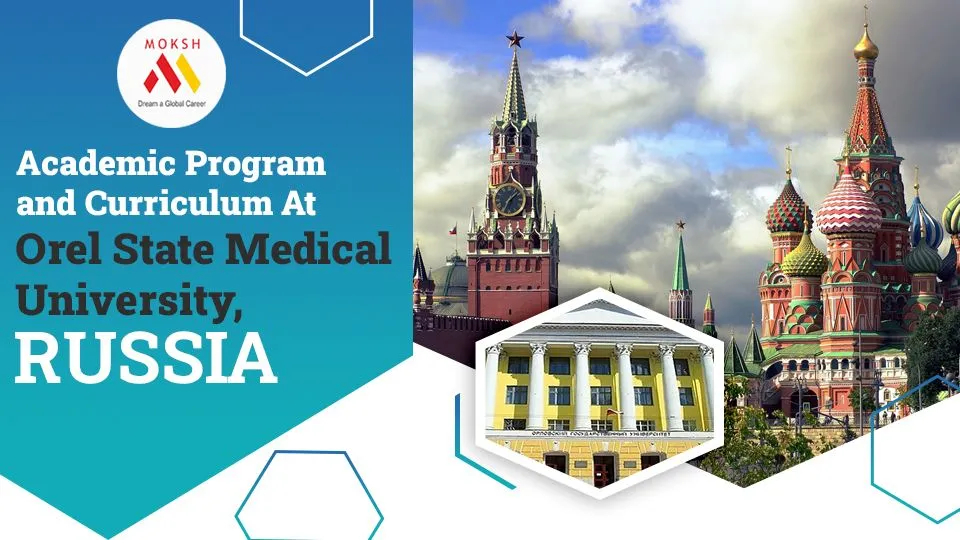 Orel State Medical University, located in the historic city of Orel, Russia, is renowned for its exceptional academic programs and comprehensive curriculum. Established in 1931, the University has a rich tradition of providing high-quality medical education and producing competent health care professionals.
Originally known as the Pedagogical Institute, the university was renamed Orel State University on September 11, 1996. Its MBBS program is regarded as one of the best in Russia. The university currently offers 110 educational programs in 14 different areas of training and specialization, making it a leading college that produces physicists, chemists, biologists, mathematicians, and medical professionals. Let's discover more information about the academic offerings and curriculum at Orel State Medical University.
Let's get started:
Academic programs
With a commitment to excellence and innovation, Orel State Medical University offers a wide range of academic programs designed to meet the needs of aspiring medical students. Here are the different types of academic programs available-
1. Undergraduate Programs:
Orel State Medical University, Russia offers a graduate degree program in General Medicine, which is one of the most sought-after programs among international students. This six-year program provides students with a strong foundation in basic medical science and clinical practice.
The curriculum includes subjects such as anatomy, physiology, pathology, pharmacology, microbiology, surgery, internal medicine, pediatrics, and obstetrics and gynecology. The program emphasizes both theoretical knowledge and practical skills through laboratory sessions, clinical rotations, and practical training.
2. Postgraduate program:
For those seeking advanced specialization, Orel State Medical University offers a range of postgraduate programs. These programs include clinical residencies, master's degrees, and Ph.D. programs. Clinical residency programs are available in various disciplines, such as surgery, internal medicine, pediatrics, obstetrics and gynecology, etc.
These programs provide in-depth training and expertise in specific medical areas. Master's degree programs are offered in areas such as public health, medical biochemistry, medical biophysics, and medical law. In addition, the university offers a PhD program for individuals interested in pursuing research in the medical sciences.
3. International Programs:
Orel State Medical University, Russia, warmly welcomes international students from all over the world. The university offers English-taught general medicine programs exclusively for international students. This program provides a supportive learning environment and allows students to study medicine in English without any language barriers.
Henceforth, International students have access to the same high-quality education, experienced faculty, and excellent facilities as their Russian counterparts.
Curriculum and Teaching Methodology:
The curriculum at Orel State Medical University is carefully designed to ensure extensive and all-round learning for the students. The academic program combines theoretical knowledge with practical training, helping students develop essential clinical skills. The university follows a competency-based approach, which focuses on developing students' critical thinking, problem-solving, and communication skills.
The teaching methodology at Orel State Medical University is student-centered and interactive. Lectures, seminars, practical classes and laboratory sessions form an integral part of the learning process. The University also encourages active student participation through group discussions, case presentations and research projects. This approach promotes a deeper understanding of the subject matter and enhances the overall learning experience.
1. Research Opportunities:
Orel State Medical University places significant importance on research and innovation. The university actively encourages students to engage in research activities and contribute to scientific progress. Students get the opportunity to
Engage in faculty-led research projects.
Research promotes a curiosity-driven mindset.
Critical analysis and evidence-based practice
2. Clinical Training:
To ensure an all-round medical education, Orel State Medical University provides extensive clinical training opportunities. With access to modern medical facilities and modern hospitals with forefront technology, students get to experience real-world healthcare challenges and develop their clinical skills and professional competence. Clinical rotations are an integral part of the curriculum, allowing students to gain practical exposure and experience in various medical specialties. This practical training includes:
Rotations in leading hospitals
Supervision by experienced faculty
Hands-on experience
Opportunity to learn from different cultures
3. International Cooperation:
Orel State Medical University (OSMU) is dedicated to international cooperation and actively cooperates with leading international institutions, promoting academic exchanges and research partnerships. These collaborations provide opportunities for students and faculty to participate in international conferences, workshops, and exchange programs. OSMU is a member of the International Association of Medical Universities (IAUM), which promotes international cooperation in medical education.
Also, OSMU collaborates with key institutions like:
The University of Bologna in Italy
The University of Paris-Sud in France,
The National University of Singapore in Singapore
What's more?
Here are some additional details about OSMU:
OSMU is located in Orel, a city in western Russia.
Orel is a beautiful city with a rich history and culture.
The city is also home to a number of hospitals and medical research institutes.
OSMU was founded in 1931 as an industrial-pedagogical institute.
With a campus size of 300+ acres, it is home to modern buildings, green spaces, and a library.
More than 1,000 professors and lecturers make up the faculty.
Student body of over 5,000 students from all over the world.
Internationally recognized degrees by the WHO and MCI, ensuring global accreditation.
Conclusion
In conclusion, Orel State Medical University, Russia, offers a diverse range of academic programs and a comprehensive curriculum that prepares students for successful medical careers. With an emphasis on practical training, research opportunities, and international collaboration, the University provides a nurturing environment for aspiring healthcare professionals. Orel State Medical University is a testament to Russia's commitment to medical education and its dedication to producing competent and compassionate medical practitioners.
Join the Orel State Medical University community and gain a medical degree from a top-ranked medical university in Russia.