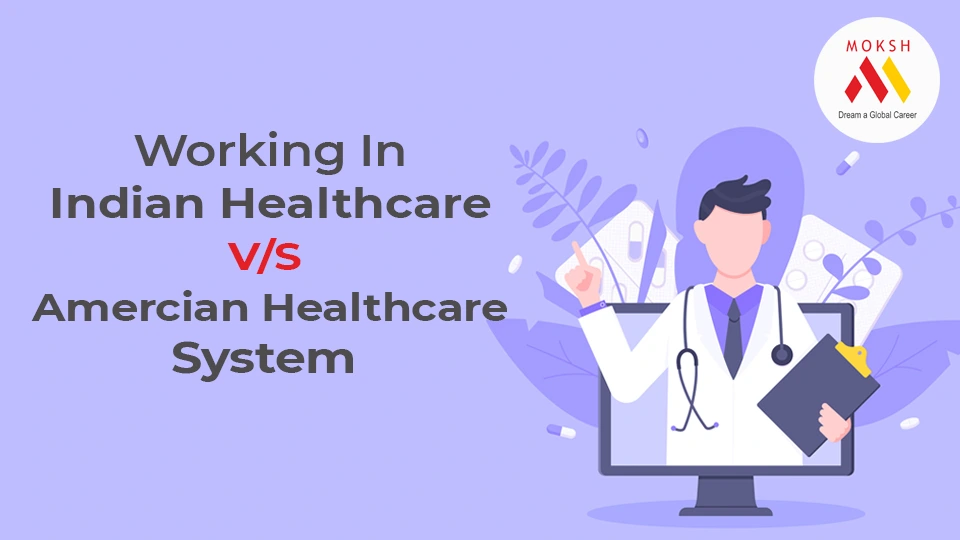 Introduction
If you confused about the comparisons between the Indian healthcare and American healthcare then this blog is completely for you. So let's understand the two healthcare systems in details:
India: India has universal healthcare system is managed by both the central and state governments. The central government oversees medical education and collects statistics on infectious diseases. Hospitals and clinics in India are managed by both government and private entities. 75% of hospitals and clinics are run by state governments providing primary, secondary, and tertiary healthcare.
US: The US does not have a universal healthcare system yet, although there are efforts underway to create one. Healthcare in the US is almost entirely provided by the private sector, with employers providing health insurance to their employees. The government only provides healthcare to those who are unemployed or unable to purchase health insurance.
Budget: The Indian government allocates a small percentage of its GDP to healthcare, which is much less than other countries.
Costs: Patients in India pay a much higher percentage of their healthcare costs out of pocket than patients in the US.
Insurance: Medical insurance is not widely available in India, and the policies that do exist are often outdated.
Water & Sanitation: India's healthcare system does not prioritize water and sanitation, which has led to poor hygiene and sanitation practices.
Examination: Indian doctors often see a large number of patients in a short period of time, and they may not spend enough time on each patient.
Patient Care: The staff in Indian hospitals is often rude and rough towards patients.
Cleanliness: Government-run hospitals and clinics in India are often poorly maintained and dirty.
Efficiency: India's healthcare system is not as efficient as the US healthcare system.
Medicines: In India, it is possible to get medicines over the counter without a doctor's prescription.
MEDICAL EDUCATION IN INDIA
High-quality education: India's medical education is recognized as equivalent to that in other parts of the world. The NEET exam is one of the most difficult medical entrance exams in the world, and it ensures that only the best and brightest students are admitted to medical school.
Large pool of doctors: India has a large pool of doctors, but there is still a shortage. The Ministry of Health and Family Welfare estimates that India will need an additional 1.5 million doctors by 2030.
Affordable healthcare: Healthcare in India is generally more affordable than in other developed countries. This makes India an attractive destination for medical tourists.
Advanced medical technology: India has a growing number of hospitals and clinics that are equipped with the latest medical technology. This allows doctors in India to provide high-quality care to patients.
India has the potential to become a major player in the global medical tourism industry. With its strong foundation in medical education, large pool of doctors, affordable healthcare, and advanced medical technology, India is well-positioned to attract patients from all over the world.
MEDICAL EDUCATION IN US
The United States has a highly regarded and one of the best medical systems in the world.
It produces at least 35,000 new doctors every year, making it a great destination for those who want to pursue a medical degree.
The US healthcare system is one of the strongest in the world, and it is home to some of the best medical schools.
It is also a great place for international students who want to study medicine and practice globally as it has global recognisation
The US medical system is highly regulated, which ensures that patients receive high-quality care.
The medical education in the US is more technologically advanced and based on latest evidence based researches
Huge demand of Doctors in US so there is highest ratio of Indian doctors.
To explain more in detail here is complete comparison between the Indian healthcare v/s American healthcare system for your ready reference:
| HEALTHCARE SYSTEM | INDIAN HEALTHCARE | AMERICAN HEALTHCARE |
| --- | --- | --- |
| UG | MBBS | MD |
| PG | MD/ MS | RESIDENCY |
| SUPERSPECIALISATION | DM/MCH | FELLOWSHIPS |
| DURATION | 4 1/2 OR 5 YRS | 2 BS+ 4 MD |
| CLINICAL ROTATIONS | 1 YEAR | 2 YEARS |
| LICENSING CRITERIA | GRADUATION | MASTERS |
| LICENSE EXAM | NEET PG/NEXT | USMLE |
| COST FOR MBBS | RS 75 LACS+ (PVT COLLEGES) | RS 35-40 LACS |
| COST FOR PG | 1.50 CRORES | EARN 150 LACS DURING RESIDENCY USA |
| SEATS | 19,000 (50% RESERVED) | 35,000 |
| MATCHING RATIO | 10 APPLY 1GETS SELECTED | 2 APPLY 1 GETS SELECTED |
| ATTEMPTS | MULTIPLE ATTEMPTS FOR NEET | ONE ATTEMPT IF YOU PASS IN 7 YRS |
| QUALIFICATION | TOP RANKED NEET PG | PASS/ FAIL FOR STEP 1 |
| CHOICE OF SPECIALISATION | BASED ON NEET RANK | CHOICE BEFORE APPLICATION |
| TUTION FEES FOR PG | GOVT 3-5 LACS/PVT 1-3 CRORES | NO FEES |
| SALARY | STIPEND 50K | $4500-$5500 |
| CURRICULUM | BASED ON DISEASE PATHOPHYSIOLOGY AND SUBJECT ORIENTED EDUCATION | BASIC SCIENCE AND CLINICAL SCIENCE FOR EARLY HANDS ON EXPERIENCE |
CLINICAL CLERKSHIP IN USA
To start clinical rotations in USA, step 1 exam should be complete.
Consists of core & elective rotations (Duration 1.5-2 yrs).
Core Rotations include Internal Medicine & Surgery for 12 weeks each, OBGYN, Psychiatry & Pediatrics of 6 weeks each.
Elective Rotations are of 27 weeks each & students get to choose their specialty to experience further in affiliated or other hospital.
Students ask the permission of patient and complete Electronic Medical Records.
Students must complete USMLE step 2 after completion of core rotations.
Students get their degree after completion of clinical rotations along with step 1 & step 2 exam
After completion of Residency in their respective field the students get the license to practice.
WHEN IT COMES DOWN TO PRACTICE MEDICINE IN US
In US patients cannot directly consult any Doctor they have a Primary Care Provider (PCP) who knows patients history in and out.
PCP are encouraged to make appointments for regular checkups provide referrals for further diagnosis & management and recommend routine screening measures.
US has urgent care clinics where they can consult doctors without appointments however they should then follow-ups with their PCPs.
They can also visit Emergency Rooms in case of Emergencies. Follow-ups with the PCPs later.
Referrals are provided as per the requirement of the specialists.
Specialists, PCPs, Urgent care, ED are all covered under insurance plans.
In India patients are free to visit any doctors. Referrals and Recommendations are optional, depends on patients desire.