About the city
The city of Almaty is formerly known as Alma-ata and it is the largest city of Kazakhstan. The population of Almaty is 2,039,376 people almost 11% of the total country population. In 1929 t0 1997 it has served as a soviet and independent of Kazakhstan. Almaty has future continued as the major cultural center and commercial of Kazakhstan and is the most populous cosmopolitan city. It is located in the mountain area of south Kazakhstan with the elevation of 700-900m where the small and larger Almatinka River falls. The city of Alma-Ata produces food processing with 36% of gross industrial output having a large local abundant of fruit and vegetable raw material.
The climate in the city of Almaty is Humid having the hot summers and cold winters. The average air temperature is equal to 10 0C (50 0F) and the coldest month is January with the average temperature of -4.7 0C (24 0F). The Month of July is warmest month temperature of 23.8 oC (75 oF). The average year frost starts in the month of October and ends 18th April carrying the December month with cold to about February.
It is not uncommon to see cold snap or snowfall hitting the city of Almaty as late at the end of the May. The city of Almaty sometimes experiences winter rain having heavy preceding snowfall and low temperatures. The winter rain with the most memorable side seen took place in the month of December on 16th 1996 during a military parade to celebrate the 5th anniversary of Independence of the Republic.
About the University
The Establishment of ASFENDIAROV KAZAKH NATIONAL MEDICAL UNIVERSITY was July 10 in 1930 in Almaty, Kazakhstan. The Kazakh national medical university is classified by the government as a "national university". The university is located in Almaty, Kazakhstan which is considered as No.1 Medical College in all over Kazakhstan.
The population of the university has over 11,000 students including PhD students. Furthermore, in the field of science KazNMU has more than 200 doctors having 130 professors with more than 500 candidates in sciences and 15-laureates with the state prize. The university has received the status by the President of Republic Kazakhstan as "On the provision of the special status of individual state higher educational institution".
KazNMU was the first institute in Kazakhstan whereas the first rector was S.D Asfendiyarov this was the graduating student of Leningrad Military Medical Academy. In 2001 the Kazakh state university was named after S.D Asfendiyarov and was awarded with the higher national status of the University.
The University has a strong Mission to provide society with harmonically well developed specialists in the field of Medicine and Pharmacy. It also aimed at presenting the new knowledge to the students with high technology. Moreover, the KazNMU have creation effective model having highly qualified medical education and manages the up-date of scientific investigation on urgent problems of public health.
Faculty
The KazNMU University has Professorialteachingstaffhaving 1712 staff units with 4 academicians from the RK National academy of sciences 2 persons from the Russian academy of sciences, 20 are of the preventive medicine academy and the academy of natural sciences, 10corresponding members of the RK National academy of sciences, 15 are of international academies, 159 Doctors of medicine, 15 laureates of State premium and 430 candidates of sciences.
The university has a cooperation agreement with the other university in different countries and the staff actively participates in the research work of international programs and grants. The University has 15,000 faculty members which are well-qualified with more than 10 years of experience have a professional degree and have worked in different fields.
The KazNMU University has 76 departments having 7 courses with 6 faculties (pediatric, therapeutic, public health, general medicine, management in public health and pharmacy, professional training, and 2 faculties of (pharmaceutical and stomatological) the departments were transformed into modules like 5 module faculty of pharmaceutical, 9 modules of Stomatology, etc.
---
Why study in KazNMU
Low-Cost Living-Kazakh national medical university fee structure provides its students with excellent hostels with facilities like the attached kitchen & bathroom, Wi-Fi facilities, furniture, electricity & water facilities, etc. Besides, ASFENDIAROV KAZAKH NATIONAL MEDICAL UNIVERSITY fee structure also proves to be very reasonable. While studying in abroad you can do many other things all you should now is how to manage it.
Global Recognition-The medical degree granted by the ASFENDIAROV KAZAKH NATIONAL MEDICAL UNIVERSITY at the end of the program holds global recognition, enabling you to practice medicine in any part of the world. It has got accreditations from some of the prominent medical bodies like MCI & WHO which will ultimately help you in the eligibility criteria to appear for exams like USMLE and PLAB.
Training and Technology: ASFENDIAROV KAZAKH NATIONAL MEDICAL UNIVERSITY gives the best knowledge and ample opportunities to the students with excellent education by providing new technology, well-trained professors, etc.
Safety and Security-KazNMU University is considered to be safer than many other European as well as Asian countries. In a nutshell, there is no need for the parents to get panicked sending their child abroad, given you are going to study MBBS in Kazakhstan. Moreover, you will find many Indian folks at coffee shops, shopping malls, theatres, etc. students get comfortable easily.
EXCHANGE TRANING PROGRAMS: KazNMU University has an exchange training program for the student that helps students to do their experiment in different ways this make students come out from their comfort zone and understand various foreign country programs.
CULTURE ACTIVITIES: ASFENDIAROV KAZAKH NATIONAL MEDICAL UNIVERSITY motivates students to show their talent and bring out students to perform and participate in cultural activities like singing, acting, dancing, etc. Furthermore, in any weather university arranges multifunctional sports, like badminton, basketball, volleyball, boxing, arm-wrestling, etc.
---
COST OF STUDYING AT ASFENDIAROV KAZAKH NATIONAL MEDICAL UNIVERSITY
| Cost (USD)* | Year-1 | Year-2 | Year-3 | Year-4 | Year-5 | Year-6 |
| --- | --- | --- | --- | --- | --- | --- |
| Tuition Fee | 4500 | 4500 | 4500 | 4500 | 4500 | 4500 |
---
HOW TO APPLY
The commencement of your admission to ASFENDIAROV KAZAKH NATIONAL MEDICAL UNIVERSITY would take place by gathering the essential documents for the program. The general documents required in the ASFENDIAROV KAZAKH NATIONAL MEDICAL UNIVERSITY procedure are listed below.
Application form
Passport-sized photographs
11th& 12thstandard mark sheets and certificates issued by the respective board of education
IELTS/TOEFL Certificates
Your passport's scanned copies along with the photograph page
Do remember that all these above-mentioned documents must be notarized as well as attested from the pertinent authorities
There have been incidents faced by many students where one minor error has resulted in the failure of an application. So to avoid any fuss, feel free to get in touch with any of Moksh's counselors to gain access to the information regarding the required documents. Once you have collected all the required documents, you can hand them over to the team Moksh so that we can submit the application to the ASFENDIAROV KAZAKH NATIONAL MEDICAL UNIVERSITY on your behalf. You can submit your documents in numerous ways. You can either submit them online or hand them over at any of our 35 branches all across the country.
Since you are applying through Moksh, you can rest assured that nothing will hinder your admission process. After the application form has been submitted to ASFENDIAROV KAZAKH NATIONAL MEDICAL UNIVERSITY by Moksh, you will receive your invitation letter within a few weeks, and eventually, your admission letter will arrive. This is just the beginning of Moksh's services for you. Throughout your entire education, we will assist you in numerous ways. So it's no surprise that the Moksh family is expanding – the trust factor.
---
APPLICATION DEADLINE 2023
In order to guarantee your place for MBBS in Kazakhstan programs, you shall really have to time your application perfectly. It is definitely a great choice if you wish to study MBBS in Europe. The ideal time to apply is always before the 31st of March every year in Kazakhstan. The problem is not with the admission letter but mainly with the Invitation letter & Visa process which takes around 2-3 months to be issued from the Ministry of Education & consulate of Kazakhstan. A visa is issued only on the basis of this invitation letter. Also, one must remember that there have been a few cases of visa rejection by the Kazakhstan consulate for Indian students apart from the very high cost of a Visa for Indian students (Thrice the cost of a Russian visa).
---
ELIGIBILITY:
Indian students looking to study MBBS abroad having lower academics such as 55% in PCB and still wishing to go for higher quality and lower cost MBBS in Kazakhstan programs choose this University. Even the students with 50% may apply with just application as their risk factor and secure the admission here through Moksh. Chances are that you will be securing a seat in ASFENDIAROV KAZAKH NATIONAL MEDICAL UNIVERSITY since you are applying through Moksh.
---
How to Reserve a Medical Seat 2023
Many of the students wait for NEET exam and results. These students are making a big mistake since the application deadline for most of the MCI approved MBBS abroad universities would pass. In turn, they would waste one more year by repeating the year. MOKSH offers you an innovative solution by reserving your seat and taking the admission letter in your hand as your PLAN B.
In case you get the admission through NEET 2023, you need not go to your chosen university for MBBS abroad. However, in case you do not make it, at least your backup plan is ready! It would be a smart decision for those students who already booked their medical seats.
You must take note of the important points:
The fees of private medical colleges have been jacked up by almost 50% reaching around Rs. 75 Lakhs for the full course.
The admission to the private medical colleges would be only for the top 2-3% of the NEET takers.
If you have prepared only for the state boards, it would be very difficult for you to prepare for NEET even in 2023!
You do not need to pay even a single Paisa for reserving the seat except for university application fees.
So just reserve the seat in an MCI approved MBBS abroad university as per your budget and relax!
Kindly note that many unprofessional agents collect money from you for the first year tuition fees from you. As you can see, MOKSH clearly gives you an indication of the actual fees and its service charges.
---
STUDENT VISA APPLICATION
Moksh has a team specialized in visa application preparation. Generally, the student in Kazakhstan visa is attained through an interview at the embassy. The embassy is based in New Delhi. The student has to travel and stay in Delhi for a period of 2 days until the process completes. Speaking of the success rate of Moksh, you can consider it 100% when it comes to Kazakhstan student visa.
There are a bunch of documents required for Kazakhstan student visa application that are listed below-
An invitation letter issued by the Ministry of education
Original passport
10thlevel mark sheet
10+2 mark sheet
Birth certificate (in the English language)
Medical certificates including the HIV certificate
Student's bank statement (a minimum balance of Rs.4 lakhs must be maintained)
Parents' bank balance (record of a minimum of 6 months)
Transfer certificate from school/college
10 Identical photographs (50mm X 50mm)
Affidavit certificate (Format available with Moksh)]
Gap certificate (only for those who had passed 12thlevel in earlier years)
For more information on the Visa application and process, you may call on our support team at 9699-360-370.
---
GROUP COUNSELLING (SEMINARS):
MOKSH is going to hold seminars in different parts of India and shall come to your city anytime, DO NOT MISS this golden opportunity to interact with our expert counselors and get the right advice on your medical career! Click here to register for the seminar!
Also, it is highly advisable to attend one of our Online Counselling sessions on MBBS abroad till PG before attending the seminar as you would have your basics clear from the start! Click here to attend an online counseling session!
---
ONLINE COUNSELLING SESSIONS (WEBINARS):
Get Complete information on MBBS Abroad, MBBS in India, How to choose the university, country, Pros & Cons of different countries, PG preparation followed by a Q & A session with doubt clearance and every other possible detail regarding MBBS right up to PG! To get a glimpse of the previous webinars, Click on MBBS Abroad till PG, MBBS in USA till PG, and MBBS in Germany till PG to watch. These are the recorded versions.
To register for a live Online counseling session and get all your doubts cleared with the CEO of MOKSH,Click here. You can also subscribe to our channel on YouTube in order to get constant updates on new webinars and videos on MBBS Abroad! Click here to subscribe to MOKSH Webinars!
In case of any error, Call on 9699360370
---
TELE-COUNSELLING:
MOKSH has more than 35 branches across India and students can visit the branches for a Face to Face Personal Counselling and Career planning right up to PG. Call 9699360370 to know the nearest MOKSH branch in your city!MOKSH has an extremely knowledgeable and experienced team of MBBS counselors who have expertise in a specific topic like MBBS in Russia, China, USA, Ukraine,Germany, etc right up to PG. You can be in touch with one of the counselors constantly via phone calls, SMS, WhatsApp, Emails, etc and they shall be there to solve your doubts and help you carve the right path toward your MBBS journey!
You can call on,
9699360370 for MBBS Abroad like China, Russia, Ukraine, Georgia, Poland, Kyrgyzstan, etc. ( if you have a budget in the range of Rs. 15lacs and above)
9699360370 for MBBS in USA right up to PG ( If you have a budget of Rs. 60-70 lac)
8269900555 for PG in Germany
MOKSH has more than 35 branches across India and students can visit the branches for a face to face personal counseling and career planning session right up to PG. Call 9699360370 to know the nearest MOKSH branch in your city!
---
PERSONAL COUNSELLING:
MOKSH has its branch offices in 12 cities of India now so there is no need to travel all the way to the Mumbai Head office for personal counseling! You can still do so if you wish though. To get to a MOKSH office in your own city for a free personal counseling session on MBBS Abroad right up to PG in USA/ Germany, You call on 9699360370 and our counselor shall arrange a Personal counseling session in your city or the closest location to you.
PG Option after MBBS in Alte University
Students after completing MD Program in Georgia may explore multiple options for their Medical PG like India after clearing NEXT, USA after Clearing USMLE, UK after clearing PLAB Exam, or Medical PG in Germany. Those who are looking for Medical PG from Georgia need to do one year of Internship in Georgia after their 6 years of the MD Program. Before that, they have to clear Georgian Medical PG Licensing Exam. Very few international students opt for it in the program in Georgian, and no acceptance in their native country.
Medical PG in India or NExT
During MBBS study, a student realizes the importance of being a specialist. They also understand the competitiveness to secure MD/MS Seat in Govt College. If we look at the success ratio to get PG in Govt Medical College which is 11% Broadly we can say that only 1 out of 10 will get PG Seat whereas the chances of getting Clinical specialty is 1 out of 20 applicants. It is obvious that the PG journey is going to be very difficult or else students should have enough money to get the paid seat in Pvt Medical College which may be in Crores!
Total Applicants NEET PG 2022
Specialty
Govt Med College
Pvt Med College
Seats
Success Ratio
Seats
1.75 Lacs
MD (Non Clinical)
15K
8.6%
10K
MS ( Clinical)
8K
4.6%
5K
Total
23K
11.4%
15K
Do you feel early preparation and the right mentorship will pave your dream of becoming a specialist? NMC already notified the introduction of the NEXT Exam in India from 2023. This exam will replace all Medical PG exams in India. The exam will be conducted in two parts NEXT-1 and NEXT-2.
The Objective of the NEXT-1 is to assess the Student's Knowledge of Pre, Para, and Clinical Subjects on the National Level. Only post-qualifying of NEXT-1 any Medical student will be eligible for an Internship. Post completion of internship Students needs to go thru NEXT-2 which will assess their Clinical skills, Patient Management, and Keeping of Medical history. Those who will Clear NEXT-2 awarded a license to practice and Rankers of NEXT-1 will get PG seats of their choice. You may refer to Page for detailed information on the NExT Exam
Medical PG in USA (USMLE)
We are well aware of the difficulty of getting PG in India. With the introduction of NEXT, maximum students in India are getting attracted to USMLE prep from 1st year of MBBS since it simulates the new NMC Competency-based curriculum much easily. US Healthcare system is considered as one of the best health care systems because of numerous reasons like High rewards, excellent infrastructure, Merit-based assessment, Open opportunities for Super specialties. Most of the countries trying to replicate the US health care assessment system for their Medical Graduates USMLE exam are divided into 3 Parts. One can appear in USMLE Step 1 after 2nd Year, USMLE Step 2 CK during internship and Step-3 during your residency (Medical PG). The USMLE is an online exam and can be taken at the PROMETRIC centers present across India.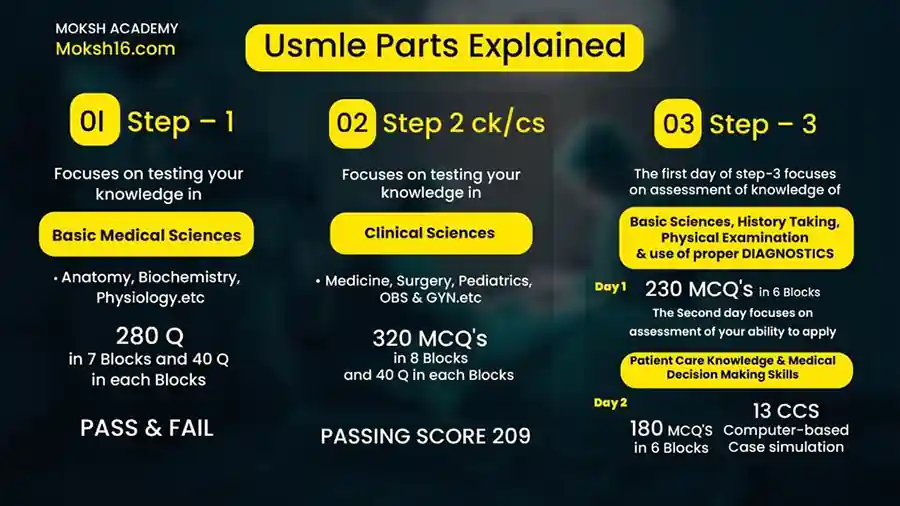 MOKSH Coaching focuses on a patient-centered learning approach which helps students score high on both USMLE & NEXT. MOKSH is the leading name in USMLE Coaching. Currently, 1000+ Students from Indian and Abroad medical colleges are preparing for USMLE steps via the MOKSH Platform.
Medical PG IN UK (PLAB)
Due to the close proximity of Georgia to UK, many of the students plan to do their Medical PG from UK. Till 2024, the Professional & Linguistic Assessments Board Test (PLAB test) is the instrument to assess the skills and knowledge of an International Medical Graduate. It also judges whether they are fit to be trained to practice medicine in the UK.
In short, an IMG's performance in PLAB determines her eligibility to practice in the UK. The PLAB test has two stages. PLAB 1 is an exam that has 180 MCQs that tests your recall. On the other hand, PLAB 2 is a practical OSCE (Objective Structured Clinical Exam) that tests your clinical skills.
The GMC ascertains your linguistic skills by assessing your score in specific tests. It may be the IELTS (Band Score 7.0 or higher) or OET (Grade B in reading, writing, listening & speaking).
After you pass PLAB 1 & 2, you apply for the GP registration. There is one constraint. You have a window of 2 years after clearing PLAB 2 during which you may apply no later.
By 2024, the UK Medical Licensing Assessment will replace the PLAB. Consequently, the GMC UK is going to change certain things in PLAB and create the UKMLA exam.
Medical PG in Germany

PG in Germany after MBBS in India is another great option, though it requires you to learn the German language. Of the 6 levels starting from A1 to C2, you need to clear A1 and A2 that would qualify you to apply for the visa.
Once the Language formalities are done, you get into the phase where you do Observer-ship from a German hospital approved by the German Medical Council. This is followed by Residency.
This may sound simple here but the process is quite complicated. To know more about PG in Germany after your MBBS in India,
Your Chance to get an MBBS Seat in India
The most difficult time for any of the students is to wait after NEET till the counseling process to know whether he/she is getting a college of his/her choice or not? Sometimes this dilemma continues for a couple of months due to multiple rounds of counseling. It has become more difficult due to parallel counseling of All India Quota and various States due to COVID-19. The counseling process is very complex where 550+ Govt. and Private colleges offer 83000+ Seats and fee variation is also huge that ranges from less than 1 Lac to 2.5 Cr for the course.
Dreams shatter when any silly mistake in choice filling or wrong selection of college leads to getting a poorly ranked college. Imagine getting paid seats or no seats at all due to a lack of genuine guidance!