There are 30 medical colleges in Gujarat offering 5650 MBBS seats in Gujarat 2022. Of these, 17 are government medical colleges in Gujarat claiming 3650 of the total MBBS seats in Gujarat 2022. The rest of the 13 are private medical colleges of Gujarat with 2000 seats. For postgraduate studies, 5 Gujarat Medical colleges offer 412 seats in MD/MS/Diploma programs. Moreover, the students also have the option to further studies and go for super specialty programs in SBKS Medical Institute and Research centre, Vadodara, the only college that offers 5 seats in DM/MCH programs.
Like all other Indian states, MBBS admission in Gujarat is done on the basis of NEET UG score and all the students who've successfully qualified the NEET exam can apply for MBBS in Gujarat 2022.
Refer to the below table for Total Tuition Fees, MBBS intake, Establishment Year, Cut off for All India Quota and State Quota Seats for every Govt Medical College in Gujarat
In the table below you can find the Total Tuition Fees, MBBS intake, Establishment Year, Cut off for All India Quota and State Quota Seats for every Govt Medical College.
In Gujarat, most of the college have more than 10 to 25+ years of experience, very few colleges established in last 10 years. It is always important to select an old medical college as there is no shortage of faculties and they are well experienced too, which is the primary requirement of a MBBS student for their learning.
Experience of Teaching
Name of Medical College
Less than 5 years

1. Dr. M.K. Shah Medical College & Research Centre, Ahmedabad
2. Banas Medical College and Research Institute, Palanpur, Gujarat
3. Zydus Medical College & Hospital, Dahod
4. Dr. N.D. Desai Faculty of Medical Science and Research, Nadiad
5. Nootan Medical College and Research Centre, Mehsana
6. Shantabaa Medical College, Amreli
7. Dr.KiranC.Patel Medical College and Research Institute
8. GMERS Medical College, Vadnagar, Mehsana

5-10 years

1. Parul Institute of Medical Sciences & Research, Vadodara
2. GMERS Medical College, Gandhinagar
3. GMERS Medical College, DharpurPatan
4. GMERS Medical College, Valsad
5. GMERS Medical College, Junagadh
6. GMERS Medical College, Hadiyol, Himmatnagar

10-25 years

1. GCS Medical College, Ahmedabad
2. Gujarat Adani Institute of Medical Sciences, Bhuj
3. CU Shah Medical College, Surendra Nagar
4. SBKS Medical Instt. & Research Centre, Vadodra
5. Ahmedabad Municipal Corporation Medical Education Trust Medical College, Ahmedabad
6. GMERS Medical College, Sola, Ahmedabad
7. GMERS Medical College, Gotri, Vadodara
8. Surat Municipal Institute of Medical Education & Research, Surat

25+ years

1. Pramukhswami Medical College, Karmsad
2. Government Medical College, Bhavnagar
3. Smt. N.H.L. Municipal Medical College, Ahmedabad
4. Government Medical College, Surat
5. B J Medical College, Ahmedabad
6. MP Shah Medical College, Jamnagar
7. Pandit Deendayal Upadhyay Medical College, Rajkot
8. Medical College, Baroda
NEET-UG Exam dates 2022
The National Testing Agency (NTA) will conduct the NEET (UG) 2022 examination on Sunday, 17 July 2022 in pen & paper mode. The examination will serve as a uniform entrance examination for MBBS admission and other stream like BDS/ BAMS/ BSMS/ BUMS/ BHMS and other undergraduate medical courses.
You can find the tentative date for NEET UG 2022 Exam
3rd Week Aug
| EVENT | Expected Date NEET 2022 |
| --- | --- |
| NEET exam notification | 6th April |
| NEET 2022 application form date by NTA | 6th April |
| Last date to submit NEET 2022 application form | 20th May |
| NEET UG 2022 Admit Card Release Date | 1st/2nd Week July |
| NEET 2022 Exam Date | 17th July |
| Expected NEET 2022 Result | 1st/2nd week Aug |
| Announcement of Counseling Dates | 3rd Week Aug |
| Commencement of All India Counseling | 1st Week of Sept |
NEET-UG 2022 Cut Off
Like previous years, the NEET (UG) Cut off for qualification will be 50 percentile for candidates from General category. Often the candidates confuse percentage with percentile system in this exam.
Please find the table below indicating Actual NEET UG cut off for 2020 and 2021 and Expected NEET 2022 Cut off
| Category | Cutoff Percentile | 2020 ( Actual) | 2021 ( Actual) | Expected 2022 |
| --- | --- | --- | --- | --- |
| General | 50th percentile | 147 | 138 | 130-135 |
| SC/ST/OBC | 40th percentile | 113 | 108 | 103-105 |
| General (PwD) | 45th percentile | 129 | 122 | 115-120 |
| SC/ST/OBC (PwD) | 40th percentile | 113 | 108 | 100-105 |
Gujarat NEET-UG Counselling 2022 dates
Seat allocation is being done in multiple phases both in All India counseling and State counseling of Gujarat. This is because, many seats become vacant due to withdrawal of seats by the students for not getting college of their choice, not able to arrange the funds for fees, Lack of proof of their category under which they applied etc. Once the dates for reporting to the college/ Fee deposits/Submitting documents is passed all such seats made available for the next rounds. In the below table, you can find the details for counseling rounds in All India and State counseling followed for MBBS Seat Allocation-
| Counselling Round | Expected Dates |
| --- | --- |
| Announcement of Counseling Dates | 3rd /4th Week Aug |
| Commenemnet of All India Cousnelling-Round-1 | 1st Week of Sept'2022 |
| Commenemnet of All India Cousnelling-Round-1 | 3rd Week of Sept'2022 |
| State Cousnelling - Round-1/Round-2/Mop Up Round/Stray Round | 4th Week of Sept'2022- 3rd Week of Oct'2022 |
The Admission Committee for Professional Medical Educational Courses (ACPMEC), Gujarat, Prepares and publish the State Merit list of under each category. Students can assess their chance to get college of their choice based on previous year's Cut offs of that college. If you want to be sure about the chances it is recommended to use MOKSH College Predictor which utilizes Artificial Intelligence and Machine Learning technology. Also, this college predictor will give you an idea and will predict the college possible for you based on your current NEET Ranking, Reservation category and Other Quotas applicable for you.
Eligibility for Gujarat NEET-UG 2022 Counselling
1. Your age must be no less than 17 years.
2. You must have qualified the NEET exam.
3. Gujarat MBBS Cut-off 2022: 10+2 with a score of at least 50% in PCB (for general category), 45% (for general PH) and 40% for ST/SC/OBC.
4. Your core subjects for 10+2 have to be Biology, Chemistry, English, and Physics.
5. For those who wish for state quota seat must meet the NEET domicile criteria of Gujarat.
How to Register for Gujarat NEET UG Counselling 2022
1. Register on the official website https://www.medadmgujarat.org and obtain your credentials.
2. Fill the application form with all the necessary details including your personal and academic ones.
3. Once you successfully fill the form, you will now be given with a unique registration ID and password which will further be used to complete the application process.
Remember you are supposed to be very meticulous while filling your details otherwise there are chances of your application getting rejected.
Documents Required for Counselling
The documents that are mandatory to be produced for DME MP UG counseling and admission process are illustrated below. Candidates must note that unavailability of any of the documents is likely to lead to the cancellation of the MP MBBS admission process.
1. 10th and 12th standard certificate
2. 10th and 12th standard mark sheet
3. NEET hall ticket
4. NEET Score card
5. Birth certificate
6. Identity proof (Aadhaar card, Driving License, Passport, Voter ID)
7. 10 Passport sized photographs (The photograph must be the same as those used in the NEET application form and hall ticket)
8. Fee payment receipt
9. Printout of the MP MBBS admission form
Documents that are subject to applicability
1. Reservation category certificate
2. Domicile certificate
3. PWD (Persons With Disability) certificate
4. Gap period affidavit
5. Income certificate
6. Freedom fighter certificate
Reservation in All India Quota Seats 2022
A very important aspect that you, as an aspirant, need to understand is the policy of Reservation in force when it comes to admission through NEET UG. The Central Government's Reservation Policy governs the norms of reservation for all seats to be filled in the All India counseling process. However, it may be different for various categories of Institutes like Autonomous, Central University Colleges, Deemed University Colleges and All India Quota.
The reservation policy currently in force for AIQ is –
| CATEGORIES | RESERVATION |
| --- | --- |
| General Economically Weaker Section (GEN – EWS) | 10% |
| Scheduled Caste (SC) | 15% |
| Scheduled Tribe (ST) | 7.5% |
| Other Backward Caste (OBC-NCL) | 27% |
| Persons with Disabilities (PwD) | 5% |
Reservation in Gujarat State Quota Seat 2022
Reservation for MBBS admission for the candidates of Gujarat for various communal categories are given below. If students have migrated from other states, then communal reservation is not applicable.
ravi
CATEGORIES
RESERVATION
Socially and Educationally Backward Classes (SEBC)
27%
Schedule Caste (SC)
7%
Scheduled Tribes(ST)
15%
Physically Disabled
3% horizontal reservation for candidates with 50% to 70% lower limb loco-motor disability.
If candidate belongs to SEBC, then he/she should produce non-creamy layer certificate along with Certificate of Caste.
Your Chance to get a MBBS Seat in Gujarat
The most difficult time for any of the students is to wait after NEET till the Counseling process to know whether he/she is getting a college of his/her choice or not? Sometime this dilemma continues for couple of months due to multiple rounds of Counseling. It has become more difficult due to parallel Counseling of All India Quota and various States due to COVID-19. The Counseling process is very complex where 550+ Govt. and Private colleges offer 83000+ Seats and fee variation is also huge that ranges from less than 1 Lac to 2.5 Cr for the course.
Dreams shatter when any silly mistake in choice filling or wrong selection of college leads to getting a poor ranked college. Imagine getting paid seats or no seats at all due to lack of genuine guidance!
MOKSH AI-based MBBS college predictor predicts your chances of getting an MBBS seat in Gujarat State Medical colleges In All India Counseling NEET UG 2022 and Gujarat State Counseling NEET-UG 2022 under various Seat categories like Govt., Management or NRI Seat. For assessing your chances of getting a seat, the MOKSH Predictor algorithm takes categories/sub-category or various Quotas into consideration as per Govt. regulations. It also takes into account historical data published by Medical Counseling Committee (MCC) or State Dept. responsible for counseling ADMISSION COMMITTEE FOR PROFESSIONAL MEDICAL EDUCATIONAL COURSES (ACPMEC).
Medical PG in India or NEXT
During MBBS study, a student realizes the importance of being a specialist. They also understand the competitiveness to secure MD/MS Seat in Govt College. If we look at the success ratio to get PG in Govt Medical College which is 11% Broadly we can say that only 1 out of 10 will get PG Seat whereas chances of getting Clinical specialty is 1 out of 20 applicants. It is obvious that the PG journey is going to be very difficult or else students should have enough money to get the paid seat in Pvt Medical College which may be in Crores!
Total Applicants NEET PG 2021
Specialty
Govt Med
College
Pvt Med College
Seats
Success Ratio
Seats
1.75 Lacs
MD (Non Clinical)
15K
8.6%
10K
MS ( Clinical)
8K
4.6%
5K
Total
23K
11.4%
15K
Do you feel early preparation and the right mentorship will pave your dream of becoming a specialist?
NMC already notified the introduction of the NEXT Exam in India from 2023. This exam will replace all Medical PG exams in India. The exam will be conducted in two parts NEXT-1 and NEXT-2. The Objective of the NEXT-1 is to assess the Student's Knowledge of Pre, Para, and Clinical Subjects on the National Level. Only post-qualifying of NEXT-1 any Medical student will be eligible for an Internship. Post completion of internship Students needs to go thru NEXT-2 which will assess their Clinical skills, Patient Management, and Keeping of Medical history. Those who will Clear NEXT-2 awarded a license to practice and Rankers of NEXT-1 will get PG seats of their choice. You may refer to Page for detailed information on the NExT Exam.
Medical PG in USA (USMLE)
We are well aware of the difficulty of getting PG in India. With the introduction of NEXT, maximum students in India are getting attracted to USMLE prep from 1st year of MBBS since it simulates the new NMC Competency-based curriculum much easily. US Healthcare system is considered as one of the best health care systems because of numerous reasons like High rewards, excellent infrastructure, Merit-based assessment, Open opportunities for Super specialties. Most of the countries trying to replicate the US health care assessment system for their Medical Graduates USMLE exam are divided into 3 Parts. One can appear in USMLE Step 1 after 2nd Year, USMLE Step 2 CK during internship, and Step-3 during your residency (Medical PG). The USMLE is an online exam and can be taken at the PROMETRIC centers present across India.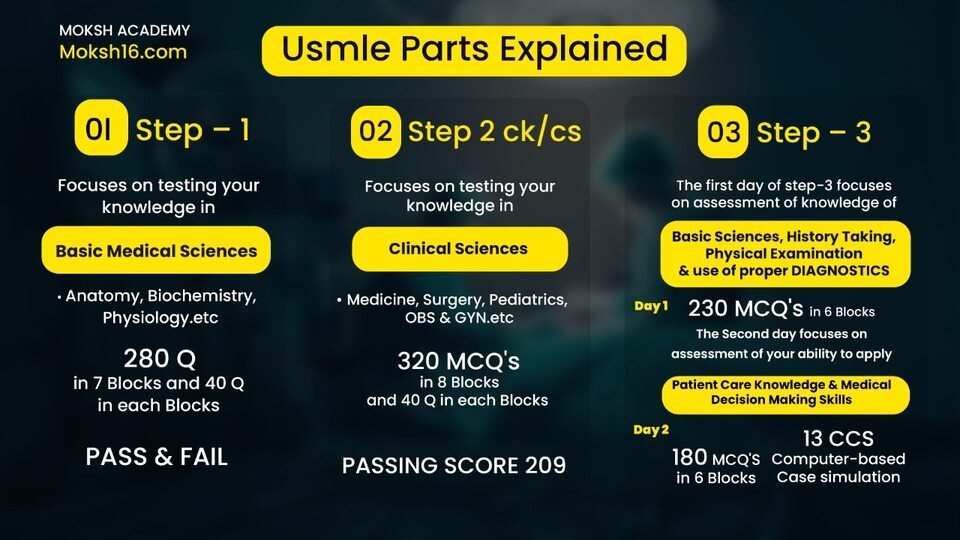 MOKSH Coaching focuses on a patient-centered learning approach which helps students score high on both USMLE & NEXT. MOKSH is the leading name in USMLE Coaching. Currently, 1000+ Students from Indian and Abroad medical colleges are preparing for USMLE steps via the MOKSH Platform.
Medical PG in Germany
PG in Germany after MBBS in India is another great option, though it requires you to learn the German language. Of the 6 levels starting from A1 to C2, you need to clear A1 and A2 that would qualify you to apply for the visa.
Once the Language formalities are done, you get into the phase where you do Observer-ship from a German hospital approved by the German Medical Council. This is followed by Residency.
This may sound simple here but the process is quite complicated. To know more about PG in Germany after your MBBS in India,
Details of all Govt and Pvt Medical college in Gujarat
You can find complete information about any Govt and Private colleges of Gujarat by clicking on the respective college in the table below
Govt Medical College
B J Medical College, Ahmedabad
Government Medical College, Surat
MP Shah Medical College, Jamnagar
Pandit Deendayal Upadhyay Medical College, Rajkot
Smt. N.H.L. Municipal Medical College, Ahmedabad
Government Medical College, Bhavnagar
Surat Municipal Institute of Medical Education & Research, Surat
Medical College, Baroda
GMERS Medical College, Vadnagar, Mehsana
GMERS Medical College, Hadiyol, Himmatnagar
GMERS Medical College, Junagadh
GMERS Medical College, Valsad
GMERS Medical College, Dharpur Patan
GMERS Medical College, Gandhinagar
GMERS Medical College, Gotri, Vadodara
GMERS Medical College, Sola, Ahmedabad
Ahmedabad Municipal Coporation Medical Education Trust Medical College, Ahmedabad
Private Medical College
Pramukhswami Medical College, Karmsad
CU Shah Medical College, Surendra Nagar
Dr.KiranC.Patel Medical College and Research Institute
Shantabaa Medical College, Amreli
Nootan Medical College and Research Centre, Mehsana
Dr. N.D. Desai Faculty of Medical Science and Research, Nadiad
Zydus Medical College & Hospital, Dahod
Banas Medical College and Research Institute, Palanpur
Dr. M.K. Shah Medical College & Research Centre, Ahmedabad
Parul Institute of Medical Sciences & Research, Vadodara
GCS Medical College, Ahmedabad
Gujarat Adani Institute of Medical Sciences, Bhuj
Deemed Universities
SBKS Medical Instt. & Research Centre, Vadodra