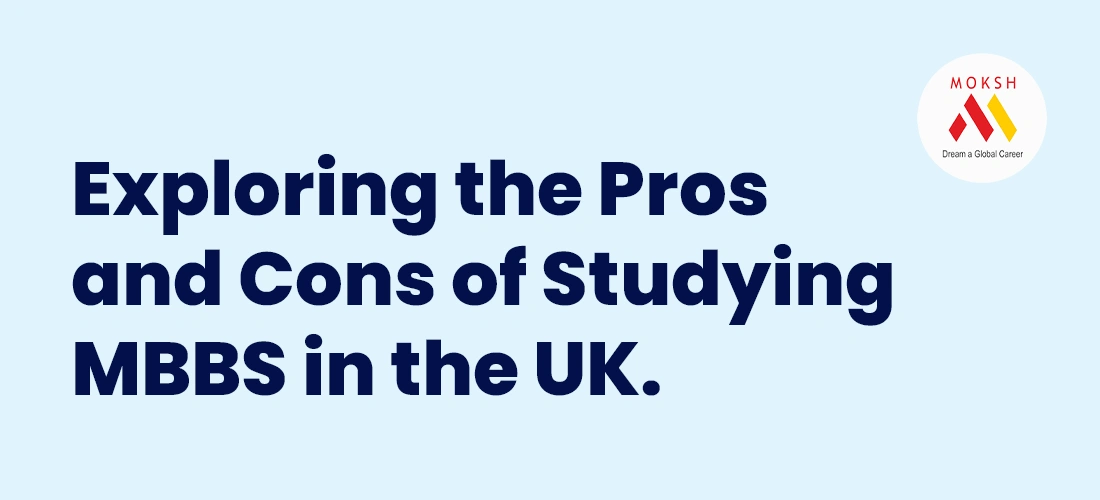 Introduction
As an aspiring medical professional, choosing the right place to pursue your MBBS is a crucial decision. The United Kingdom, with its esteemed educational institutions and globally recognized degrees, has long been a preferred destination for international students. This article, a comprehensive guide to studying MBBS in UK, aims to provide you with all the information you'll need to make an informed decision. From the benefits and challenges of studying MBBS in UK to understanding MBBS fees in UK for Indian students and international students, this guide covers it all. So let's dive in.
What is MBBS?
MBBS, an acronym for Bachelor of Medicine, Bachelor of Surgery, is the professional undergraduate medical degree awarded by medical schools and universities in medicine and surgery. The abbreviation 'MBBS' originates from the Latin 'Medicinae Baccalaureus Baccalaureus Chirurgiae', which translates to 'Bachelor of Medicine, Bachelor of Surgery'. Encompassing a comprehensive study of the human body, diseases, drug formulation and effect, and surgical techniques, the MBBS degree is the foundation upon which the edifice of medical knowledge is built.
In the UK, the equivalent of the MBBS degree is BMBS (Bachelor of Medicine, Bachelor of Surgery), MBChB (Medicinae Baccalaureus, Baccalaureus Chirurgiae), or MB BChir (Medicinae Baccalaureus, Baccalaureus in Chirurgia). These degrees equip students with a thorough understanding of medical sciences and clinical competency, similar to the MBBS degree.
Benefits of pursuing MBBS in UK
The UK, home to some of the world's oldest and most respected universities, provides numerous benefits to students Studying MBBS in UK. Firstly, the quality of education in the UK is top-notch, with a curriculum that is regularly updated to keep pace with the latest developments in medical science. Graduates of UK medical schools are valued and respected worldwide for their competence and skills.
Secondly, the UK provides an international exposure that enriches the educational experience. Here, you will have the opportunity to interact with people from diverse backgrounds, cultures, and nations. This multicultural environment fosters a global perspective, which is beneficial in today's interconnected world.
Moreover, UK medical degrees are globally recognized, making it easier for graduates to find employment or further their studies in any part of the world. Lastly, the UK offers a plethora of research opportunities, providing students with a platform to contribute to the medical field and gain hands-on experience.
The selected Course program should follow NMC guidelines
It is very exciting to study MBBS in UK but it is important too that whichever programme you are planning to pursue, follows NMC Guidelines.
NMC guidelines are as follows –
Only English-taught programs allowed
Internship in the country of study made mandatory
Minimum 54 months of Medicine program needed
The students have to complete their studies (Including internship) in the same university as the Primary medical school where they were admitted. Choose your university carefully else get stuck!
NEXT exam mandatory before pursuing an internship in India to get the license
The university must be WHO-listed.
Challenges of Studying MBBS in UK
Despite the numerous advantages, Studying MBBS in UK also comes with its set of challenges. Foremost among these is the high cost of education. The MBBS fees in UK for Indian students and students from other non-EU countries are significantly higher than for domestic students. The living expenses in the UK can also be quite steep, adding to the financial burden.
Another challenge is the intense competition for admission into UK medical schools. The number of international applicants far exceeds the available seats, making the admission process extremely competitive. Additionally, the rigorous curriculum and high academic standards can be demanding and stressful for some students.
Finally, cultural differences and homesickness can pose challenges, especially for students leaving their home country for the first time. However, UK universities offer plenty of support to help international students settle in and make the most of their time in the country. So, studying MBBS in UK is not easy as it seems. One should need to keep in mind all aspects.
Understanding the MBBS fees in UK for Indian Students and International students
When planning for MBBS in UK, it is essential to understand the financial implications. MBBS fees in UK for Indian students and other international students can vary significantly depending on the university. On average, the UK MBBS fees can range between £20,000 to £50,000 per annum. Along with tuition fees, you also need to account for living expenses, which can be approximately £10,000 to £12,000 per year.
Scholarships and financial aid are available for international students, which can significantly reduce the cost of studying MBBS in UK. Therefore, researching scholarship opportunities should be an integral part of your university application process. It can help you to cover your UK MBBS fees.
Conclusion
In conclusion, Studying MBBS in UK can be a rewarding experience, providing high-quality education, global exposure, and a stepping stone to a successful medical career. However, it also involves significant costs and challenges that one needs to be prepared for. With this comprehensive guide, we hope to have provided you with a clearer understanding of what it entails to study MBBS in UK. Whether you are an Indian student planning to study MBBS in UK or an international student exploring your options, we wish you the best in your journey towards becoming a medical professional.