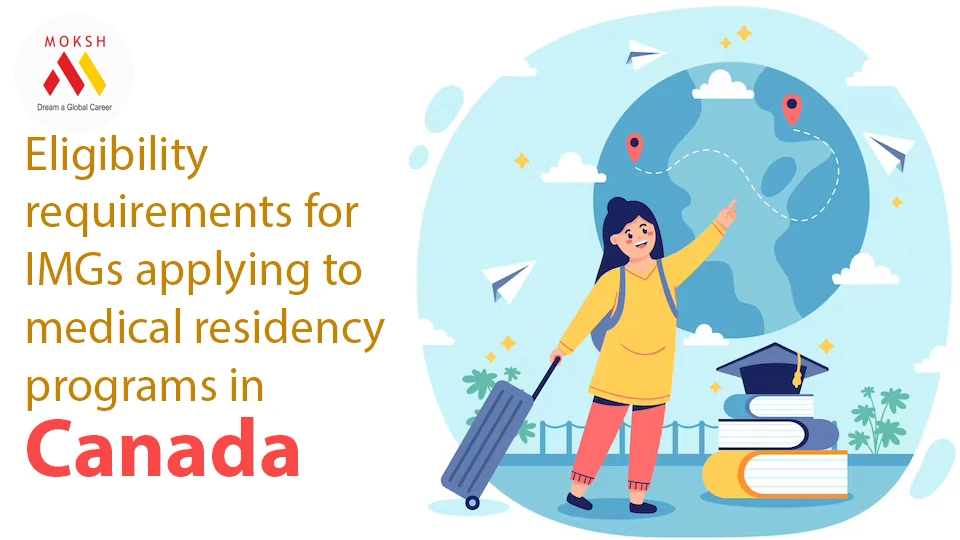 Introduction
Are you interested to do a Medical residency in Canada? It is an amazing choice but the International Medical Students (IMGs) who are interested to pursue must fulfil some requirements and go through a challenging process to secure a residency position. In this blog, you will get to know the eligibility requirements in detail.
To pursue postgraduate medical training in Canada, students must fulfil certain eligibility criteria. These criteria are set by the Canadian Resident Matching Service (CARMS). This Organization is responsible for managing applications and placements.
The requirements include the following things –
Medical Degree recognized by the Medical Council of Canada (MCC)
To be eligible, IMGs need a medical degree recognized by the Medical Council of Canada (MCC). The MCC reviews the educational credentials of IMGs to confirm that their medical degree is equivalent to that of Canadian medical graduates.
English language Proficiency
In Canada, English is the main language used for teaching. So it is very important to show that you are good at English. You can do this by getting good scores on English tests like IELTS (International English Language Testing System) and TOEFL (Test English as a Foreign Language)
Medical Council of Canada Qualifying Examination (MCCQE) Part 1
This is a one-day computer-based examination divided into two parts. On the morning of the exam asks for the MCQs and the afternoon Case-based scenario. This exam is meant to assess your clinical knowledge and your clinical decision-making.
National Assessment Collaboration Examination (NAC)
IMGs must pass the NAC exam in order to be eligible for a residency position in Canada.
The NAC Exam includes two parts, a written exam and an objective structured clinical examination (OSCE). The written exam is conducted on a computer and reviews the candidate's understanding of medical concepts and their practical application in clinical situations. The OSCE involves interacting with standardized patients at various clinical stations, where candidates show their clinical skills and communication skills.
Visa/ work permit
International Medical Graduates (IMGs) also need to secure a visa and work permit to practice medicine in Canada. This process may involve providing additional documents and can take some months to complete.
Conclusion
After fulfilling all these above requirements you can participate in the Canadian Resident Matching Service process. CaRMS utilizes its systems, expertise, and a widely recognized algorithm to match applicants into postgraduate medical training programs across Canada. Basically, it will match applicants to residency based on their preferences and programme requirements.
Studying residency in Canada can be an amazing experience. Be sure to fulfil all the requirements. IMGS have a quota and hence very less seats so chances of selection are none to negligible. If you want to settle in Canada MOKSH recommends doing PG from USA or India and then give Qualifying Exam and get direct registration to practice. The decision to pursue Clinical PG in Canada is a long process without any guarantee of success.