About Dhanmondi in Bangladesh
Dhanmondi is known for its vibrant culture. The city is well-administered and the city offers all fundamental amenities including teaching institutes, banks, offices, shopping malls, hospitals and restaurants. Dhanmondi Lake is located in the colonized area of Dhaka city. The climatic conditions of Bangladesh are similar to that of India thus giving you the feel of being in India.
Popular Medical College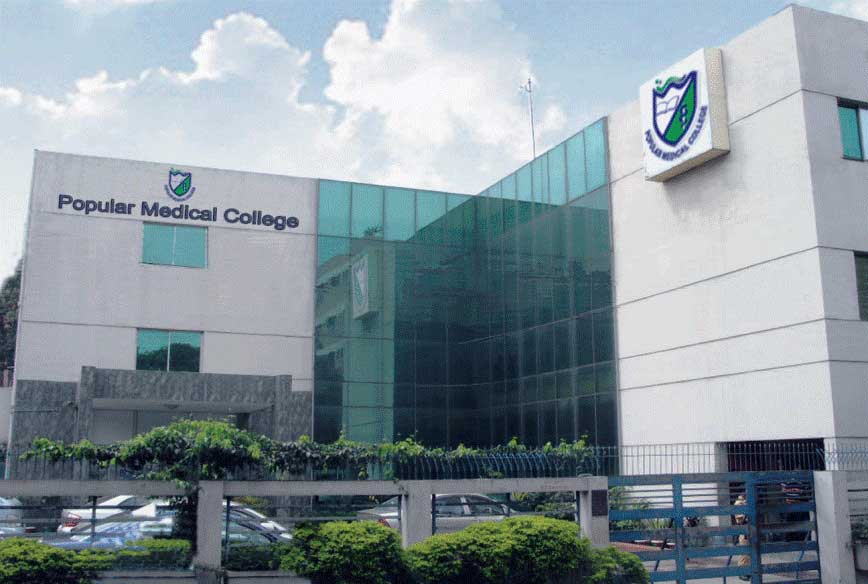 Popular Medical College came into existence in 2010. Preparing the MBBS students as professionals and 'to serve humanity' is the highest concern for the Popular Medical College. The MBBS teaching program, includes systematic syllabus for Pre- clinical, Para-clinical, and clinical areas so that students get ideal knowledge about when and how of diseases, and its cure, manifestation and management as well.
Popular Medical College has affiliations with the University of Dhaka and the academic pattern followed is approved by Bangladesh Medical & Dental Council. The PMC conducts scholastic activities in a multi-storied building located at a prime location in the city of Dhaka. The departments of physiology, anatomy, paediatrics, community medicine, pathology, biochemistry, pharmacology, and microbiology moreover have well-furnished laboratories.
The Popular Medical College owns a 500 bedded hospital with overall inpatient and outpatient facilities including dialysis, ICU, and other facilities allowing students to gain tutorial classes along with clinical assessment.
However, there are certain things about MBBS in Bangladesh that you must be aware of.
Facts about MBBS in Bangladesh that you must know:
The academic standard and pedagogy in the medical colleges of Bangladesh are mediocre.
The colleges are not state funded and hence, there is variation in the infrastructure, facilities, and academics, among all these private colleges.
These being private colleges, you do not get any benefits of subsidies given by the govt. and hence, the tuition fees are substantially high.
Indian students from West Bengal and the north eastern state (7 sisters) prefer these medical colleges due to the language connect (Bengali)
Due to the identical education structure, MBBS curriculum and academic patterns with India, the pass-outs from the medical colleges of Bangladesh had performed well in the FMGE of MCI screening test.
Affiliations and Medical Programs at Popular Medical College
The Medical Programs such as master's degree, bachelor's degree, as well as doctorate degree offered at the Medical College are officially recognized programs.
As far as the international affiliations are concerned, the Popular Medical College has academic affiliation with University of Dhaka, Bangladesh
Cost of studying MBBS at Popular Medical College
As mentioned above, Popular Medical College Fees of MBBS falls in the medium range but way less than the Indian Private Medical Colleges. The details are as follows:
| | | | | | |
| --- | --- | --- | --- | --- | --- |
| Year | Year-1 | Year-2 | Year-3 | Year-4 | Year-5 |
| Tuition Fee in USD | 4000 | 4000 | 4000 | 4000 | 4000 |
Admission Deadline for Popular Medical College
For admission in the Bangladeshi Universities, the timing of application is crucial. Generally, the right time to apply is before October to 30th October. But this year, in 2022, there could be some variation due to COVID 19 but we at Moksh will take care of all the confusion for you.
We say that the timing of application is crucial because the issuance of the Invitation Letter by the Ministry of Education, Bangladesh takes around 4-8 weeks on the basis of which the Bangladesh Consulate in India issues the visa to you. If you are late in applying, you may miss going there with your batch mates.
Eligibility Criteria for Admission in Popular Medical College
Popular Medical College admission requirements include a score of 60% marks in PCB in Class XII. If you are willing to take admission for the batch 2022, 10th should be passed in 2018 or 2019 and 12th in 2020 or 2021 Of course, you need to have qualified NEET 2022.
Indians at Popular Medical College
There are two reasons that you will find Indian students in any medical college in Bangladesh. The first is the hither to impressive MCI screening test passing ratio. The Indian students feel safer believing that they will clear the FMGE / NEXT / MCI screening test with ease. The second diving force is the linguistic and cultural connect that student of West Bengal and North eastern states find in Bangladesh.
However, the standard of academics and hefty tuition fees in these colleges should be kept in mind while opting for MBBS at Popular Medical College.
PG Option after MBBS in Popular Medical College.
Medical PG in India or NExT
During MBBS study, a student realizes the importance of being a specialist. They also understand the competitiveness to secure MD/MS Seat in Govt College. If we look at the success ratio to get PG in Govt Medical College which is 11% Broadly we can say that only 1 out of 10 will get PG Seat whereas the chances of getting Clinical specialty is 1 out of 20 applicants. It is obvious that the PG journey is going to be very difficult or else students should have enough money to get the paid seat in Pvt Medical College which may be in Crores!
Total Applicants NEET PG 2021
Specialty
Govt Med College
Pvt Med College
Seats
Success Ratio
Seats
1.75 Lacs
MD (Non Clinical)
15K
8.6%
10K
MS ( Clinical)
8K
4.6%
5K
Total
23K
11.4%
15K
Do you feel early preparation and the right mentorship will pave your dream of becoming a specialist? NMC already notified the introduction of the NEXT Exam in India from 2023. This exam will replace all Medical PG exams in India. The exam will be conducted in two parts NEXT-1 and NEXT-2.
The Objective of the NEXT-1 is to assess the Student's Knowledge of Pre, Para, and Clinical Subjects on the National Level. Only post-qualifying of NEXT-1 any Medical student will be eligible for an Internship. Post completion of internship Students needs to go thru NEXT-2 which will assess their Clinical skills, Patient Management, and Keeping of Medical history. Those who will Clear NEXT-2 awarded a license to practice and Rankers of NEXT-1 will get PG seats of their choice. You may refer to Page for detailed information on the NExT Exam
Medical PG in USA (USMLE)
We are well aware of the difficulty of getting PG in India. With the introduction of NEXT, maximum students in India are getting attracted to USMLE prep from 1st year of MBBS since it simulates the new NMC Competency-based curriculum much easily. US Healthcare system is considered as one of the best health care systems because of numerous reasons like High rewards, excellent infrastructure, Merit-based assessment, Open opportunities for Super specialties. Most of the countries trying to replicate the US health care assessment system for their Medical Graduates USMLE exam are divided into 3 Parts. One can appear in USMLE Step 1 after 2nd Year, USMLE Step 2 CK during internship and Step-3 during your residency (Medical PG). The USMLE is an online exam and can be taken at the PROMETRIC centers present across India.
MOKSH Coaching focuses on a patient-centered learning approach which helps students score high on both USMLE & NEXT. MOKSH is the leading name in USMLE Coaching. Currently, 1000+ Students from Indian and Abroad medical colleges are preparing for USMLE steps via the MOKSH Platform.
Medical PG IN UK (PLAB)
Due to the close proximity of Moldova to UK, many of the students plan to do their Medical PG from UK. Till 2024, the Professional & Linguistic Assessments Board Test (PLAB test) is the instrument to assess the skills and knowledge of an International Medical Graduate. It also judges whether they are fit to be trained to practice medicine in the UK.
In short, an IMG's performance in PLAB determines her eligibility to practice in the UK. The PLAB test has two stages. PLAB 1 is an exam that has 180 MCQs that tests your recall. On the other hand, PLAB 2 is a practical OSCE (Objective Structured Clinical Exam) that tests your clinical skills.
The GMC ascertains your linguistic skills by assessing your score in specific tests. It may be the IELTS (Band Score 7.0 or higher) or OET (Grade B in reading, writing, listening & speaking).
After you pass PLAB 1 & 2, you apply for the GP registration. There is one constraint. You have a window of 2 years after clearing PLAB 2 during which you may apply no later.
By 2024, the UK Medical Licensing Assessment will replace the PLAB. Consequently, the GMC UK is going to change certain things in PLAB and create the UKMLA exam.

Medical PG in Germany
PG in Germany after MBBS in India is another great option, though it requires you to learn the German language. Of the 6 levels starting from A1 to C2, you need to clear A1 and A2 that would qualify you to apply for the visa.
Once the Language formalities are done, you get into the phase where you do Observer-ship from a German hospital approved by the German Medical Council. This is followed by Residency.
This may sound simple here but the process is quite complicated. To know more about PG in Germany after your MBBS in India,
Your Chance to get an MBBS Seat in India
The most difficult time for any of the students is to wait after NEET till the counseling process to know whether he/she is getting a college of his/her choice or not? Sometimes this dilemma continues for a couple of months due to multiple rounds of counseling. It has become more difficult due to parallel counseling of All India Quota and various States due to COVID-19. The counseling process is very complex where 550+ Govt. and Private colleges offer 83000+ Seats and fee variation is also huge that ranges from less than 1 Lac to 2.5 Cr for the course.
Dreams shatter when any silly mistake in choice filling or wrong selection of college leads to getting a poorly ranked college. Imagine getting paid seats or no seats at all due to a lack of genuine guidance!