Navodaya Medical College, Raichur, founded in 2000, is a trust-run private medical college affiliated to Rajiv Gandhi University of Health Sciences, Karnataka. Navodaya Medical College, Raichur offers 150 MBBS seats along with courses under specialisation such as Obstetrics and Gynaecology, General Surgery, Orthopaedics, ENT, General Medicine, Anaesthesiology, etc. The college is yet to offer courses under super specialisation. You will need to pay around 55 Lacs as MBBS fees in Navodaya Medical College for Mgmt seat. The college is recognised by National Medical Council (NMC). Navodaya Medical College, Raichur NEET cutoff 2023 is given below:
Navodaya Medical College, Raichur State Cutoff:
Table of Contents
1.Quick Summary
2.MBBS Fee Structure 2022-23
3.MBBS Course
4.Admission Procedure & Eligibility
5.Chances to get in Navodaya Medical College, Raichur in NEET 2023 Counselling
6.PG in USA after MBBS in India
7.PG in Germany after MBBS in India
8.Why MOKSH
Quick Summary
| | |
| --- | --- |
| Year of Establishment: | 2000 |
| No. of Seats (MBBS): | 150 |
| Speciality in PG Courses: | 18 |
| Seats in PG courses: | 101 |
| Management Type: | Trust |
| Affiliated (University): | Rajiv Gandhi University of Health Sciences, Karnataka |
| Listing and Recognition: | National Medical Council (NMC) |
| Affiliation (Hospital): | Navodaya Medical Hospital |
| Postal Address: | Mantralayam Rd, Navodaya Nagar, Raichur, Karnataka 584103 |
| Web Address: | https://www.navodaya.edu.in/ |
MBBS Fee Structure 2022-23:
| Seat Type | Government Seat | Management Seat | NRI Seat |
| --- | --- | --- | --- |
| Total MBBS Course Fee | INR 17 Lacs | INR 55 Lacs | INR 1.6 Cr. |
MBBS Course
The duration of MBBS is 5 and half years that includes 12 months of internship. The internship comprises of practical training in orthopaedics, medicine, obstetrics and gynaecology, community health, child health, emergency medicine, surgery and various specialties. The guidelines are provided by the erstwhile MCI (Currently NMC). Admission in any MBBS programs is granted on the basis of marks scored in the NEET UG exam which is held by National Testing Agency (NTA).
Navodaya Medical College, Raichur accepts students through Karnataka State counselling conducted by The Selection Committee, Directorate of Medical Education in NEET 2023.
Admission Eligibility and Procedure
Eligibility:
The candidate must be of 17 years or above as on 31st December of the enrolment year. The candidate must be a graduate of a Higher Secondary School with 10+2 degree in science stream with Biology (or bio-technology) along with Physics and Chemistry as their subject. Minimum 50% marks are eligible (40% in case of SC/ST and 45% for OBC Category).
Admission Procedure:
It is a compulsion for a medical aspirant to appear in National Eligibility and Entrance Examination (NEET) which is conducted by the National Testing Agency (NTA) after graduating 12th grade. The selections in all the government, central, private and deemed colleges are based on the NEET scores. The seats for all medical Institutions/Colleges/universities are offered via counselling based on the fulfilment of eligibility Score/Rank, preferences of colleges and seats available. There will be multiple rounds of counselling viz. round-1, Round-2, Mop Up round and Stray Rounds. Conduct of every subsequent round depends on the availability of seats. If vacant seats remain at the end of one round, the next round will be conducted.
In Navodaya Medical College, Raichur, 100% seats will be filled through Karnataka State NEET UG counselling 2023.
Counselling Dates:
| Counselling Round | All India Counselling | State Counselling |
| --- | --- | --- |
| Round-1 | NA | Oct 2021 |
| Round-2 | NA | Nov 2021 |
| Mop Up Round | NA | Nov 2021 |
| Stray Round | NA | Dec 2021 |
What are your chances of getting a seat in Navodaya Medical College, Raichur through NEET 2023 Counselling?
The most difficult time for any of the students is to wait after NEET till the counselling process to know whether he/she is getting a college of his/her choice or not? Sometimes this dilemma continues for couple of months due to multiple rounds of counselling. It has become more difficult due to parallel counselling of All India Quota and various States due to COVID-19. The counselling process is very complex where 550+ Govt. and Private colleges offer 83000+ Seats and fee variation is also huge that ranges from less than 1 Lac to 2.5 Cr for the course.
Dreams shatter when any silly mistake in choice filling or wrong selection of college leads to getting a poor ranked college. Imagine getting paid seats or no seats at all due to lack of genuine guidance!
MOKSH AI-based MBBS college predictor predicts your chances of getting a seat in Navodaya Medical College, Raichur through Karnataka state NEET 2023 Counselling. For assessing your chances of getting a seat, the MOKSH Predictor algorithm takes categories/sub-category or various Quotas into consideration as per Govt. regulations. It also takes into account historical data published by Medical Counselling Committee (MCC) or State Dept. responsible for counselling of the respective state.
How MOKSH helps you?
We at MOKSH have a team of Experts who know the Indian counselling system in and out and thus can guide you well so that you get the most suitable College based on your NEET Score and Budget for the MBBS Program. Their guidance won't be limited to advising you for your MBBS but further, they will also guide you to fulfill your Medical PG dream in India, USA, Germany or UK.
PG IN USA AFTER MBBS IN INDIA
The system of licensing physicians in USA is closely monitored by ECFMG which conducts USMLE. Indian students looking forward to pursue post-graduation in USA after MBBS from India need to prove themselves at every level, all over again.
While doing MBBS in India, you will have to appear for USMLE Step 1 and USMLE Step 2 CK. Though this exam is highly competitive, it may not seem so when compared to the Indian NEET PG. The exam is online and can be taken at the USMLE exam centers present across India. MOKSH is the leading name in USMLE Coaching. Currently, 1000+ Students from Indian and Abroad medical colleges are preparing for USMLE steps via MOKSH Platform.
With the introduction of NEXT, maximum students in India are getting attracted to USMLE prep from 1st year of MBBS since it simulates the new NMC Competency-based curriculum much easily. MOKSH Coaching focuses on patient-centred learning approach which helps students score high on both USMLE & NEXT.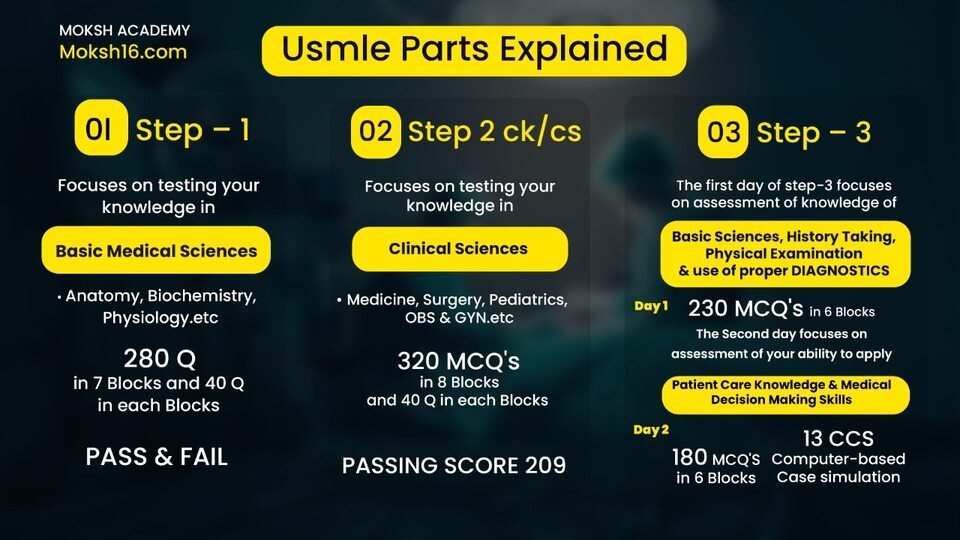 PG IN GERMANY AFTER MBBS IN INDIA
PG in Germany after MBBS in India is another great option, though it requires you to learn the German language. Of the 6 levels starting from A1 to C2, you need to clear A1 and A2 that would qualify you to apply for visa.
Once the Language formalities are done, you get into the phase where you do Observer-ship from a German hospital approved by the German Medical Council. This is followed by Residency.
This may sound simple here but the process is quite complicated. For further info about PG in Germany, refer to the link below.
WHY MOKSH?
MOKSH is a leading career planning organization with Head office at Mumbai and having branches in more than 30+ Cities in India, Germany, Ukraine and Russia; helping medical aspirants to become Doctors. At the same time, MOKSH Faculties across the Globe help Medical Students in Indian and Abroad Medical colleges to pursue their dreams of doing Medical PG in USA or Germany. You can connect with MOKSH Counselling team through phone call, live chat available on our website, WhatsApp or just by filling your details here.