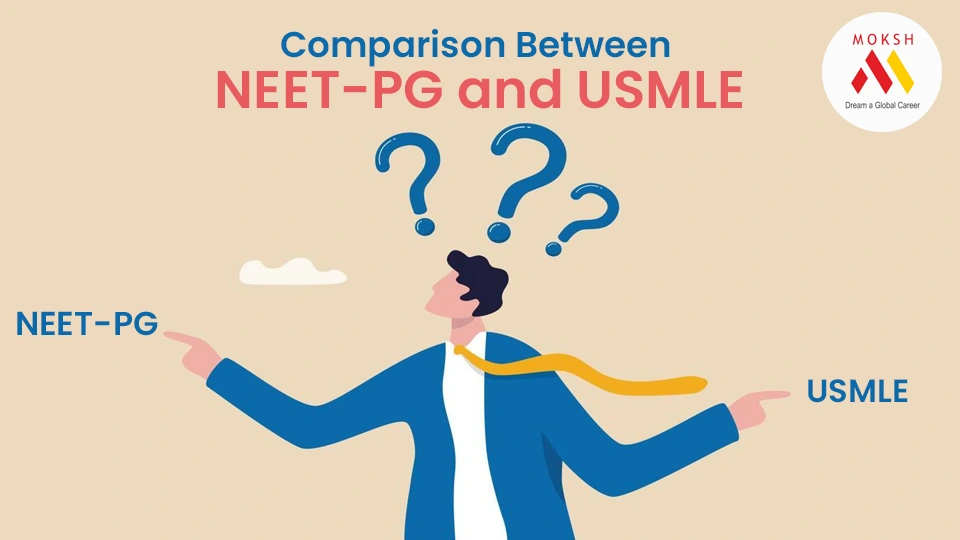 Introduction
Do you dream of advancing your medical career through postgraduate studies? If so, you may be wondering which exam to take: NEET PG or USMLE. This is a major decision for any medical student, and it's important to carefully consider all of your options. Read the blog to the end to learn about all the important factors to consider when making a decision that aligns with your goals and aspirations.
The National Eligibility cum Entrance Test (NEET PG) and the United States Medical Licensing Examination (USMLE) are two of the most important medical entrance exams in the world. Both exams are highly competitive and require a significant amount of preparation.
NEET PG is a national-level exam that is conducted by the National Board of Education (NBE) once every year. Medical graduates who want to pursue postgraduate medical courses such as MD or MS must pass this exam to gain admission to any private or government PG College in India.
USMLE is a licensure exam that is required for medical professionals who want to practice medicine in the United States. It is an international exam that is sponsored by the Federation of State Medical Boards (FSMB) and the National Board of Medical Examiners (NBME). The exam consists of three steps: Step 1, Step 2 CK, and Step 3. So lets understand further:
BASIC COMPARISON BETWEEN NEET-PG AND USMLE
| COUNTRY | INDIA | USA |
| --- | --- | --- |
| PG | MD/ MS | RESIDENCY |
| SUPERSPECIALISATION | DM/MCH | FELLOWSHIPS |
| LICENSE EXAM | NEET PG/NEXT | USMLE |
| MATCHING RATIO | 10 APPLY 1GETS SELECTED | 2 APPLY 1 GETS SELECTED |
| ATTEMPTS | MULTIPLE ATTEMPTS FOR NEET | ONE ATTEMPT IF YOU PASS IN 7 YRS |
| CHOICE OF SPECIALISATION | BASED ON NEET RANK | CHOICE BEFORE APPLICATION |
| TUTION FEES FOR PG | GOVT 3-5 LACS/PVT 1-3 CRORES | NO FEES |
| SALARY | STIPEND 50K | $4500-$5500 |
Recognisation: NEET-PG is not Globally recognized and valid in India only but USMLE has a Global recognisation
Eligibility Criteria: NEET PG is only open to Indian citizens who have completed an MBBS degree, while USMLE is open to international students as well.
Financials: The most important thing is the cost factor ,that is the NEET PG exam cost is significantly lower than the cost of taking the USMLE Step 1, Step 2 CK, and Step 3 exams. Additionally, there are additional costs associated with the residency application process for USMLE, such as the Electronic Residency Application Service (ERAS) and the National Resident Matching Program (NRMP) fees etc
Content: NEET PG focuses on the19 subjects, while USMLE covers a wider range of topics, including clinical medicine
Length of the Exam: NEET PG is a one-day exam, while USMLE is a three-step exam.
Format: NEET PG is a multiple-choice exam, while USMLE also includes a clinical skills exam.
Test: NEET PG exam is conducted on a specific day or date every year, by chance if you miss you have to wait for next year. But in USMLE exam, you can choose the day as per your suitability and can reschedule if you fail to give on that particular day
Question Type: NEET-PG is a single-day exam with a shorter duration. The questions are typically direct, conceptual, and can be solved quickly. USMLE is a three-part exam with a longer duration. The questions are typically presented in the form of a clinical scenario with a brief history and some laboratory findings. These questions require you to put together multiple steps to have a differential diagnosis and then answer the question.
In general, NEET-PG is considered to be a less difficult exam than USMLE. This is because the questions on NEET PG are more straightforward and do not require as much critical thinking. However, the USMLE is a more comprehensive exam that tests a wider range of medical knowledge.
Work-life balance : And finally work life balance where In India, Doctors have long working hours, on-call duties, and high patient loads are common.US: More predictable work hours and better compensation, but can vary depending on specialty and practice setting.
So this is about the complete comparison between the two examinations giving you complete preview of the future ahead. So, now you can decide what's best for you and crack the License examinations which are your ultimate goal.