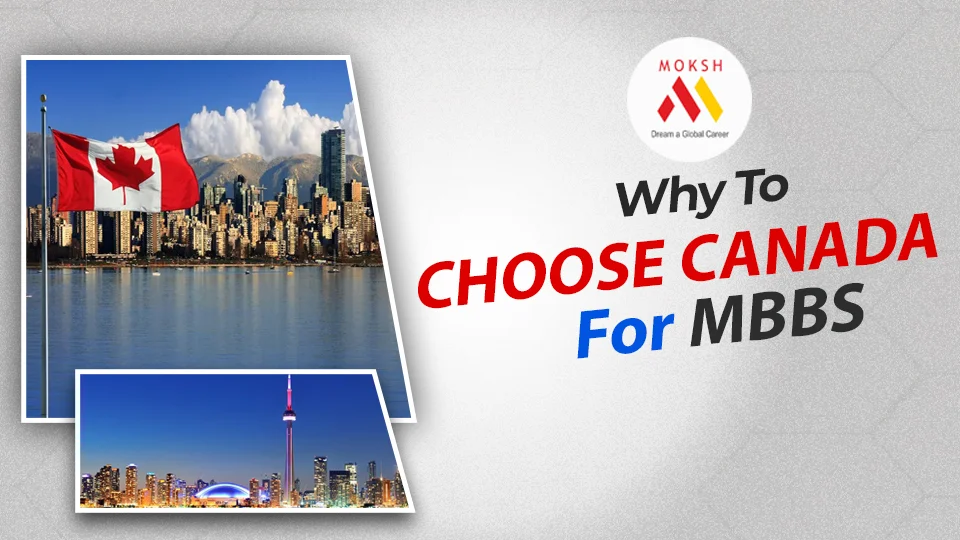 Introduction
Canada, as part of North America, is known worldwide for its development and reputation. Indian students looking for affordable medical education options will find MBBS in Canada an excellent choice. The National Medical Commission (NMC) has officially recognized 17 universities in Canada.
The country maintains exceptional academic standards, providing medical students with an excellent education, teaching, and practical training.
There are a lot of reasons to do an MBBS from Canada. Some of them are as follows -
1. World-Class Universities:
Canada has world-class universities with a high standard of education. The infrastructure is Huge and also modern in technology.
2. Globally Recognized Degree:
Canadian MBBS colleges provide an excellent medical degree, giving you an edge worldwide. Their research-focused approach prepares you for a successful medical career.
3. More career options:
You will have more career opportunities with high pay jobs as medical graduates in Canada has a wide range of job options
4. Expert Professors:
Learn from skilled professors who enhance your medical knowledge and skills.
5. Cultural Diversity:
Experience Canada's multicultural society and interact with peers from various backgrounds, broadening your global healthcare understanding.
6. Practical Training:
Canada has the top best curriculum & QS world ranking. It also has modern labs that offer hands-on learning, sharpening your clinical abilities.
7. Extensive Library:
Explore a wealth of study materials in Canada's fantastic medical libraries.
Conclusion -
Deciding to pursue an MBBS in Canada is a great idea! With its multicultural setting, excellent facilities, and global recognition, it's the perfect place to build a successful medical career. But there are some important points as well which may be challenging.
The entry requirements are quite tough as you need to qualify for some competitive exams which are IELTS, MCAT and Casper Test. Also, Visa processing in Canada is challenging.
If I tell you in terms of expenses, Studying medicine in Canada would be quite expensive overall.
So I say overall it's a lengthy and competitive process but if you are competitive and determined it would be a life-changing opportunity which will be fulfilling your dreams in the field of medicine