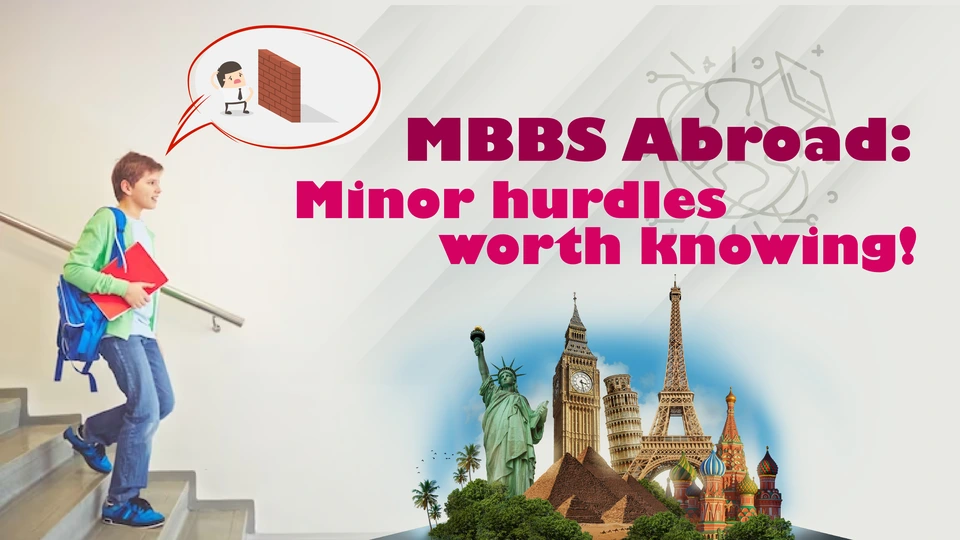 It has started! The results are out. My scramble for medical seats has begun. The NEET aspirants are exploring the various options they have at their disposal. Those confident of a good score are expecting to make the cut-off for their desired medical college while some are prepared to pursue courses like BAMS, BHMS, etc. Among these, there are students who are out to take admission in MBBS Abroad! Since everything in this world has its gains and losses, so does the MBBS Abroad. In this article, we'd be sharing some minor hurdles worth knowing about MBBS Abroad. Plus we'd advising you on how you can escape these minor hurdles easily.
MBBS Abroad packs the opportunity for a student to become a doctor in India. In fact, the opportunity of pursuing MBBS abroad is garnering attention more than ever! With the recent alterations in the process of medical education in India, the FMGE is now replaced by NExT (National Exit Test). What used to be taken by just the MBBS abroad graduates will now be taken by anyone who seeks to obtain a license to practice in India even if you're a graduate from Indian medical college! Hence, this broadening of candidates' caliber assessment (NExT) has brought the option of MBBS abroad to limelight.
However, just as more and more Indian students are choosing MBBS abroad, many miscreants have come up who are misleading students considering MBBS abroad and taking undue advantage of their lack of information. Therefore, you must understand a few things before you select a University for MBBS Abroad. There are parameters which we at MOKSH consider essential for a student to know before he/she makes his/her choice of an MBBS abroad university. So without any further ado, let's get started!
KEEP YOURSELF AWAY FROM AGENTS FOR MBBS ABROAD
An agent is someone you'd come across when you choose to pay heed to the advice of your friendly neighborhood. In an agent's office, you'll find a 10' X 10' Office space. There, two or three people would be promising you a lucrative career ahead. What they'd tell you is that you must pay the University fee to the agents only, all their universities are approved, that you are eligible to practice as a doctor in India after MBBS Abroad, etc. What they would never tell you is that the student should pay University fee directly at the university only, you must confirm which universities are actually approved, and that you must first take the NExT exam (National Exit Test) in order to gain license to practice in India.
A bitter extension of this 'pay the university fees to the agent' trend is that they proffer you a peculiar scheme. Here, if you were to pay the entire University fee at once rather than paying in the typical manner of yearly/semester installments, you'd save a lot of bucks! Hoping to curtail the cost to some extent, the parents often give a lump sum to the agents. As you might have guessed, the agents would be then gone for good, never to be seen again.
Therefore, it is advisable to never let an agent interfere in your career decisions. Carving a path in a maze like MBBS Abroad must rather be undertaken with help of an accomplished consultancy that has a significant amount of experience.
Having said that, let us move on to our next checkpoint in the agenda i.e. Parameters to be considered while doing MBBS Abroad.
PARAMETERS TO BE CONSIDERED WHILE PURSUING MBBS ABROAD
It is only because of the lack of information of these parameters that the agents get to take an undue advantage of the students. Hence, we cannot stress enough how crucial it is for you to know these. They are illustrated below.
Always take note of the recognition of the university. The MBBS Abroad University you seek to take admission in must be recognized by international bodies like WHO, FAIMER, ECFMG, and its credentials are recognized in India.
Also inquire the MBBS program you'd be attending is taught in which language. Whether it is purely in English or bilingual. Or if it is entirely taught in the language of the region the University is based out of. Choose as per your convenience.
While taking MBBS Abroad admission, always prefer Government University to a Private University.
In terms of pedagogical experience, the University must be some decades old. University with academic experience of over a century (100 years) would be favorable.
Do keep in mind that you cannot directly come back to India and practice here after MBBS Abroad. You must adhere to the same protocol as the Indian medical student in order to gain license in India. And this protocol is to take NExT in order to become a doctor in India. Therefore, be smart enough to obtain guidance for NExT right from the start of MBBS Abroad. In that case, it'd be feasible for you to crack it in one go.
CAPPING OFF
In a nutshell, if you or someone you know were to explore this option of MBBS Abroad, make sure you find the right assistance for this. A consultancy will always help you pick the best options on the basis of your budget and other requirements. Also, you've the right to ask for a detailed analysis of the cost involved at the University, consultancy charges, etc.
At MOKSH, we fulfill every such responsibility that makes an ideal consultancy where students get their career pathways sorted. We have also got the students covered for admissions abroad, NExT coaching, USMLE coaching, PG courses abroad, etc. So if you are yet to find a right education partner for your career in medicine, you might just be a click away!