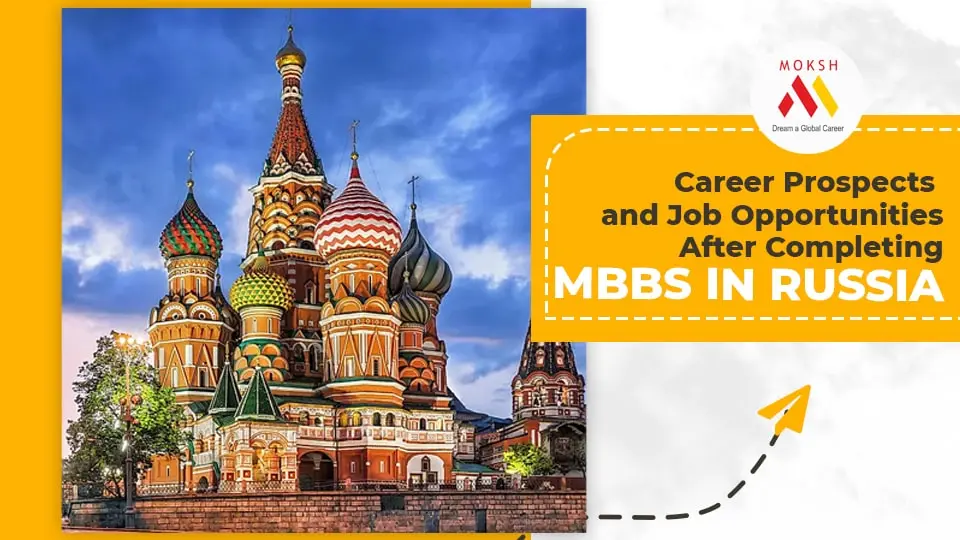 Russia is one of the most popular destinations for international students who want to study medicine. The country has a long history of providing high-quality medical education. And its universities are accredited by the World Health Organization (WHO).
After completing an MBBS in Russia, graduates have a wide range of career options available to them. They can work in hospitals, clinics, and other healthcare facilities in Russia, or they can return to their home countries and practice medicine there.
In this blog post, we will discuss the career prospects and job opportunities available to MBBS graduates in Russia. We will also provide some statistics and comparisons to help you make an informed decision about whether to study medicine in Russia.
Let's get started:
Career Prospects
Career opportunities for Indian students who complete their MBBS in Russia are extremely good. The MCI has approved over 60 medical universities in Russia, and these universities are known for their high standards of education.
After completing MBBS in Russia, Indian students can work in hospitals, clinics, and other healthcare facilities in India. There are a number of opportunities for MBBS graduates to work in research or teaching. The Russian government is investing heavily in healthcare, and there is a growing demand for research and development in the medical field.
In addition, the country has a shortage of doctors, and there is a high demand for qualified medical professionals. Graduates can find jobs in hospitals, clinics, and other healthcare facilities in all parts of the country.
Job Opportunities
In Russia, job prospects for MBBS graduates are plentiful. There is a doctor shortage in the country, and qualified medical professionals are in high demand. As a result, MBBS graduates in Russia can find rewarding positions in a wide range of professions.
The average salary for a doctor in Russia is around $1,000 (~ 70-80K INR) per month, which is a good salary by Russian standards. There are also a number of opportunities for doctors to earn additional income through private practice or moonlighting.
Following are some job openings for MBBS graduates from India in Russia:
Work in hospitals and clinics: After completing MBBS in Russia, Indian students can work in hospitals and clinics in Russia. This is the most common job for MBBS graduates in Russia.
Work in research: MBBS graduates can also work in research. There are many opportunities for research in Russia, and MBBS graduates can work in both government and private research institutions.
Work in teaching: MBBS graduates can also work in teaching. They can teach at medical universities, colleges, or even high schools.
Work in the pharmaceutical industry: MBBS graduates can also work in the pharmaceutical industry. They can work as drug developers, clinical researchers, or even sales representatives.
Work in the medical tourism industry: Russia is a popular destination for medical tourism, and MBBS graduates can work in this industry. They can work in hospitals that cater to medical tourists, or they can work as travel agents or coordinators for medical tourism companies.
Statistics and Comparisons
According to a recent study by the Russian Ministry of Health, there is a shortage of over 100,000 doctors in Russia. This shortage is expected to grow in the coming years, as the population of Russia ages and the demand for healthcare services increases.
| Factor | Russia | India |
| --- | --- | --- |
| Number of medical universities | Over 60 | Around 500 |
| Budget for MBBS Course | 15-30 Lacs | 70 Lacs- 1.5 Cr |
| Average salary for doctors | 1 Lac-1.5 Lacs | 80K- 1 Lac |
| Job opportunities | Good | Good |
| Recognition of MBBS degree | Global Recognition | Recognized by MCI |
Conclusion
If you are interested in studying medicine in Russia, there are a number of factors to consider. The country has a long tradition of delivering high-quality medical education, and its universities are World Health Organization-accredited. With a significant doctor shortage projected to persist in Russia, graduates are poised to find rewarding positions across diverse specialties and institutions. The potential for both professional and personal growth is limitless, as MBBS graduates contribute to a thriving healthcare ecosystem while enjoying competitive incentive.
In this dynamic and ever-evolving medical field, Russia stands as a beacon of opportunity, inviting aspiring medical professionals to embark on a transformative journey. As you consider the path ahead, remember that choosing to study MBBS in Russia may well be the catalyst for a fulfilling and impactful career, shaping the health and well-being of countless lives. Seize the moment, embrace the possibilities, and let Russia's prestigious MBBS program fuel your aspirations!
PG Option after MBBS in Russia
Medical PG in India or NExT
During MBBS study, a student realizes the importance of being a specialist. They also understand the competitiveness to secure MD/MS Seat in Govt College. If we look at the success ratio to get PG in Govt Medical College which is 11% Broadly we can say that only 1 out of 10 will get PG Seat whereas the chances of getting a Clinical specialty is 1 out of 20 applicants. It is obvious that the PG journey is going to be very difficult or else students should have enough money to get a paid seat in Pvt Medical College which may be in Crores!
Total Applicants NEET PG 2022
Specialty
Govt Med College
Pvt Med College
Seats
Success Ratio
Seats
2.06 Lacs
MD (Non Clinical)
15K
8.6%
10K
MS ( Clinical)
8K
4.6%
5K
Total
23K
11.4%
15K
Do you feel early preparation and the right mentorship will pave your dream of becoming a specialist? NMC already notified the introduction of the NEXT Exam in India from 2023. This exam will replace all Medical PG exams in India. The exam will be conducted in two parts NEXT-1 and NEXT-2.
The Objective of the NEXT-1 is to assess the Student's Knowledge of Pre, Para, and Clinical Subjects on the National Level. Only post-qualifying of NEXT-1 any Medical student will be eligible for an Internship. Post completion of internship Students needs to go thru NEXT-2 which will assess their Clinical skills, Patient Management, and Keeping of Medical history. Those who will Clear NEXT-2 awarded a license to practice and Rankers of NEXT-1 will get PG seats of their choice. You may refer to Page for detailed information on the NExT Exam
Know More
Medical PG in USA (USMLE)
Most of the Students studying in Russia also plan for doing Medical PG from USA. This is because getting PG Seats in India is very tough.
With the introduction of NEXT, maximum students in India are getting attracted to USMLE prep from 1st year of MBBS since it simulates the new NMC Competency-based curriculum remarkably. US Healthcare system is considered as one of the best health care systems in the world because of numerous reasons like high rewards, excellent infrastructure, merit based assessment, open opportunities for Super specialties. Most of the countries try to replicate US health care assessment system for their Medical Graduates. USMLE exam is divided in 3 Parts. One can appear in USMLE Step 1 after 2nd Year, USMLE Step 2 CK during internship and Step-3 during residency (Medical PG). Unfortunately there is no prometric center in Goergia, But, all neighboring countries are having these centers.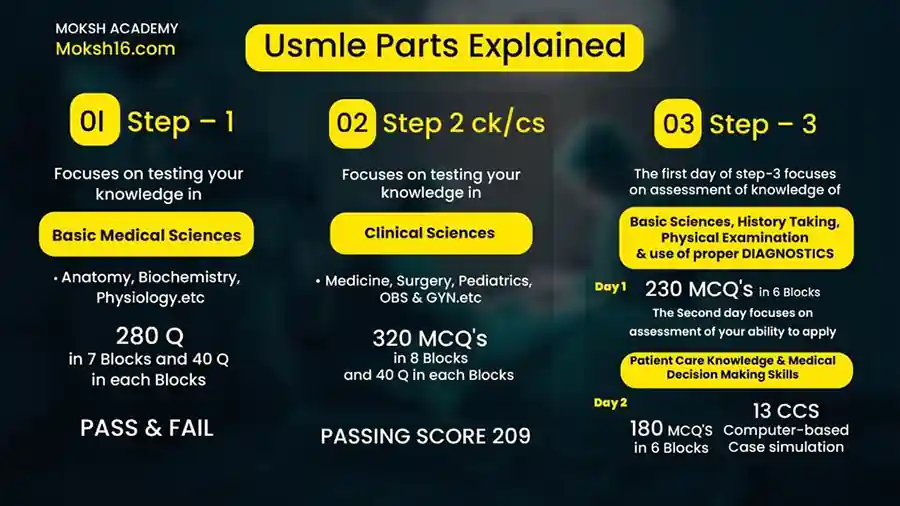 MOKSH Coaching focuses on a patient-centered learning approach which helps students score high on both USMLE & NEXT. MOKSH is the leading name in USMLE Coaching. Currently, 1000+ Students from Indian and Abroad medical colleges are preparing for USMLE steps via the MOKSH Platform.
Know More
Medical PG IN UK (PLAB)
Due to the close proximity of Russia to UK, many of the students plan to do their Medical PG from UK. Till 2024, the Professional & Linguistic Assessments Board Test (PLAB test) is the instrument to assess the skills and knowledge of an International Medical Graduate. It also judges whether they are fit to be trained to practice medicine in the UK.
In short, an IMG's performance in PLAB determines her eligibility to practice in the UK. The PLAB test has two stages. PLAB 1 is an exam that has 180 MCQs that tests your recall. On the other hand, PLAB 2 is a practical OSCE (Objective Structured Clinical Exam) that tests your clinical skills.
The GMC ascertains your linguistic skills by assessing your score in specific tests. It may be the IELTS (Band Score 7.0 or higher) or OET (Grade B in reading, writing, listening & speaking).
After you pass PLAB 1 & 2, you apply for the GP registration. There is one constraint. You have a window of 2 years after clearing PLAB 2 during which you may apply no later.
By 2024, the UK Medical Licensing Assessment will replace the PLAB. Consequently, the GMC UK is going to change certain things in PLAB and create the UKMLA exam.
Know More
Medical PG in Germany

PG in Germany after MBBS in Russia is another great option, though it requires you to learn the German language. Of the 6 levels starting from A1 to C2, you need to clear A1 and A2 which would qualify you to apply for the visa.
Once the Language formalities are done, you get into the phase where you do Observer-ship from a German hospital approved by the German Medical Council. This is followed by Residency.
This may sound simple here but the process is quite complicated. To know more about PG in Germany,
Know More