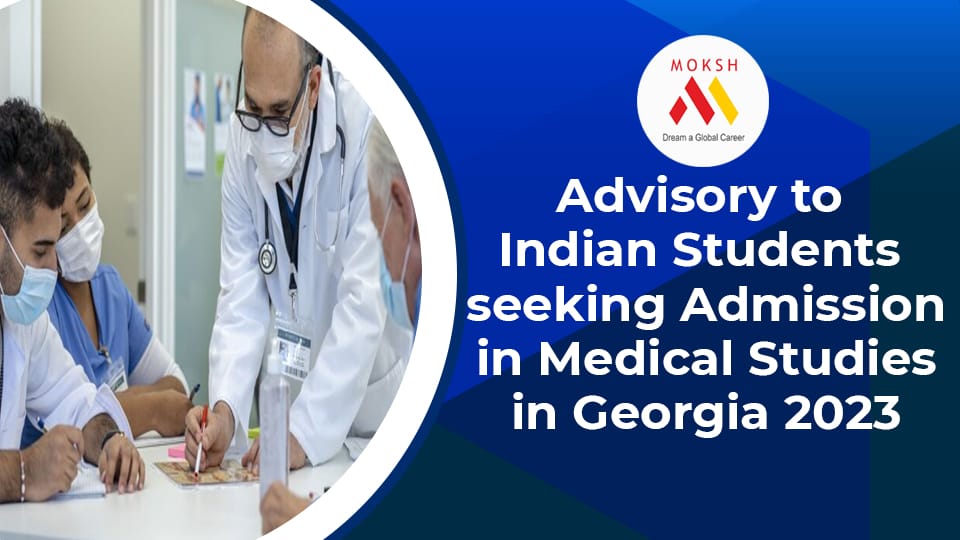 Are you an Indian student aspiring to pursue medical studies abroad? With its quality education and excellent medical programs, Georgia has become a popular destination for Indian students seeking opportunities in the field of medicine. To help you navigate the process and gain a better understanding of medical studies in Georgia, we have compiled essential information based on the answers provided by the Georgian authorities in response to your queries.
So, let's dive right in!
Duration of the Undergraduate Medical (MD) Program in Georgia
One of the crucial aspects to consider while planning your medical studies in Georgia is the duration of the MD program. The undergraduate MD program in Georgia is equivalent to the MBBS qualification in India and the UK. It spans over 6 years, totaling 360 ECTS (European Credit Transfer and Accumulation System) credits.
Likewise, this duration includes a mandatory internship during the 6th graduating year. The program adheres to national legislation, higher medical education regulations, and Medical Sector Benchmarks, all of which are essential for state accreditation.
Duration of Internship/Clinical Rotations in the Medical Course (MD)
During the initial stages of the MD program (up to the 3rd course), students focus on fundamental and basic pre-clinical subjects. From the 4th year onwards, they embark on their clinical rotations, commonly known as internships. This phase of the program spans from the 9th to the 12th semesters, which corresponds to the 5th and 6th years of study.
Throughout this period, MD students engage in clerkships and internships within various clinical settings. These settings typically include university hospitals, affiliated teaching hospitals, and primary care settings, all of which meet the national regulations and Sector benchmarks in Medicine. Notably, the 6th year entirely comprises studies in a clinical environment, accounting for 120 ECTS credits.
Internship Opportunities and Rights for Indian Students (MD students) in Georgia
A significant concern for Indian students is the availability of internships and clinical opportunities. Rest assured, all medical schools in Georgia offer the same clinical settings, making them accessible to all MD students, regardless of their nationality or citizenship. Whether you are an Indian student or from any other country, you will have equal rights to partake in these clinical courses as long as you follow the general curriculum of the program.
Furthermore, medical universities in Georgia that do not own their own clinics or hospitals often sign Memorandums of Understanding (MoUs) with various clinics to provide the required clinical experience. These agreements outline the medical fields available for observation, the number of students eligible for traineeships, and the duration of the internship.
While English is widely used as the medium of instruction in medical schools, knowing the local language, Georgian, can be advantageous for effective communication with patients. Therefore, medical schools in Georgia offer Georgian language courses for international students to facilitate better patient interaction.
Scope of Clinical Practice for Indian Medical Students
The question of whether Indian medical students are allowed to touch patients and practice during internships or clinical rotations is essential for hands-on learning. The answer is affirmative! Irrespective of their nationality, all students in Georgia are permitted to conduct physical examinations and certain medical procedures. However, these procedures must be in line with the educational curriculum and should be performed under the supervision of an instructor. Additionally, obtaining informed consent from the patient is a necessary requirement, adhering to the Law of Georgia on Patients' Rights.
Professional Registration and Licensing for Indian (MD) Students in Georgia
After successfully completing their undergraduate medical studies, Indian MD students, along with other international MD graduates, are registered by the Ministry of Education and Science of Georgia. This registration process applies to those studying in accredited and authorized medical schools/universities, recognized by the accredited agency NCEQE (National Center for Educational Quality Enhancement). NCEQE holds international recognition from the World Federation of Medical Education (WFME), which further enhances the value of your degree.
The benefits of obtaining an internationally recognized medical degree from Georgia are manifold. MD graduates have the right to be employed as junior doctors, pursue postgraduate residency courses, engage in doctoral studies in biomedical sciences leading to a Ph.D. degree, and participate in pedagogical and scientific activities. Graduates are also eligible to take the national post-diploma qualification exam (NPDQE), a crucial step for those who wish to pursue specialized postgraduate studies or residencies in specialized fields of medicine.
Getting Licensed as a Medical Practitioner in Georgia
For Indian (MD) students aspiring to practice medicine in Georgia, there is a clear pathway to obtaining a license for independent medical practice. Upon graduation from the undergraduate program, you can work as a junior doctor or choose to take the NPDQE. Successful completion of this qualification exam qualifies you to pursue a track of residency program in your chosen specialty. After fulfilling the requirements of the residency, you will be granted a license to practice medicine independently in Georgia.
Conclusion
As you embark on your journey to pursue Medical Studies in Georgia, it is essential to be well-informed and equipped with accurate information. The Embassy of India, Yerevan, has provided valuable insights to guide you through the process of preparing for your medical education in this vibrant and diverse country.
Pursuing your medical education in Georgia can open doors to a world of opportunities and enable you to make a significant impact on global healthcare. So, take the leap and prepare for a rewarding and fulfilling medical journey in Georgia! The world of medical possibilities awaits you.
If you seek assistance from MOKSH counselors, for support and guidance throughout the application process and offers various ways to connect, such as calling on +91 9699360370, WhatsApp at 8269900555, or visiting MOKSH16.COM.
Indian Embassy Advisory for Medical Studies in Georgia