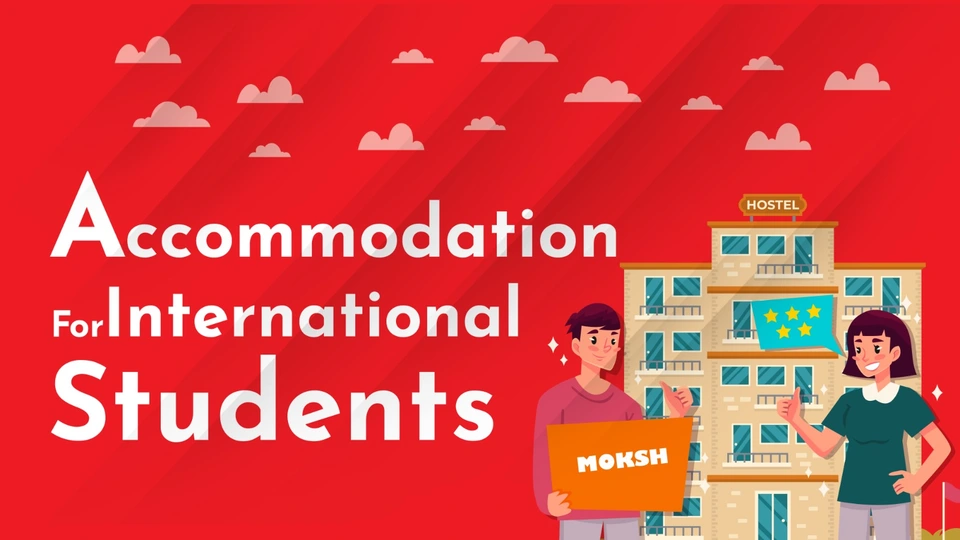 So now that you've decided to live and study in Abroad, you need a place to reside in new country. This place is gonna be your home for the few subsequent years where you will eat, sleep, live and where your social life will be based.
A place to stay in is what comes to your mind right after getting admission abroad and your final decision depends on a no. of other factors. However, these factors mostly vary with individual choices and preferences. Moksh therefore says, whatever you budget is, be it the In-campus hostels or the off-campus residence, we will always suggest you the right option.
Being an international student, it can be your first time to live on your own, managing your costs by yourself, and taking care of everything that belongs or is related to you. To be precise, it is usually the first time abroad for many students and hence, we at Moksh prepare you thoroughly for the same by assisting you at every step.
Depending on your choice and how properly you plan to live in your selected country, you could end up having the right place for you. Otherwise, things could really turn out to a rundown student haunt. Consequently, you've to be very cautious while shortlisting your preferences with regards to accommodation for international students / international student house.
Read on to have a glimpse of how to choose the most-apt accommodation for you!
International student accommodation: What are your options?
The foreign students in different countries like Russia, Germany, USA, Egypt etc prefer to reside in the halls which are private. Unlike other countries, German and few universities do not accommodate their enrolled students in its rooms.
The reason behind this is quite easy to understand because of the potentially large number of students seeking accommodation. It is strongly recommended to the foreign students to make the arrangements of student homestay as early as possible, ideally prior to their arrival in country.
As above few university does not provide hostel all the students need to live in apartments near to the university. MOKSH local representative will help their student by providing multiple apartment ready for the inspection on arrival. For the first 3 days the students have to stay in private hostel while they check the options and finally get shift to their chosen apartment.
Student Residence Halls:
The most commonly preferred accommodations are the student's hall of residence, sometimes with a multitude of locations. This can be the most affordable option for you as it is known to be the communal form of housing. But still preference is given to those applications which are received prior to others as it follows the principle of 'first come, first serve.'
Places are limited so foreign students are expected to apply as soon as possible if you wish to gain best chances of success. Immediately after the student receives the notification of acceptance, she should apply for accommodation in the student residence hall.
Private Accommodation:
Markets engaged in private accommodation vary and as far as Russia, Ukraine, Georgia, Germany is concerned there are no exceptions to it. Though there are a lot of options available for the foreign students' private accommodation gives fully furnished flats and single rooms with all the necessary facilities
Of course costs for internet, telephones and electricity is shared when you live in flat share with others but more importantly, you interact with the folks who share the flat with you. This is the interaction with different cultures that many crave.
| Country | City | Type of accommodation | Average monthly rent (USD) |
| --- | --- | --- | --- |
| Russia | Moscow | Shared room in a dormitory | 200-300 |
| Russia | Moscow | Private apartment | 500-1,000 |
| Georgia | Tbilisi | Shared room in a dormitory | 100-150 |
| Georgia | Tbilisi | Private apartment | 250-400 |
| Ukraine | Kyiv | Shared room in a dormitory | 150-200 |
| Ukraine | Kyiv | Private apartment | 350-500 |
| Germany | Berlin | Shared room in a dormitory | 300-400 |
| Germany | Berlin | Private apartment | 700-1,000 |
| China | Beijing | Shared room in a dormitory | 200-300 |
| China | Beijing | Private apartment | 500-800 |
Why study in abroad through MOKSH?
MOKSH is one of the top education consultants in Mumbai. There are very few overseas education consultants which represents study in abroad on such a large scale. There are many consultancies doing spams in other Indian cities. Therefore, MOKSH is one of the best career planner with right guidance. Thus, along with Mumbai, we also have our branches in nearby state. All you need to do is seat back and relax MOKSH will take care of your career plan till PG..