Topiwala National Medical College is a government medical college located in the capital city of Maharashtra, Mumbai. The college is 57 years old and is recognized by the National Medical Council (NMC). The college is affiliated with the Maharashtra University of Health Sciences. Topiwala National Medical College offers 150 MBBS seats, 160 seats under specialization, and 25 seats under super specialization. Courses offered for specialization and super specialization are Orthopaedics, ENT, General Surgery, General Medicine, Psychiatry, Plastic Surgery, Paediatric Surgery, Thoracic Surgery, etc. The total MBBS fee to be paid at Topiwala National Medical College is 4.9 Lacs. Topiwala National Medical College NEET cutoff 2023 is given below:
Topiwala National Medical College All India Cut-off:
Topiwala National Medical College State Cut-off:
Table of Contents
Quick Summary
| | |
| --- | --- |
| Year of Establishment: | 1964 |
| No. of Seats (MBBS): | 150 |
| Specialty in PG Courses: | 20 |
| Seats in PG courses: | 160 |
| Management Type: | Government |
| Affiliated (University): | Maharashtra University of Health Sciences, Nashik |
| Listing and Recognition: | National Medical Council (NMC) |
| Affiliation (Hospital): | BYL Nair Ch. Hospital |
| Postal Address: | Topiwala National Medical College & B. Y. L. Nair Charitable Hospital, Dr. A. L. Nair Road, Mumbai - 4000087 |
| Web Address: | |
MBBS Fee Structure 2023:
| Seat Type | Government Seat |
| --- | --- |
| Total MBBS Course Fee (INR) | INR 4.9 Lacs |
MBBS Course:
The duration of MBBS is five and a half years including 12 months of internship. The internship comprises practical training in subjects like orthopedics, medicine, obstetrics, gynecology, community health, child health, emergency medicine, surgery, and various other specialties. The guidelines are provided by the erstwhile MCI (Currently NMC). Admission to any MBBS program is granted based on marks scored in the NEET-UG examination which is held by the National Testing Agency (NTA).
Topiwala National Medical College, Mumbai accepts students through All India Counselling 2023 or Maharashtra State counseling conducted by The State Common Entrance Test Cell, Maharashtra in NEET 2023.
NEET-UG Exam Dates 2023
The table below illustrates all the important dates a NEET aspirant must be aware of. Candidates must go through it and take note
| EVENT | NEET 2022 | NEET 2023 |
| --- | --- | --- |
| NEET exam notification | 6th April | 15th Dec 2022 |
| NEET application form date by NTA | 6th April | March 23 |
| Last date to submit NEET application form | 20th May | April 23 |
| NEET UG Admit Card Release Date | 1st/2nd Week Jul | 4th May 2023 |
| NEET Exam Date | 17th July | 7th May 2023 |
| NEET Result | 7th Sept | 13th June 2023 |
NEET-UG 2023 Cut Off
Like previous years, the NEET (UG) Cut off for qualification will be 50 percentile for candidates from General category. Often the candidates confuse percentage with percentile system in this exam
Please find the table below indicating Actual NEET UG cut off for 2021 and 2022 and NEET 2023 Cut off
| Category | Cut-off Percentile | NEET 2021 | NEET 2022 | NEET 2023 |
| --- | --- | --- | --- | --- |
| General | 50th | 138 | 117 | 137 |
| SC/ST/OBC | 40th | 108 | 93 | 107 |
| General (PwD) | 45th | 122 | 105 | 121 |
| SC/ST/OBC (PwD) | 40th | 108 | 93 | 107 |
Important Dates of Counselling:
Seat allocation is being done in multiple phases both in All India counseling and State counseling of Maharashtra. This is because, many seats become vacant due to the withdrawal of seats by the students for not getting the college of their choice, not being able to arrange the funds for fees, Lack of proof of the category under which they applied, etc. Once the dates for reporting to the college/ Fee deposits/Submitting documents are passed all such seats are made available for the next rounds. In the below table, you can find the details for counseling rounds in All India and State counseling followed for MBBS Seat Allocation-
Note: After counseling rounds of MBBS admission in Maharashtra, if the seats remain vacant, then there will be a mop-up round to allocate the seats.
| Counselling Round | Dates |
| --- | --- |
| Announcement of Counseling Dates 2023 | 11th July |
| All India Quota seats in MH / Deemed Universities/Central Universities (Round-1) 2023 | 15th-26th July |
| All India Quota seats in MH / Deemed Universities/Central Universities (Round-2) 2023 | 8th-18th Aug |
| All India Quota seats in MH / Deemed Universities/Central Universities (Mop Up Round) 2023 | 31st Aug - 6th Sept |
| All India Quota seats in MH / Deemed Universities/Central Universities(Stray Round) 2023 | 18th Sept - 23rd Sept |
| Maharashtra State Counseling 2023 (Round-1 /Round-2 / Mop Up/ Stray Round) | 15th July- 15th Sept |
The State Common Entrance Test Cell, Maharashtra under the guidance of Directorate of Medical Education & Research (DMER), Mumbai, and all the candidates who've scored well enough in the NEET exam can secure a seat in the medical colleges in Maharashtra. Students can assess their chance to get the college of their choice based on the previous year's Cutoffs of that college. If you want to be sure about the chances it is recommended to use MOKSH College Predictor which utilizes Artificial Intelligence and Machine Learning technology. Also, this college predictor will give you an idea and will predict the college possible for you based on your current NEET Ranking, Reservation category, and Other Quotas applicable to you.
Admission Eligibility
The candidate must be of 17 years of age or above as of 31st December of the enrollment year. The candidate must be a graduate of a Higher Secondary School with a 10+2 degree in science stream with Biology (or bio-technology), Physics, and Chemistry as their subject. Minimum 50% marks are eligible (40% in case of SC/ST and 45% for OBC Category).
Your Chance to get an MBBS Seat in Topiwala National Medical College, Mumbai :
The most difficult time for any of the students is to wait after NEET till the Counseling process to know whether he/she is getting a college of his/her choice or not? Sometimes this dilemma continues for a couple of months due to multiple rounds of Counseling. It has become more difficult due to parallel Counseling of All India Quota and various States due to COVID-19. The Counseling process is very complex where 550+ Govt. and Private colleges offer 83000+ Seats and fee variation is also huge that ranging from less than 1 Lac to 2.5 Cr for the course.
Dreams shatter when any silly mistake in choice filling or wrong selection of college leads to getting a poorly ranked college. Imagine getting paid seats or no seats at all due to a lack of genuine guidance!
MOKSH AI-based MBBS college predictor predicts your chances of getting an MBBS seat in Maharasthra State Medical colleges in All India Counselling NEET-UG 2023 and Maharasthra State Counselling NEET-UG 2023 under various Seat categories like Govt., Management, or NRI Seat. For assessing your chances of getting a seat, the MOKSH Predictor algorithm takes categories/sub-categories or various Quotas into consideration as per Govt. regulations. It also takes into account historical data published by Medical Counselling Committee (MCC) or State Dept. responsible for counseling State Common Entrance Test Cell, Maharashtra, Mumbai
PG Options After MBBS in Topiwala National Medical College Mumbai
Medical PG in India or NEXT
During MBBS study, a student realizes the importance of being a specialist. They also understand the competitiveness to secure MD/MS Seat in Govt College. If we look at the success ratio to get PG in Govt Medical College which is 11% Broadly we can say that only 1 out of 10 will get PG Seat whereas the chances of getting a Clinical specialty is 1 out of 20 applicants. It is obvious that the PG journey is going to be very difficult or else students should have enough money to get the paid seat in Pvt Medical College which may be in Crores!
Total Applicants NEET PG 2022
Specialty
Govt Med College
Pvt Med College
Seats
Success Ratio
Seats
2.06 Lacs
MD (Non Clinical)
15K
8.6%
10K
MS (Clinical)
8K
4.6%
5K
Total
23K
11.4%
15K
Do you feel early preparation and the right mentorship will pave your dream of becoming a specialist?
NMC already notified the introduction of the NEXT Exam in India from 2023. This exam will replace all Medical PG exams in India. The exam will be conducted in two parts NEXT-1 and NEXT-2. The Objective of the NEXT-1 is to assess the Student's Knowledge of Pre, Para, and Clinical Subjects on the National Level. Only post-qualifying of NEXT-1 any Medical student will be eligible for an Internship. Post completion of the internship Students needs to go thru NEXT-2 which will assess their Clinical skills, Patient Management, and Keeping of Medical history. Those who will clear NEXT-2 are awarded a license to practice and Rankers of NEXT-1 will get PG seats of their choice. You may refer to Page for detailed information on the Next Exam.
Medical PG in USA (USMLE)
We are well aware of the difficulty of getting a PG in India. With the introduction of NEXT, maximum students in India are getting attracted to USMLE prep from 1st year of MBBS since it simulates the new NMC Competency-based curriculum much more easily. US Healthcare system is considered one of the best health care systems because of numerous reasons like High rewards, excellent infrastructure, Merit-based assessment, Open opportunities for Super specialties. Most of the countries trying to replicate the US health care assessment system for their Medical Graduates USMLE exam are divided into 3 Parts. One can appear in USMLE Step 1 after 2nd Year, USMLE Step 2 CK during an internship, and Step-3 during your residency (Medical PG). The USMLE is an online exam and can be taken at the PROMETRIC centers present across India.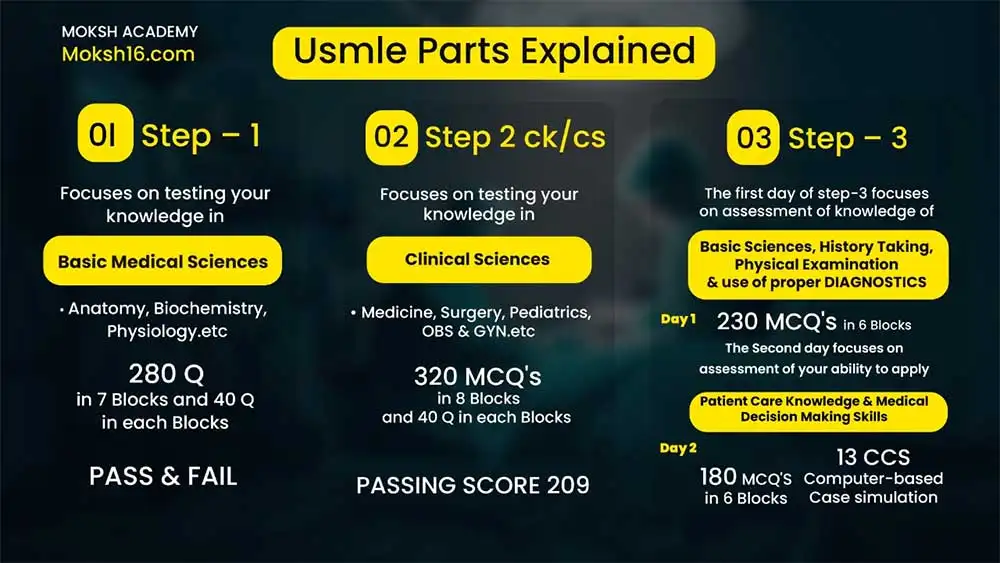 MOKSH Coaching focuses on a patient-centered learning approach which helps students score high on both USMLE & NEXT. MOKSH is the leading name in USMLE Coaching. Currently, 1000+ Students from Indian and Abroad medical colleges are preparing for USMLE steps via the MOKSH Platform.
Know More
Medical PG IN UK (PLAB)
Till 2024, the Professional & Linguistic Assessments Board Test (PLAB test) is the instrument to assess the skills and knowledge of an International Medical Graduate. It also judges whether she is fit to be trained to practice medicine in the UK.
In short, an IMG's performance in PLAB determines her eligibility to practice in the UK.The PLAB test has two stages. PLAB 1 is an exam that has 180 MCQs that tests your recall. On the other hand, PLAB 2 is a practical OSCE (Objective Structured Clinical Exam) that tests your clinical skills.
The GMC ascertains your linguistic skills by assessing your score in specific tests. It may be the IELTS (Band Score 7.0 or higher) or OET (Grade B in reading, writing, listening & speaking).
After you pass PLAB 1 & 2, you apply for the GP registration. There is one constraint. You have a window of 2 years after clearing PLAB 2 during which you may apply no later.
By 2024, the UK Medical Licensing Assessment will replace the PLAB. The COVID pandemic has resulted in a major change that has affected life everywhere and at every level.
Especially the healthcare sector has faced unprecedented pressure. Consequently, the GMC UK is going to change certain things in PLAB and create the UKMLA exam.
Know More
Medical PG in Germany

PG in Germany after MBBS in India is another great option, though it requires you to learn the German language. Of the 6 levels starting from A1 to C2, you need to clear A1 and A2 which would qualify you to apply for the visa.
Once the Language formalities are done, you get into the phase where you do Observer-ship from a German hospital approved by the German Medical Council. This is followed by Residency.
This may sound simple here but the process is quite complicated. To know more about PG in Germany after your MBBS in India,