About Saint Petersburg in Russia
Saint-Petersburg State Pediatric Medical University location: The University is located in the city of Saint-Petersburg on the Neva River. Saint-Petersburg is known as Russia's Imperial Capital. As major trade gateway, Saint-Petersburg serves as the industrial as well as financial centre of Russia having many industries such as Aerospace Industry, Shipbuilding Yards, Food Processing, Metalworking, Pharmaceuticals, and Electronics and so on. Saint-Petersburg has humid subtropical climatic conditions, due to its location being more at eastern side climatic conditions in the city are colder during winters and warm during summers.
Saint-Petersburg State Pediatric Medical University, Russia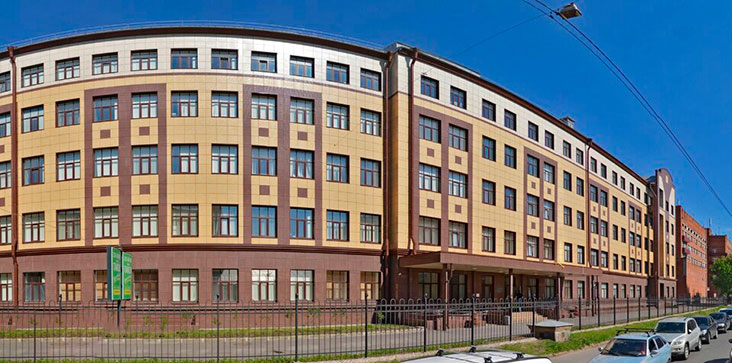 The Saint-Petersburg State Pediatric Medical University (SPbSPMU) came into existence in 1925 and is one of the oldest independent pediatric universities across the globe. The University was formerly known as Leningrad Pediatric Medical University. The campus is built over the area of 60000 m2 and there are 20 clinical, educational, and administrative building in the main block.
As per the state standards Saint-Petersburg State Pediatric Medical University holds state level license and accreditations to provide training in English language, medicine. The University owns an 815 bedded multi-profile healthcare institution containing 5 somatic clinics and 10 specialized departments in its hospital. The University has essential facilities such as kitchen, cafes, sports hall, local libraries, and 4 dormitories built in the form of apartments. The University provides enrollment for the international students a well.
The Saint-Petersburg State Pediatric Medical University World Ranking is 4898th whilst Saint-Petersburg State Pediatric Medical University Ranking in Russia is 204th. The Saint-Petersburg State Pediatric Medical University recognition has attained official affiliation by the Ministry of Health of the Russian Federation, and it is internationally recognized by NMC & WHO. The Pediatric University conducts several research works for medical students, although, the main attention is given towards the development of organisms and pathology.
Advantages of studying in Saint-Petersburg State Pediatric Medical University
The Saint-Petersburg State Pediatric Medical University is among the recognized Universities. The University has attractive features that any medical aspirant would value, some of which are mentioned below:
The MBBS program at Saint-Petersburg State Pediatric Medical University is completely English taught, which means that you don't have to learn a new language in order to perform and obtain medical degree.
In spite of being English taught University, the Saint-Petersburg State Pediatric Medical University Fee Structure is comparatively lower than the private colleges in India.
Students enrolled at the medical university can conduct research work as member of student scientific associates and academic societies.
Affiliations and Medical Programs at Saint-Petersburg State Pediatric Medical University
The university provides four Medical programs: Medical Science, Dentistry, Stomatology, Pediatrics, Clinical Psychology, postgraduate studies, and additional professional education as well. The MBBS degree course provided by the institute includes general scientific subjects, Practical training and Sub-Internship in the 6th year of Medical Degree.
As far as international affiliations are concerned, the University has international cooperation with foreign universities. The University has tie ups with many International Companies like IBM, Samsung Electronics, Carl Zeiss, Panasonic, & so on for projects focusing on education & scientific development.
Cost of studying MBBS at Saint-Petersburg State Pediatric Medical University
As mentioned above, Saint-Petersburg State Pediatric Medical University Fees of MBBS falls in the medium range but way less than the Indian Private Medical Colleges. The details are as follows:
| Year | Year-1 | Year-2 | Year-3 | Year-4 | Year-5 | Year-6 |
| --- | --- | --- | --- | --- | --- | --- |
| Tuition Fee in RUB | 3,46,500 | 3,46,500 | 3,46,500 | 3,46,500 | 3,46,500 | 3,46,500 |
Admission Deadline for Saint-Petersburg State Pediatric Medical University
For admission in the Russian Universities, the timing of application is crucial. Generally, the right time to apply is before October to 30th October. But this year, in 2022, there could be some variation due to COVID 19 but we Moksh will take care of all the confusion for you.
We at MOKSH say that the timing of application is crucial because the issuance of the Invitation Letter by the Ministry of Education, Russia takes around 4-8 weeks on the basis of which the Russian Consulate in India issues the visa to you. If you are late in applying, you may miss going there with your batch mates.
When you are with Moksh, however, we take care of all these hassles for you. We have our dedicated seats in the Universities and all our students are escorted by our team straight to the Universities.
Eligibility Criteria for Admission in Saint-Petersburg State Pediatric Medical University
Belgorod State University admission requirements include a score of 50% marks in PCB in Class XII. Of course, you need to have qualified NEET 2022.
Indians at Saint-Petersburg State Pediatric Medical University
Moksh has been placing Indian students at the Institute of Medicine, SPbSPMU for quite some time now. Getting into a Government Medical College in India through NEET is very tough and the Private Medical Colleges are very expensive. More and more students approach us for admissions in English taught Russian Medical Universities that are State run because we provide admissions only in such Universities.
Since there are many Indian students already studying at the Saint-Petersburg State Pediatric Medical University, it will be a very good option for those who are looking for an MBBS seat in a Government Medical University in Russia.
PG in USA after MBBS in Russia

The system of licensing physicians in USA is closely monitored by ECFMG which conducts USMLE. Indian students looking forward to pursue post-graduation in USA after MBBS from Russia need to prove themselves at every level, all over again.
While doing MBBS in Russia, you will have to appear for USMLE Step 1 and USMLE Step 2 CK. Though this exam is highly competitive, it may not seem so when compared to the Indian NEET PG. The exam is online and can be taken at the USMLE exam centers present across India. MOKSH is the leading name in USMLE Coaching. Currently, 1000+ Students from Indian and Abroad medical colleges are preparing for USMLE steps via MOKSH Platform.
With the introduction of NEXT, maximum students in India are getting attracted to USMLE prep from 1st year of MBBS since it simulates the new NMC Competency-based curriculum much easily. MOKSH Coaching focuses on patient-centered learning approach which helps students score high on both USMLE & NEXT.
For more information on PG in USA, click here.
PG in Germany after MBBS in Russia
PG in Germany after MBBS in Russia is another great option, though it requires you to learn the German language. Of the 6 levels starting from A1 to C2, you need to clear A1 and A2 that would qualify you to apply for visa.
Once the Language formalities are done, you get into the phase where you do Observer-ship from a German hospital approved by the German Medical Council. This is followed by Residency.
This may sound simple here but the process is quite complicated. To know more about PG in Germany after your MBBS in Russia, click here.
What are your chances of getting a seat in your Medical College of preference in state NEET 2022 Counseling?
The most difficult time for any of the students is to wait after NEET till the counseling process to know whether he/she is getting a college of his/her choice or not? Sometime this dilemma continues for couple of months due to multiple rounds of counseling. It has become more difficult due to parallel counseling of All India Quota and various States due to COVID-19. The counseling process is very complex where 550+ Govt. and Private colleges offer 83000+ Seats and fee variation is also huge that ranges from less than 1 Lac to 2.5 Cr for the course.
Dreams shatter when any silly mistake in choice filling or wrong selection of college leads to getting a poor ranked college. Imagine getting paid seats or no seats at all due to lack of genuine guidance!
MOKSH AI-based MBBS college predictor predicts your chances of getting your preferred college through state NEET 2022 Counseling under various Seat categories like Govt., Management or NRI Seat. For assessing your chances of getting a seat, the MOKSH Predictor algorithm takes categories/sub-category or various Quotas into consideration as per Govt. regulations. It also takes into account historical data published by Medical Counseling Committee (MCC) or State Dept. responsible for counseling of the respective state.
Why MOKSH?
MOKSH is a leading career planning organization with Head office at Mumbai and having branches in more than 30+ Cities in India, Germany, Ukraine and Russia; helping medical aspirants to become Doctors. At the same time, MOKSH Faculties across the Globe help Medical Students in Indian and Abroad Medical colleges to pursue their dreams of doing Medical PG in USA or Germany.