SLOVAKIA
About Slovakia
The nation of Slovakia has a reasonable standing among the good MBBS abroad destinations in Europe. A member of the EU, Slovakia has a good education infrastructure that attracts international students, especially MBBS in Slovakia.
In general, as a country, Slovakia has shown remarkable economic growth in the last decades and has reached new heights in the field of education. The country is a cradle of cultural richness.
The efficient education system followed by all member nations of EU exists here too. The ECTS allows the Slovakian students to spend a section of their academics in a different country.
Also, after completing your MBBS here, you may choose to come back to India or you could settle in any EU member nation and start practicing.
MBBS in Slovakia for Indian students
Slovakia welcomes MBBS aspirants with open arms as this forms a significant source of revenue and employment in the country. The medical universities in Slovakia are good & old. They have the necessary recognitions and accreditation.
There are MBBS in Slovakia scholarships for international medical students for which, you may run a check with its embassy in India.
MBBS Universities in Slovakia
The World Directory of Medical Schools (WDOMS) recognizes the following universities in Slovakia.
| SR. No | Name (as per WDOMS) | Other Names | Medium of Instruction (as per WDOMS) |
| --- | --- | --- | --- |
| 1 | Jesseniova Lekarska Fakulta v Martine, | Jessenius Faculty of Medicine in | English/Slovak |
| 2 | Univerzita Komenskeho | Martin/Comenius Bratislava Medical Faculty, Martin Branch | NA |
| 3 | Univerzita Komenskeho v Bratislave, Lekarska Fakulta | Comenius University in Bratislava Faculty of Medicine | English/Slovak |
| 4 | Univerzita P. J. Safarika Lekarska Fakulta | P. J. Safarik University | English/Slovak |
| 5 | Slovenska Zdravotnicka Univerzita v Bratislave | Slovak Medical University, Bratislava | Slovak |
MBBS in Slovakia: Duration of MBBS/MD
The MBBS in Slovakia duration is also, like the entire Europe, 6 years with a year of internship. The duration of MBBS/MD in all the European universities is 6 years. This uniformity is due to the European Credit Transfer System (ECTS) prevailing in Europe.
Living Cost
The overall living cost in Slovakia is on the higher side. If we speak in terms of the average living cost, you will be spending almost €600.
We will share the cost of some common items you will need. From this, you can make an estimate of the kind of money you would be spending.
| SR .No | Common Items | Cost in € |
| --- | --- | --- |
| 1 | A liter of regular milk | 0.75 |
| 2 | A dozen eggs | 2.2 |
| 3 | A loaf of bread | 0.9 |
| 4 | Meal at a good restaurant | 6.0 |
Hostel
The medical universities in Slovakia provide hostel facilities which are way cheaper than living in apartment that will cost you to the north of 450 euro. You will find good hostels at a monthly fee of 250 – 300 euro.
MBBS in Slovakia cost
To study medicine in Slovakia, you will need to pay a tuition fee of 10,000 euro per year. So, taking into account all the expenditure, on average, you will be investing around €65,000 for your medical education in Slovakia.
However, the quality of education is fine and that means a lot to many students and parents.
MBBS in Slovakia Eligibility
MBBS in Slovakia eligibility criteria include:
Minimum age is 17 years.
Score of 50% + in school finals.
Must be in the science stream with PCB as core subjects.
Qualifying NEET is compulsory.
Slovakia has a good standard of education meaning you will learn well and a lot.
The Slovakian universities are accredited and your qualification will be recognized worldwide.
Admission is easy, without entrance exam and you don't need special academic performance evidence as well.
Why study MBBS in Slovakia?
You will find a fair number of Indian students in the Slovakian universities.
You get sample clinical exposure which is absolutely necessary for any medical graduate.
As stated above, the law & order in Slovakia is great and you are safe and secure to study better.
Medical PG Option after MBBS/MD in Slovakia
Medical PG in India after MBBS in Slovakia
Whether in Slovakia or any country, you start realizing the importance of being a specialist after the 2nd year of MBBS. That's actually too late. Let's start understanding things here.
First, you need to visualize how tough it is to secure a Medical PG Seat in a Govt. College in India.
The success ratio to get PG in Govt. Medical College India is 11%. That is to say, only 1 out of 10 will succeed. The chance of getting a Clinical specialty is bleaker. It is 1 out of 20 applicants. Either, you must have Crores to pay to Pvt. Med. Colleges or give up the medical PG dream altogether.
Total Applicants NEET PG 2021
Specialty
Govt Medical College
Pvt Medical College
Seats
Success Ratio
Seats
1.75 Lacs
MD (non-clinical)
15K
8.6%
10K
MS (Clinical)
8K
4.6%
5K
Total
23K
11.4%
15K
Those who have a Slovakian university MBBS also have to go through NEXT as per NMC Notification. NMC will conduct this Exam in two parts NEXT-1 and NEXT-2.
The objective of the NEXT-1 will be to assess the student's knowledge of Pre, Para and Clinical subjects. Only after qualifying NEXT-1, will any Medical student be eligible for Internship. Post completion of internship, students need to go through NEXT-2 which will assess their Clinical skills, Patient Management and taking Medical history.
Those who will Clear NEXT-2 will get the license to practice and Rankers of NEXT-1 will get PG seats of their choice. You may refer Page for detailed information on NExT Exam
Medical PG IN USA (USMLE) after MBBS in Slovakia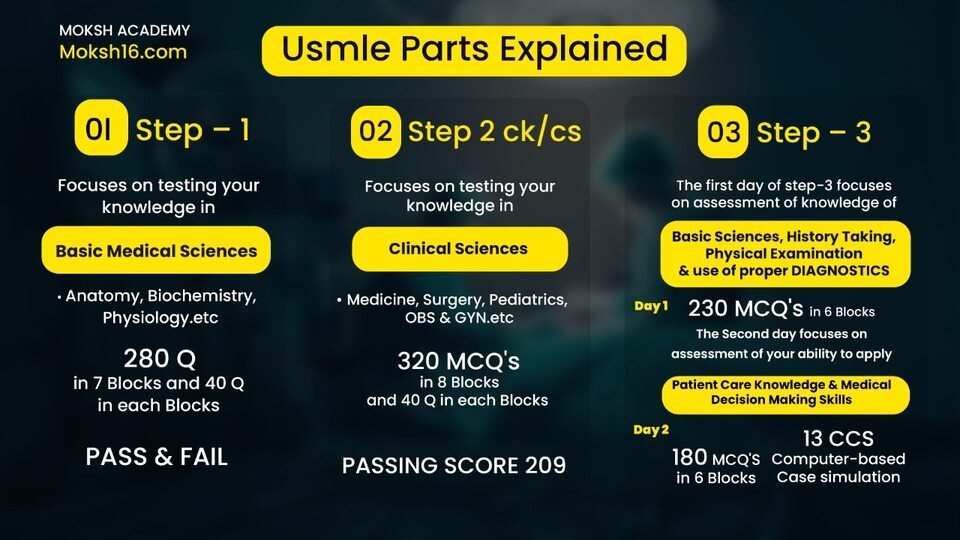 The US Healthcare system is considered as one of the best health care systems in the world. There are many reasons for this: high rewards, excellent infrastructure, merit based assessment, & open opportunities for Super specialties. For getting into a US medical PG program, you have to clear USMLE mandatorily.
This USMLE exam is divided in 3 Parts. One can appear in USMLE Step 1 after 2nd Year, USMLE Step 2 CK during internship and Step-3 during residency (Medical PG).
MOKSH USMLE is indispensable for you so that you have a good chance to clear USMLE.
MOKSH Coaching focuses on patient centered learning approach which helps students score high on both USMLE & NEXT. MOKSH is a leading name in USMLE Coaching. Currently, 1000+ Students from Indian and Abroad medical colleges are preparing for USMLE steps via MOKSH Platform.
Medical PG IN UK (PLAB) after MBBS in Slovakia
After MBBS from Slovakia, many of the students plan to do their Medical PG from UK.
Till 2024, the Professional & Linguistic Assessments Board Test (PLAB test) is the instrument to assess the skills and knowledge of an International Medical Graduate. It also judges whether they are fit to be trained to practice medicine in the UK.
In short, an IMG's performance in PLAB determines her eligibility to practice in the UK. The PLAB test has two stages. PLAB 1 is an exam that has 180 MCQs that tests your recall. On the other hand, PLAB 2 is a practical OSCE (Objective Structured Clinical Exam) that tests your clinical skills.
The GMC ascertains your linguistic skills by assessing your score in specific tests. It may be the IELTS (Band Score 7.0 or higher) or OET (Grade B in reading, writing, listening & speaking).
After you pass PLAB 1 & 2, you apply for the GP registration. There is one constraint. You have a window of 2 years after clearing PLAB 2 during which you may apply no later.
By 2024, the UK Medical Licensing Assessment will replace the PLAB. Consequently, the GMC UK is going to change certain things in PLAB and create the UKMLA exam.
Medical PG in GERMANY after MBBS in Slovakia
PG in Germany after MBBS in Slovakia is another great option, though it requires you to learn the German language. Of the 6 levels starting from A1 to C2, you need to clear A1 and A2 that would qualify you to apply for visa.
Once the Language formalities are done, you get into the phase where you do Observer-ship from a German hospital approved by the German Medical Council. This is followed by Residency.
This may sound simple here but the process is quite complicated. To know more about PG in Germany
Your Chance to get an MBBS Seat in India
The most difficult time for any of the students is to wait after NEET till the counseling process to know whether he/she is getting a college of his/her choice or not? Sometimes this dilemma continues for a couple of months due to multiple rounds of counseling. It has become more difficult due to parallel counseling of All India Quota and various States due to COVID-19. The counseling process is very complex where 550+ Govt. and Private colleges offer 83000+ Seats and fee variation is also huge that ranges from less than 1 Lac to 2.5 Cr for the course.
Dreams shatter when any silly mistake in choice filling or wrong selection of college leads to getting a poorly ranked college. Imagine getting paid seats or no seats at all due to a lack of genuine guidance!