Life at Tbilisi in Georgia
The Ilia State University in Tbilisi the capital of Georgia. Also, Tbilisi is the cultural and educational center of Georgia. It houses numerous higher education institutions. Moreover, you can find several restaurants, theaters, shopping centers, and other retail stores while taking a walk on the streets.
Tbilisi city is a diverse place to live in that for instance owns a few breathtaking beaches and mountain tops. The average annual temperature of Tbilisi is 13.3 degrees Celsius. January is the coldest month while July month is a bit warmer. Certainly, the city has a moderate climate like that of the Indian climate. In addition, Indian students will easily adapt to the climate of Georgia due to the similarity in weather conditions.
Ilia State University Faculty of Natural Sciences and Medicine, Georgia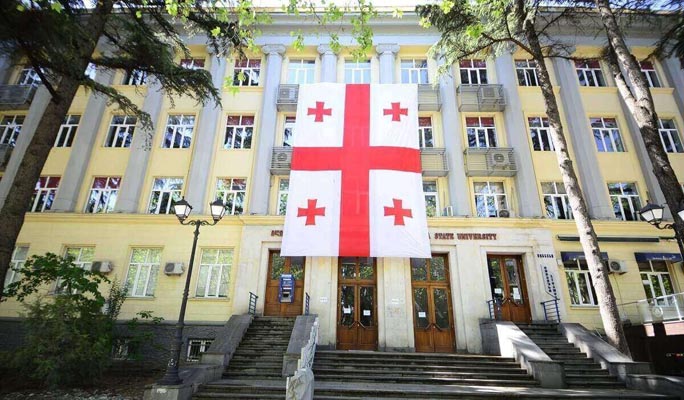 Ilia State University Faculty of Natural Sciences and Medicine (ISU) was formed in 2006. In short, it is one of the leading public higher education institutions for research and education. Above all, the university works on the principle of academic freedom, freedom of conscience, and freedom of choice. Further, this multi-functional university provides plenty of space to carry out academics, research, and specialized education. Ilia State University utilizes an electronic teaching portal that meanwhile enhances the learning-teaching experience of the students and the lecturers.
The Ilia State University (Iliauni) campus accommodates a total of eleven buildings in Tbilisi. The university has multiple research institutes dedicated to the field of child development, biophysics, botanical institute, psychology, addiction study, ecology, zoology, and so on.
Iliauni is well furnished and well equipped with updated teaching laboratories, auditoriums, computer classes, auditoriums, and so forth. The library consists of a huge Scientific Database, and, under the E-library option, students can also access the E-Books, Ph.D. thesis, E-Journal, Audio/Visual content, etc.
The Ilia State University Faculty of Natural Sciences and Medicine grants a degree of medical doctorate after completion of the 6-year program. The Ilia State University Faculty of Natural Sciences and Medicine Country Ranking is 2nd in Georgia while the Ilia State University Faculty of Natural Sciences and Medicine World Ranking is 3424th which is appreciable. To sum up, it would obviously be an honor for any student to boast of studying at a top-ranking Public Medical University.
Teaching Faculty
About 275 professors and more than 1000 researchers and teaching faculty are serving their purpose at Ilia State University. The ISU currently has 4 faculties and over 30 research institutes.
Advantages of studying at Ilia State University
The Ilia State University Faculty of Natural Sciences and Medicine is among the best Public Universities operational in Georgia. An Indian student looking for a good Medical University in Georgia will do very well in picking the Ilia State University RSU because:
1. The Iliauni medicine program is entirely English taught, which certainly is ideal as you are eased from the difficult task of learning the Georgian language.
2. The Ilia State University Faculty of Natural Sciences and Medicine is a top-ranking Public University.
3. The University is very affordable as the Tuition fee for MBBS is less than 4.5 lacs/ year.
4. In addition, Ilia State University is yet another affordable option due to exceptional quality education at a very reasonable tuition fee in Georgia.
5. Above all, the availability of Indian food at Ilia State University, Georgia is an additional gain for an Indian Student looking for a Medical degree in Georgia.
6. The climatic conditions of Tbilisi remain moderate, as a result, Georgian Universities are much more favored compared to nations with extreme climates.
Affiliations and Medical Programs at Ilia State University Faculty of Natural Sciences and Medicine
The Medical Programs at the Ilia State University Faculty of Natural Sciences and Medicine for instance include bachelor's degrees, master's degrees, doctoral degrees, and professional degrees as well.
As far as International affiliations are concerned, the ISU, for example, shares international cooperation with organizations/ institutions situated in countries like the USA, Philippines, Czech Republic, Iran, Lithuania, Poland, Turkey, Ukraine, Netherlands, Switzerland, and Britain.
Cost of studying MBBS at Ilia State University Faculty of Natural Sciences and Medicine
Ilia State University Faculty of Natural Sciences and Medicine Tuition Fees of MBBS fall in the medium range. The details are as follows:
| | | | | | | |
| --- | --- | --- | --- | --- | --- | --- |
| Year | Year-1 | Year-2 | Year-3 | Year-4 | Year-5 | Year-6 |
| Tuition Fee(in USD) | 5300 | 5300 | 5300 | 5300 | 5300 | 5300 |
Hostel/ Accommodation
Ilia State University provides a catering facility for students named 'unifood'. Thus, students can find great cuisines at a very reasonable price. Students can scroll through affordable apartments and hostels, located close to the campus. The university can also make arrangements for affordable accommodation along with a meal plan at an additional price, upon request. The charges for the accommodation may range from 200-400 USD.
The accommodation facility at Ilia State University is of standard quality. Additionally, the International Students will get all the basic amenities in the apartments like a wash area, washroom, bedding, kitchen, etc.
Besides, the majority of international students prefer staying in rented apartments. But, depending upon the accommodation type student may require spending 200-400 USD. However, one can settle in rooms allotted on sharing basis or can choose to stay in a rented apartment nearby.
In Tbilisi, the cost of living indeed may vary on the availability of resources and amenities offered. The estimated cost of living for an individual in Tbilisi subsequently would be around USD 100-150 per month excluding food.
Indian Food in Ilia State University
Students studying at Ilia State University have the option to cook themselves. University provides a common Kitchen on every floor along with other essential items like the Cooking top, Refrigerator, Microwave oven, etc. Meanwhile, Students need to pay for these facilities at the university. There are several options available for Indian food like private Indian Mess and Indian restaurants. Joining Indian Mess will cost approx 150 USD a month.
Indian cuisines available in the local market would, certainly, be high-priced. However, eating out every now and then will add to the monthly expenditure.
Admission Deadline for Ilia State University Faculty of Natural Sciences and Medicine
Students need to keep up with the application dates to avoid missing out on applying to the university. You need to begin with the application process and submission of documents before the given deadline. The right time to apply for Ilia State University Faculty of Natural Sciences and Medicine admission for 2022 – 2023 is immediately after NEET Exam in 2022.
Eligibility Criteria for Admission to Ilia State University Faculty of Natural Sciences and Medicine
Ilia State University Faculty of Natural Sciences and Medicine admission requirements include a score of 50% marks in PCB and English as a subject in Class XII. The applicant must be a minimum of 17 years old. Also, you must have qualified for the NEET of the year you're applying. University may further conduct an interview to assess the speaking and understanding ability of the Basic English language of the applicant.
Indian Students at Ilia State University Faculty of Natural Sciences and Medicine
More than 500 students at Ilia State University are from India. Since there are many Indian students already studying at the Ilia State University Faculty of Natural Sciences and Medicine, it will be a very good option for those who are looking for an MBBS seat in a Government Medical University in Georgia
Departure to Ilia State University
In Georgia, visa approval takes more time than in any other neighboring country which is around 1 month. The academic session for the MD programs at Ilia State University begins at the end of October or November of every year. The students depart from India 10-15 Days before the classes begin so that they can settle in the Georgian environment comfortably.
PG Option after MBBS in Ilia State University State University
Students after completing MD Program in Georgia may explore multiple options for their Medical PG like India after clearing NEXT, USA after Clearing USMLE, UK after clearing PLAB Exam or Medical PG in Germany. Those who are looking for Medical PG from Georgia need to do one-year of Internship in Georgia after their 6 year of MD Program. Before that they have to clear Georgian Medical PG licensing Exam. Very few of the international students opt for it being program in Georgian and no acceptance in their native country.
Medical PG in India or NExT
During MBBS study, a student realizes the importance of being a specialist. They also understand the competitiveness to secure MD/MS Seat in Govt College. If we look at the success ratio to get PG in Govt Medical College which is 11% Broadly we can say that only 1 out of 10 will get PG Seat whereas the chances of getting Clinical specialty is 1 out of 20 applicants. It is obvious that the PG journey is going to be very difficult or else students should have enough money to get the paid seat in Pvt Medical College which may be in Crores!
Total Applicants NEET PG 2021
Specialty
Govt Med College
Pvt Med College
Seats
Success Ratio
Seats
1.75 Lacs
MD (Non Clinical)
15K
8.6%
10K
MS ( Clinical)
8K
4.6%
5K
Total
23K
11.4%
15K
Do you feel early preparation and the right mentorship will pave your dream of becoming a specialist? NMC already notified the introduction of the NEXT Exam in India from 2023. This exam will replace all Medical PG exams in India. The exam will be conducted in two parts NEXT-1 and NEXT-2.
The Objective of the NEXT-1 is to assess the Student's Knowledge of Pre, Para, and Clinical Subjects on the National Level. Only post-qualifying of NEXT-1 any Medical student will be eligible for an Internship. Post completion of internship Students needs to go thru NEXT-2 which will assess their Clinical skills, Patient Management, and Keeping of Medical history. Those who will Clear NEXT-2 awarded a license to practice and Rankers of NEXT-1 will get PG seats of their choice. You may refer to Page for detailed information on the NExT Exam
Medical PG in USA (USMLE)
We are well aware of the difficulty of getting PG in India. With the introduction of NEXT, maximum students in India are getting attracted to USMLE prep from 1st year of MBBS since it simulates the new NMC Competency-based curriculum much easily. US Healthcare system is considered as one of the best health care systems because of numerous reasons like High rewards, excellent infrastructure, Merit-based assessment, Open opportunities for Super specialties. Most of the countries trying to replicate the US health care assessment system for their Medical Graduates USMLE exam are divided into 3 Parts. One can appear in USMLE Step 1 after 2nd Year, USMLE Step 2 CK during internship and Step-3 during your residency (Medical PG). The USMLE is an online exam and can be taken at the PROMETRIC centers present across India.
MOKSH Coaching focuses on a patient-centered learning approach which helps students score high on both USMLE & NEXT. MOKSH is the leading name in USMLE Coaching. Currently, 1000+ Students from Indian and Abroad medical colleges are preparing for USMLE steps via the MOKSH Platform.
Medical PG IN UK (PLAB)
Due to the close proximity of Georgia to UK, many of the students plan to do their Medical PG from UK. Till 2024, the Professional & Linguistic Assessments Board Test (PLAB test) is the instrument to assess the skills and knowledge of an International Medical Graduate. It also judges whether they are fit to be trained to practice medicine in the UK.
In short, an IMG's performance in PLAB determines her eligibility to practice in the UK. The PLAB test has two stages. PLAB 1 is an exam that has 180 MCQs that tests your recall. On the other hand, PLAB 2 is a practical OSCE (Objective Structured Clinical Exam) that tests your clinical skills.
The GMC ascertains your linguistic skills by assessing your score in specific tests. It may be the IELTS (Band Score 7.0 or higher) or OET (Grade B in reading, writing, listening & speaking).
After you pass PLAB 1 & 2, you apply for the GP registration. There is one constraint. You have a window of 2 years after clearing PLAB 2 during which you may apply no later.
By 2024, the UK Medical Licensing Assessment will replace the PLAB. Consequently, the GMC UK is going to change certain things in PLAB and create the UKMLA exam.

Medical PG in Germany
PG in Germany after MBBS in India is another great option, though it requires you to learn the German language. Of the 6 levels starting from A1 to C2, you need to clear A1 and A2 that would qualify you to apply for the visa.
Once the Language formalities are done, you get into the phase where you do Observer-ship from a German hospital approved by the German Medical Council. This is followed by Residency.
This may sound simple here but the process is quite complicated. To know more about PG in Germany after your MBBS in India,
Your Chance to get an MBBS Seat in India
The most difficult time for any of the students is to wait after NEET till the counseling process to know whether he/she is getting a college of his/her choice or not? Sometimes this dilemma continues for a couple of months due to multiple rounds of counseling. It has become more difficult due to parallel counseling of All India Quota and various States due to COVID-19. The counseling process is very complex where 550+ Govt. and Private colleges offer 83000+ Seats and fee variation is also huge that ranges from less than 1 Lac to 2.5 Cr for the course.
Dreams shatter when any silly mistake in choice filling or wrong selection of college leads to getting a poorly ranked college. Imagine getting paid seats or no seats at all due to a lack of genuine guidance!