About Dhaka in Bangladesh
The Dhaka is the not only the capital city of the country of Bangladesh but also is the largest city by area in the region. It is the most prominent political, cultural, & economic center in the country and it naturally follows that the infrastructure, facilities and academics will be good. It is categorized as a 'Beta-Global City' and has the highest numbers of schools & colleges in Bangladesh.
Dhaka National Medical College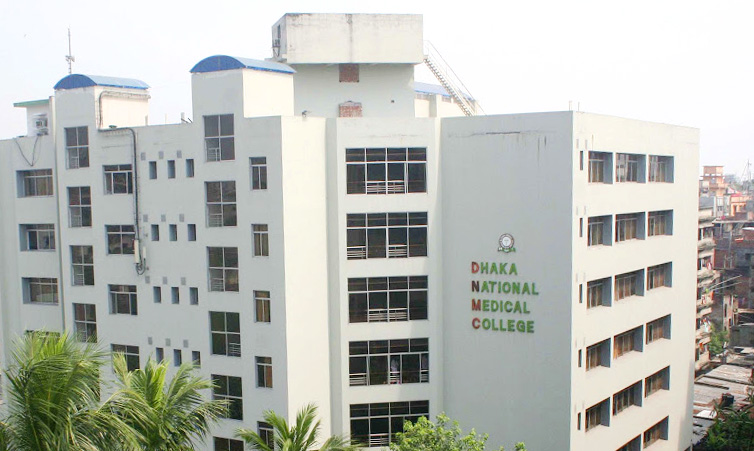 The Dhaka National Medical College is a resultant of a transformation. It derives from the Dhaka National Medical Institute that was established in 1925. The mother institute was a product of the famous Non-Cooperation Movement against the British rule as a part of the boycott of British education. In 1994, the Dhaka National Medical College was created and the instruction started in 1995.
As per the Dhaka National Medical College official website, the college was started with a mission – To be a globally acclaimed Institution, recognized for excellence in medical education, scientific research and patient care. Almost 2000 doctors have started their medical careers having been trained at the Dhaka National Medical College. In the session 2019-20, 130 students took admission in the college.
The various departments operational at the Dhaka National Medical College include Cardiology, Pediatrics, Dermatology, Neuro-medicine, Gastroenterology, Surgery, ENT to name a few. Dhaka National Medical College World Ranking is 21518th among all Universities in World while in Bangladesh it stands at the 41st position (Dhaka National Medical College country ranking). The duration of MBBS is 5 years and it is a purely English taught.
Facts about MBBS in Bangladesh that you must know:
The academic standard and pedagogy in the medical colleges of Bangladesh are mediocre.
The colleges are not state funded and hence, there is variation in the infrastructure, facilities, and academics, among all these private colleges.
These being private colleges, you do not get any benefits of subsidies given by the govt. and hence, the tuition fees are substantially high.
Indian students from West Bengal and the north eastern state (7 sisters) prefer these medical colleges due to the language connect (Bengali)
Due to the identical education structure, MBBS curriculum and academic patterns with India, the pass-outs from the medical colleges of Bangladesh had performed well in the FMGE of MCI screening test.
Cost of studying MBBS at Dhaka National Medical College
As mentioned above, Dhaka National Medical College Fees of MBBS falls in the medium range but way less than the Indian Private Medical Colleges. The details are as follows:
| | | | | | | |
| --- | --- | --- | --- | --- | --- | --- |
| Year | Year-1 | Year-2 | Year-3 | Year-4 | Year-5 | Year-6 |
| Course Fee | 24,40,000 | 3,40,000 | 3,40,000 | 3,40,000 | 3,40,000 | 3,40,000 |
Admission Deadline for Dhaka National Medical College
For admission in the Bangladeshi Medical Colleges, the timing of application is crucial. Generally, the intake in the Medical Colleges in Bangladesh is in September. But this year, in 2022, there could be some variation due to COVID 19 but we Moksh will take care of all the confusion for you.
We say that the timing of application is crucial because the issuance of the Invitation Letter by the Ministry of Education, Bangladesh takes around 4-8 weeks on the basis of which the Bangladeshi Consulate in India issues the visa to you. If you are late in applying, you may miss going there with your batch mates.
Eligibility Criteria for Admission in Dhaka National Medical College
Dhaka National Medical College admission requirements include a score of 60% marks in PCB in Class XII. If you are willing to take admission for the batch 2022, 10th should be passed in 2018 or 2019 and 12th in 2020 or 2021 Of course, you need to have qualified NEET 2022.
Indians at Dhaka National Medical College
There are two reasons that you will find Indian students in any medical college in Bangladesh. The first is the hither to impressive MCI screening test passing ratio. The Indian students feel safer believing that they will clear the FMGE / NEXT / MCI screening test with ease. The second diving force is the linguistic and cultural connect that student of West Bengal and North eastern states find in Bangladesh.
However, the standard of academics and hefty tuition fees in these colleges should be kept in mind while opting for MBBS at Dhaka National Medical College
PG in USA after MBBS in Bangladesh

The system for healthcare professionals or physicians in USA is closely monitored by ECFMG which conducts USMLE in a systematic manner. Indian students trying to pursue post-graduation in USA after completion of MBBS from Bangladesh need to prove themselves at every level again.
While doing MBBS in Bangladesh, you will have to appear USMLE Step-1and USMLE Step-2CK. Though, this exam is highly competitive, it is much less so when compared to the Indian NEET PG. The exam is online and can be given from India at any time.
For more information on PG in USA, click here.
PG in Germany after MBBS in Bangladesh
PG in Germany after MBBS in Bangladesh is another great option, though it requires you to learn the German language. Of the 6 levels starting from A1 to C2, you need to clear A1 and A2 that would qualify you to apply for visa.
Once the Language formalities are done, you get into the phase where you do Observer-ship from a German hospital approved by the German Medical Council. This is followed by Residency.
This may sound simple here but the process is quite complicated. To know more about PG in Germany after your MBBS in Bangladesh, click here.
What are your chances of getting a seat in your Medical College of preference in state NEET 2022 Counseling?
The most difficult time for any of the students is to wait after NEET till the counseling process to know whether he/she is getting a college of his/her choice or not? Sometime this dilemma continues for couple of months due to multiple rounds of counseling. It has become more difficult due to parallel counseling of All India Quota and various States due to COVID-19. The counseling process is very complex where 550+ Govt. and Private colleges offer 83000+ Seats and fee variation is also huge that ranges from less than 1 Lac to 2.5 Cr for the course.
Dreams shatter when any silly mistake in choice filling or wrong selection of college leads to getting a poor ranked college. Imagine getting paid seats or no seats at all due to lack of genuine guidance!
MOKSH AI-based MBBS college predictor predicts your chances of getting your preferred college through state NEET 2022 Counseling under various Seat categories like Govt., Management or NRI Seat. For assessing your chances of getting a seat, the MOKSH Predictor algorithm takes categories/sub-category or various Quotas into consideration as per Govt. regulations. It also takes into account historical data published by Medical Counseling Committee (MCC) or State Dept. responsible for counseling of the respective state.
Why MOKSH?
MOKSH is a leading career planning organization with Head office at Mumbai and having branches in more than 30+ Cities in India, Germany, Ukraine and Russia; helping medical aspirants to become Doctors. At the same time, MOKSH Faculties across the Globe help Medical Students in Indian and Abroad Medical colleges to pursue their dreams of doing Medical PG in USA or Germany.